The content on this website is for informational purposes only and is not meant to replace professional or medical advice. See our full disclaimer.
Have you ever noticed certain traits that seem to pop up in folks with ADHD more than others? 
Understanding of ADHD is still at a very early stage, but what does seem to be true is that there are three main ADHD personality types: Hyperactive and Impulsive, Primarily Inattentive (formerly called ADD), and Combined Type.
In addition, some common character traits are shared by people with ADHD, like creativity and curiosity. It's not just a coincidence. Scientific studies show us that there are common personality characteristics among those with ADHD.1Personality profiles in adults with attention deficit hyperactivity disorder (ADHD)
In this resource, we will look at each of these in more detail to learn the key features of each, bust some myths and explore what is happening beneath the surface.
We're also providing a free printable ADHD-Type quiz at the end of this post. (The test is meant to be a fun, helpful guide. Please consult with a professional for an official ADHD diagnosis.)
Jump to:
Understanding ADHD
Attention Deficit Hyperactivity Disorder is a neurodivergent condition, meaning that ADHD brains are wired and work differently from others.
ADHD brains are not better or worse than other brains (known as neurotypical). However, the world is designed and based on the way that neurotypical brains work, so those with ADHD may struggle with some aspects of life in a society not set up for the way that they think.
Although it may seem that people with all types of ADHD cannot focus on anything and have no attention span, the truth is that they find almost everything interesting. They have trouble refining their interests and concentrating on one thing before something else takes their attention.
They have an interest excess, not deficit. On top of this, ADHD brains crave stimulation and sensation, and the form that this takes and the behavior that results is shaped by the type of ADHD being experienced.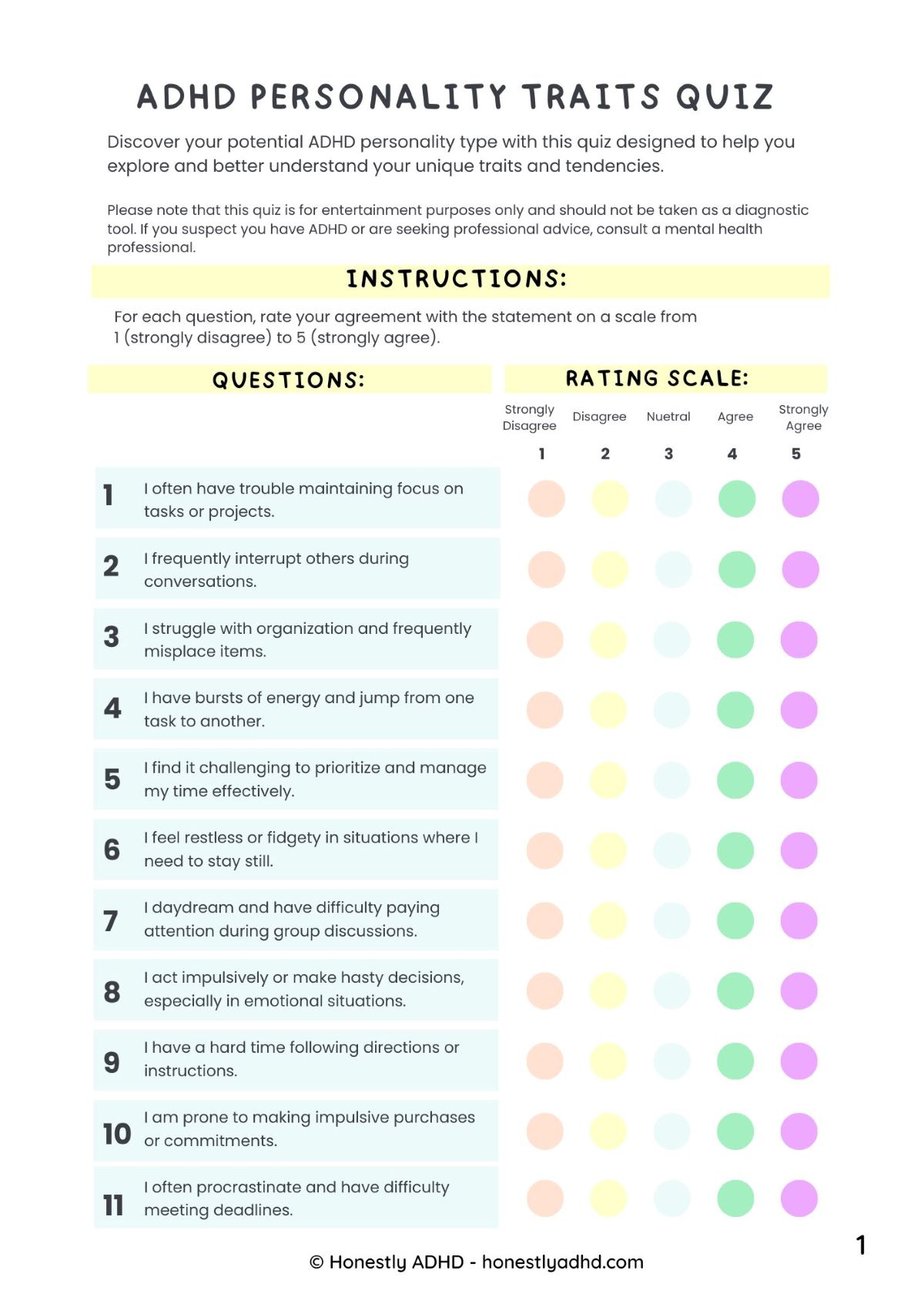 For Example
Think of going to a restaurant that has all of your favorite foods on the menu. As you read through the options, each one sounds wonderful. For a moment, you are caught up in the anticipation of what it will be like to eat it, until you read the next line and switch to imagining how delicious that dish will be!
For people with hyperactive and impulsive ADHD, much of life is like reading that menu.
Their interest is constantly taken by the next thing that they see or hear. They feel compelled to react by interrupting someone talking, sharing their thoughts, asking a burning question, or jumping out of their seat to go and look at something that has caught their attention.
Many of the struggles resulting from ADHD are because the world is not set up either to provide the stimulation that these brains need or to accommodate the rapid jumping from one thing to another, either mentally or physically.
However, there are some areas where these traits are exactly what is needed, and in these areas, people with ADHD may excel.
Common ADHD Personality Traits
Some specific symptoms of ADHD lead to common personality traits. While each person with ADHD will have individual differences, these traits of ADHD are common from early childhood.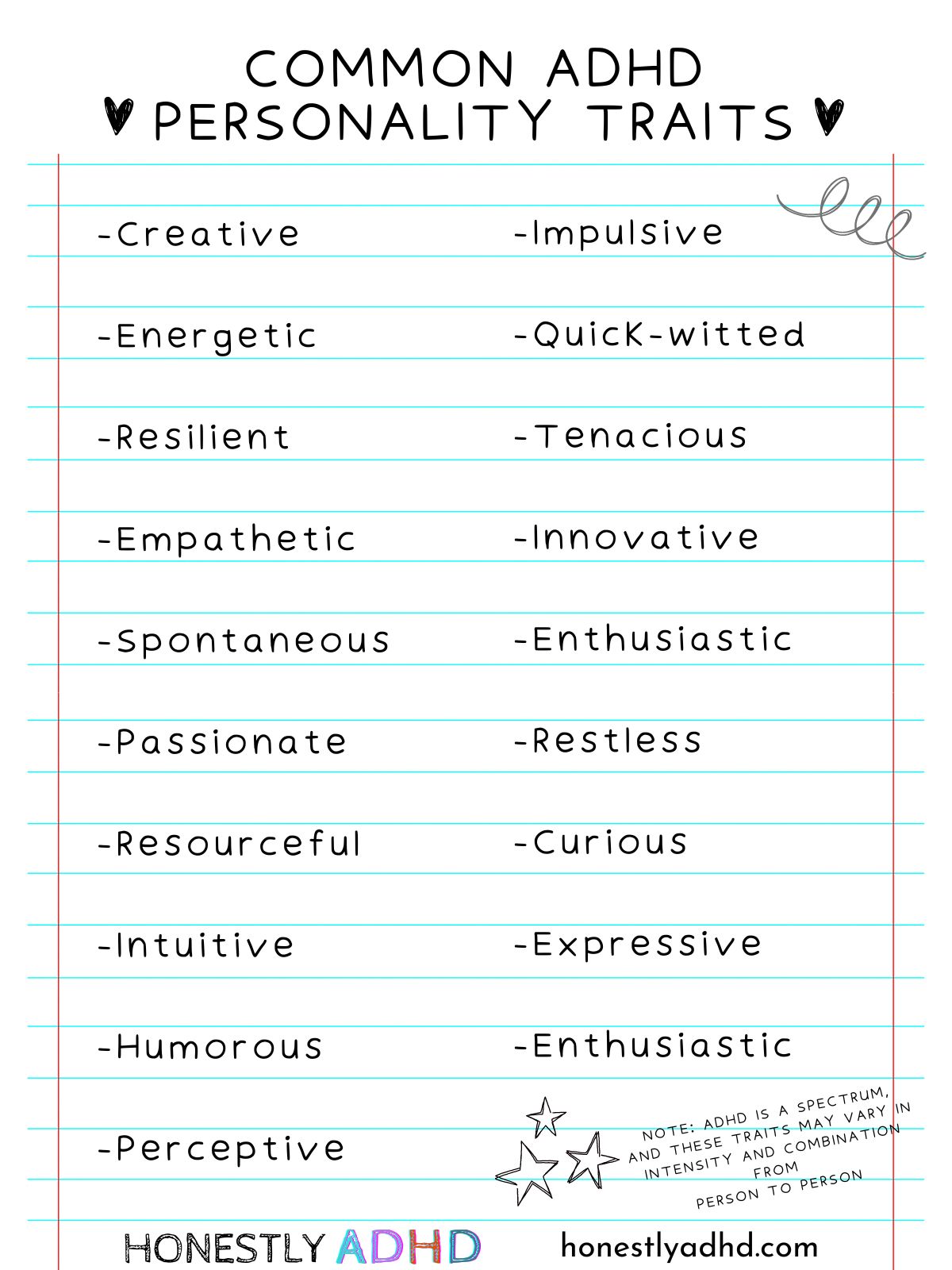 Creativity: A lot of creative personality types have ADHD. Whether it's painting, writing, problem-solving, or inventing, we've got a special creative spark that adds a unique flair to everything we do.
Resilience: Life with ADHD can be challenging but often strengthens us. We face challenges head-on and bounce back from setbacks. We might stumble, but we usually get back up.
Empathy: ADHD folks tend to be in tune with others' emotions. We're great listeners and deeply compassionate, making us excellent friends and confidants.
Hyperfocus: Sure, we might struggle with maintaining focus, but when we're really into something, we can zero in on tasks and churn out some fantastic work.
Spontaneity: With ADHD, life is never dull! We're spontaneous, fun-loving, and always up for a new adventure. You may know outgoing ADHD types as the life of the party and more reserved ADHDers as constantly trying new things.
Passion: When we care about something, we really care about it. We throw our whole selves into the things and people we love.
ADHD Personality Strengths and Weaknesses
Problem-solving
Problem-solving can require great mental agility and the ability to quickly connect what may seem to be unrelated thoughts and concepts, and ADHD brains are often very good at this as a result.
Creative thinking
ADHD people are often very creative, putting all that sensory stimulation to great use in developing new ideas. Many of us with ADHD have a knack for thinking outside the box.
Hyperfocus
The hyperfocus that comes when something catches the attention of an ADHD brain can also be hugely valuable – who would not want an employee that can focus so intently on their task that they produce a tremendous amount of work in a relatively short period?
Of course, some negative personality traits can be more common in the ADHD mind.
Our spontaneity can lead to irresponsible impulsive behavior (plus people with ADHD have an "Executive Age" that is behind their actual age)
Our emotional dysregulation can lead to mood swings, meltdowns, and outbursts.
High energy levels can lead to disruptive symptoms.
The best way to discover your personality traits is to think about how does ADHD feel for you? Take our free quiz to see what category you might fit into. It might help you decide whether to discuss a formal diagnosis of ADHD with your healthcare provider.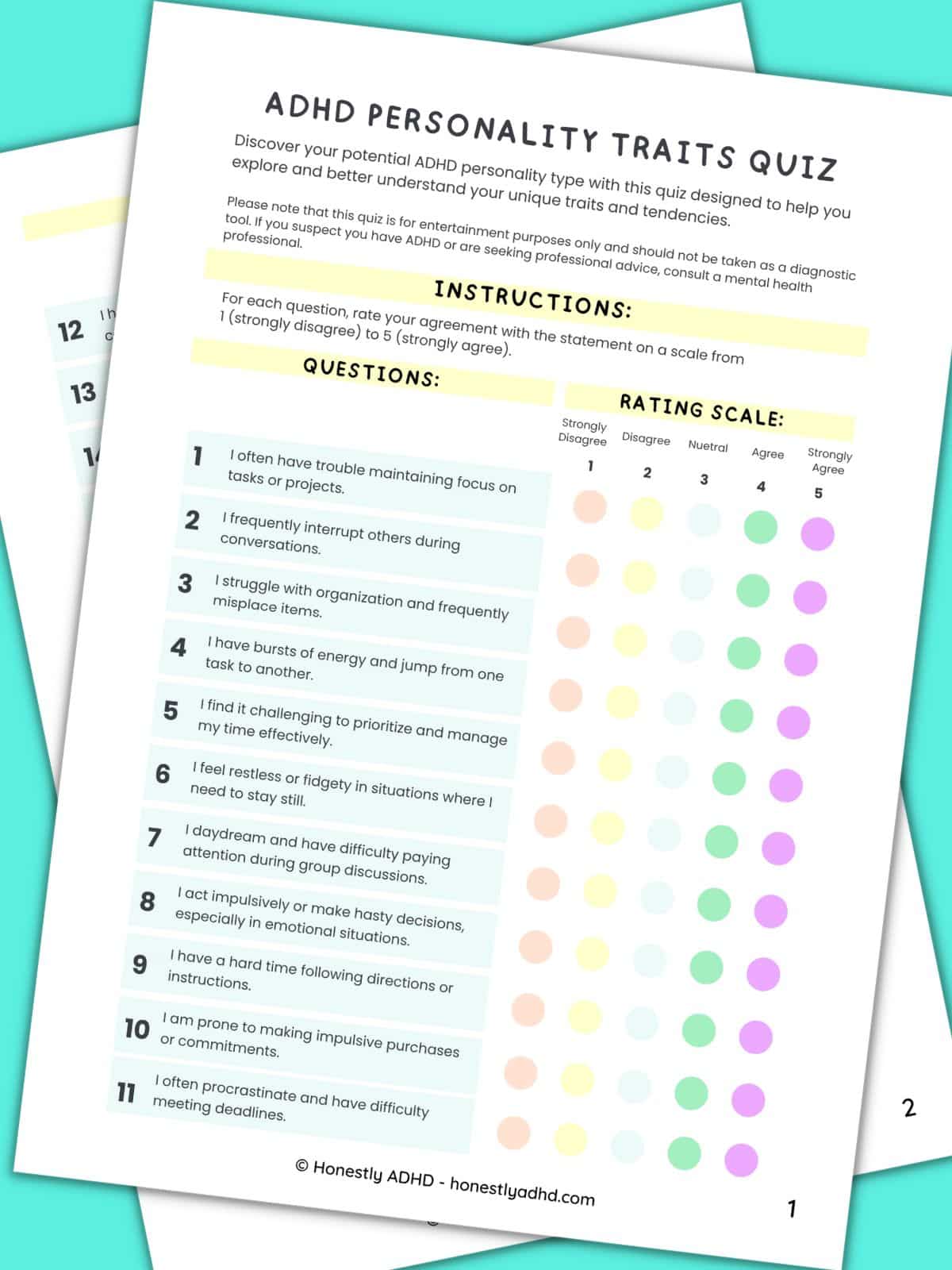 You can jump to the download link or keep reading for more tips.
Three ADHD Types
Now let's explore the three ADHD personality types, including the core symptoms of ADHD and what it feels like to have these types of Attention-Deficit Hyperactivity Disorder.
1. Hyperactive and Impulsive
This type of ADHD is all about action, movement, and finding it very hard to do nothing. People in the Hyperactive-Impulsive Types are likely to fidget, struggle to sit still, and interrupt when spoken to.
ADHD adults or children with hyperactive-impulsive symptoms may always seem on the go with a never-ending energy supply. Sitting still or quietly listening to someone speak does not provide enough sensory stimulation to satisfy them. Their high energy means they must be moving, touching, doing, or talking to feel "right."
As a result, they can seem loud and interfering, whereas, in fact, they are just trying to meet their brain's craving for input.
2. Primarily Inattentive
This ADHD personality type is similar in many ways to hyperactive and impulsive, with the key difference being that it is more mental than physical.
In the same way that those in the first group find it hard to stay physically still and are constantly distracted by their environments, those with the Inattentive form of ADHD have difficulty keeping their minds focused on one thing for more than a short time.
People with this type of ADHD may find it challenging to stay organized, stick to a timetable, or finish activities as they are so easily distracted by other things.
They may seem distracted and forgetful, but what is happening is that their brain is constantly jumping from subject to subject, all of which seem fascinating to them.
Other inattentive symptoms include frequent daydreaming and trouble with time management.
3. Combined Type
As the name suggests, Combined type ADHD includes both hyperactivity and inattention (though both terms are inaccurate labeling of the impact of highly active minds).
Someone with combined type may be constantly on the move, both mentally and physically, and find it very hard to settle in either way. 
In all cases, those with ADHD crave sensation and stimulation. They may try to create some when none is available by speaking, thinking, or acting.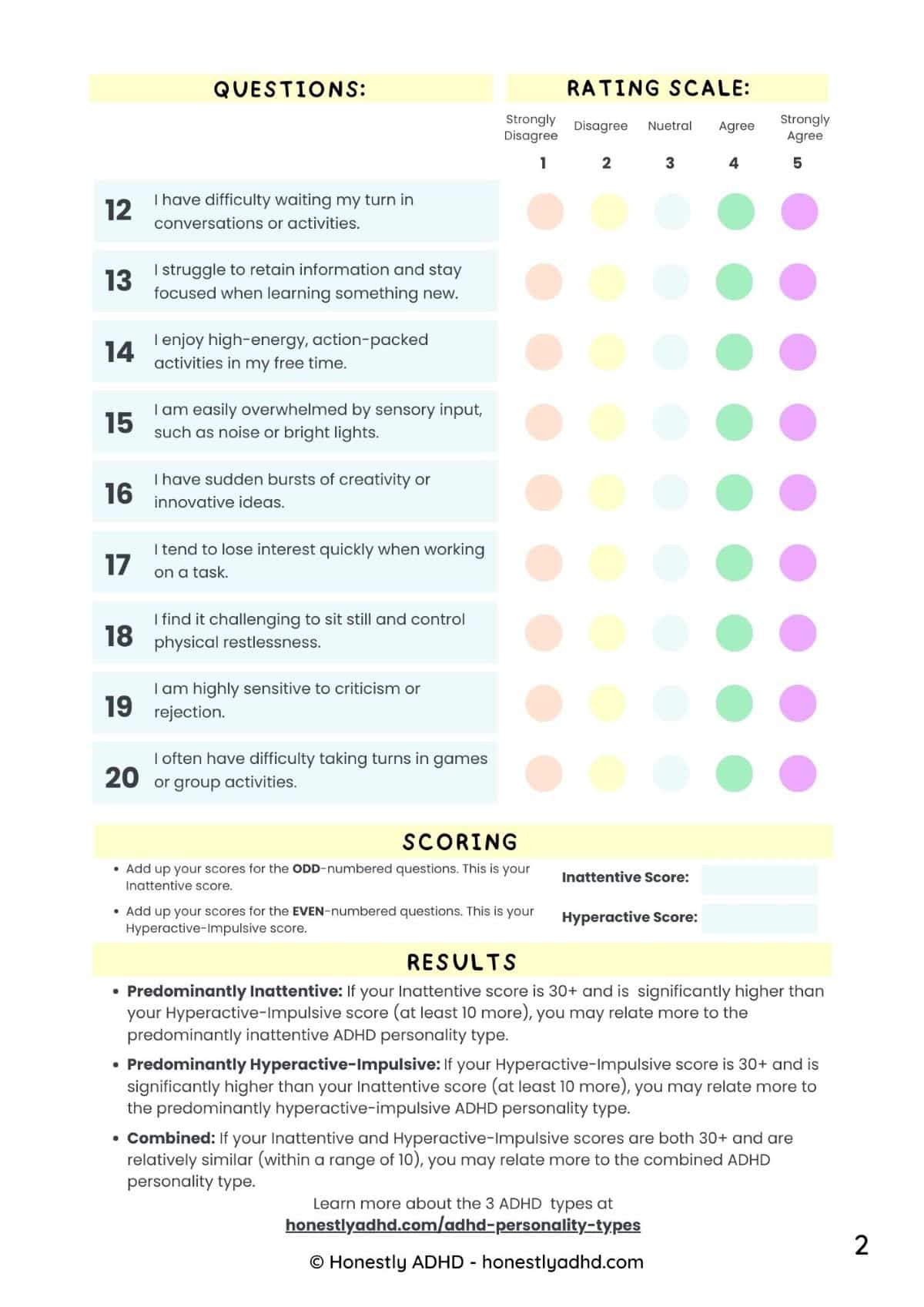 Backed by Research
These ADHD personality types and traits have been confirmed by previous studies over the years. Let's delve into a few of these:
1. Novelty seeking and harm avoidance: A study published in 2019 linked ADHD with higher novelty-seeking and harm avoidance levels.2Attention Deficit Hyperactivity Disorder And Borderline Personality Disorder In Adults: A Review Of Their Links And Risks This could be why the primarily hyperactive ADHD type is sometimes known for its adventurous spirit, but the inattentive type might also be a tad wary of potential risks.
2. Perseveration: Ever felt like you're stuck in a loop of thoughts or behaviors? That's called perseveration, and impaired behavioral inhibition is more common in people with ADHD, as revealed by a 1997 study from Dr. Russell Barkley.3Behavioral inhibition, sustained attention, and executive functions: constructing a unifying theory of ADHD
3. Emotional intensity: It's no secret that we can be a passionate bunch. According to a 2013 study, we feel emotions more deeply than others.4Emotional lability, comorbidity and impairment in adults with attention-deficit hyperactivity disorder It explains why we may be empathetic and in tune with others' feelings.
4. Risk-taking: Sometimes, we can't resist the thrill of a challenge. A 2012 study found that we're more prone to risky behaviors.5Risky decision making in adults with ADHD
5. Creativity: We must remember our flair for creativity! A 2006 study published in ScienceDirect found that individuals with ADHD scored higher on tests of creative thinking.6Uninhibited imaginations: Creativity in adults with Attention-Deficit/Hyperactivity Disorder
Co-existing Conditions and their Impact on ADHD Personalities
The way we feel growing up affects our personality development.
Our ADHD traits can sometimes lead to mental health conditions or psychological disorders. These conditions don't just exist alongside ADHD, but they can also influence and shape our personalities.
Anxiety
Our buzzing minds can become overactive, leading to overthinking and possibly anxiety.
Low Self-esteem
Growing up feeling different can lead to low self-esteem. Our deep sensitivity, while making us empathetic, can sometimes feel overwhelming and lead to depression. This can lead to significant problems in daily life.
Social Issues
Our keen awareness of others can make us great at reading social cues, but it can also result in social anxiety. We act differently in social settings and with social skills. And may have trouble in interpersonal relationships.
While people with ADHD may be more prone to these conditions, it doesn't guarantee they'll have them. Mental health is complex and influenced by a range of factors. 
The first step is learning about how our brains work.
Why are Mental Health Conditions Common for People with ADHD?
The risk factor for mental health conditions increases in people with ADHD due to the ADHD brain and the external factors they confront daily.
Here's why:
Brain structure: People with ADHD often have differences in some regions of the brain, like the prefrontal cortex, which is involved in decision-making and impulse control. This leads to issues with our executive functions, impacting how we handle stress, emotions, and social situations, making us more prone to conditions like depression and anxiety.7Adult ADHD and comorbid disorders: clinical implications of a dimensional approach
Daily struggles: The challenges of managing ADHD, like staying organized, keeping focused, dealing with misunderstandings, or letting people down, can be stressful. This extra stress can also contribute to developing other mental health conditions.
Genetics: Studies have shown that ADHD and conditions like anxiety and depression often run in families.
While these conditions can shape personality traits, they also present challenges that require management and care. If you're dealing with these or any other mental health conditions and ADHD, remember, it's okay to seek help.
Whether it's therapy, medication, support groups, or mindfulness practices, there are many paths toward better mental health.
In Conclusion
The key is recognizing that ADHD brains are different rather than better or worse. Just like neurotypical people, people with ADHD have strengths and weaknesses, which are often shaped by how our brain is wired. There's a vibrant spectrum of personality traits that color our experiences. 
The difference for those of us with ADHD is that what the rest of the world sees as "normal" is very difficult for us, and getting an environment where we will thrive can be very hard to achieve.
Put in a situation not suited to us, many with ADHD will really struggle, but when we are able to play to our strengths, we can be and often are high achievers.
Download our free pdf below to take our free ADHD-type quiz!
Free Printable
🖨️ Follow the directions below to easily download the free pdf(s).
*Free printables by Honestly ADHD are for personal, non-commercial use only. See our FAQ page for more details.*
⬇️ Click to Download
Did you like this freebie?
Find us on Pinterest for more! Follow us @honestlyADHDblog
If you enjoyed this content, please consider sharing it! We welcome the use of one of these images with visible credit to Honestly ADHD and a direct link to the article. We appreciate your support!
References: