The content on this website is for informational purposes only and is not meant to replace professional or medical advice. See our full disclaimer.
This ADHD Puzzle to-do list was created by ADHDers for ADHDers! The puzzle format provides the boost of dopamine we need to complete our goals, plus an inspirational image to boost motivation.
​If you're here, you might be curious if puzzles are helpful for people with ADHD. Or maybe you're on the hunt for the best ADHD puzzles for kids & adults. We've got you covered on both fronts.
More excitingly, we're introducing another free printable ADHD tool that you can download at the bottom of this article: our ADHD Puzzle Goal Map Printable.
This ADHD puzzle is the only reason I've kept my house clean for the past few weeks. The printable is versatile and suitable for work tasks, home tasks, and is a handy tool for parents of kids with ADHD.
But to be clear, this puzzle is also for teens and Adults with ADHD. We'll talk more about why a puzzle goal list can be more helpful than a regular to-do list later on in this post.
For newcomers to our ADHD blog, we take pride in offering free printable resources that may seem unconventional but have proven helpful for us and (we believe) can benefit others with ADHD.
Jump to:
How Our ADHD Puzzle Printable Works
Think of our printable as a cross between a to-do list and a jigsaw puzzle. It's simple:
1. Set Your Goals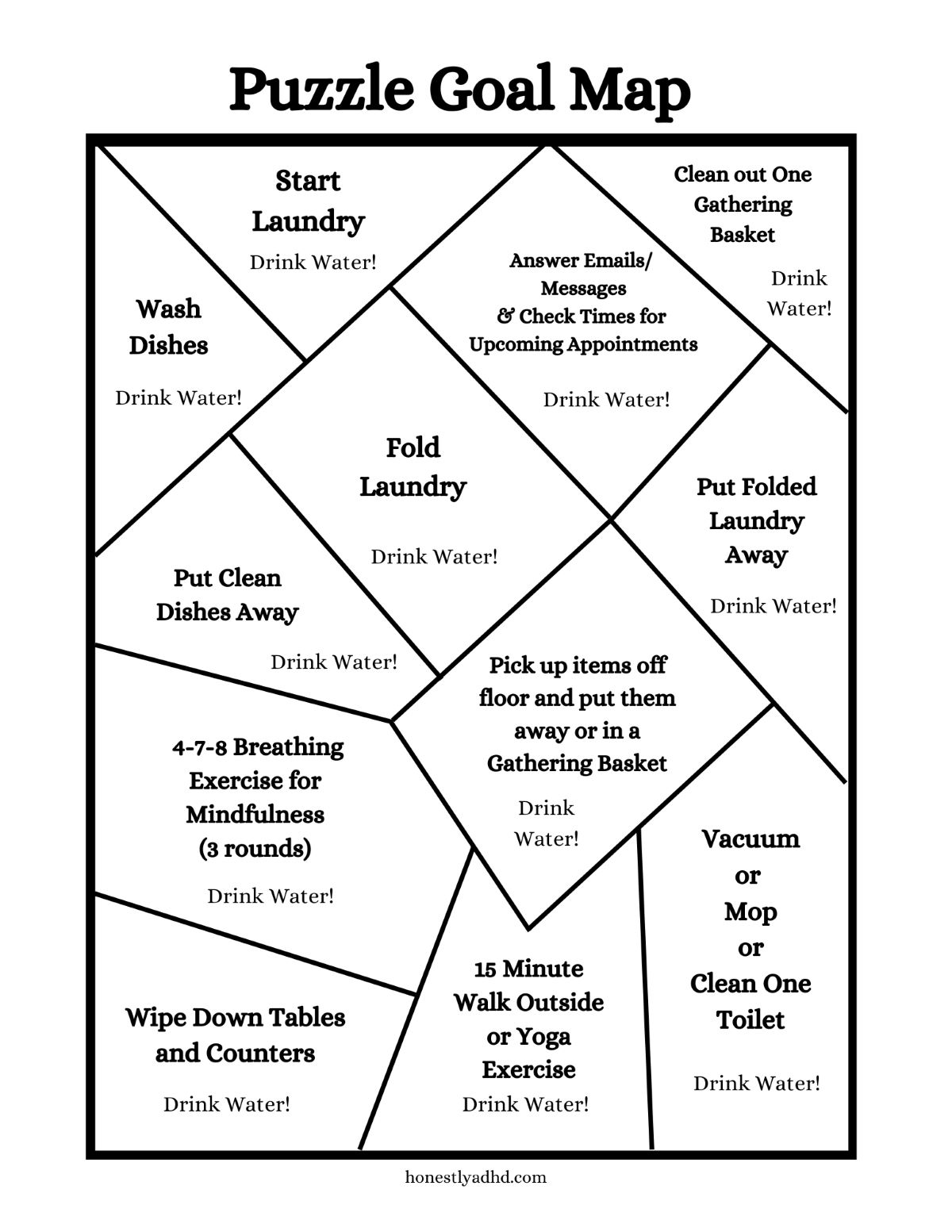 One of the printable pdfs offers 12 blank places to write in your custom goals. We've also got one pre-filled with examples if you need a jump start.
We call the prefilled option the "Daily Upkeep" puzzle, as it is filled with simple cleaning tasks and important daily self-care to-dos.
If you can work yourself up to completing this puzzle or a similar one daily, you're bound to experience less stress in all aspects of life.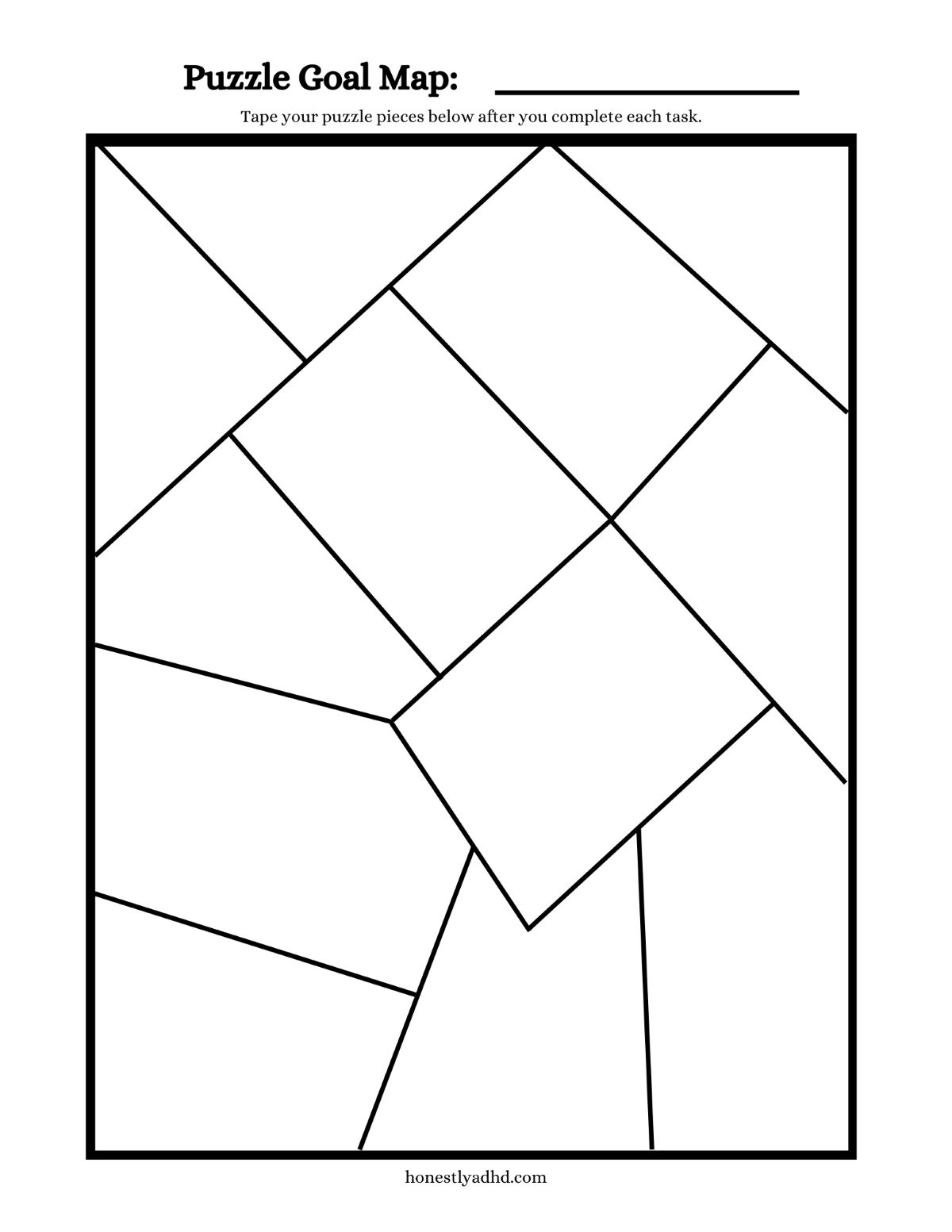 2. Piece It Together
The free printable gives you pictures to choose from divided into 12 puzzle pieces. As you accomplish each goal, tape a puzzle piece over the task.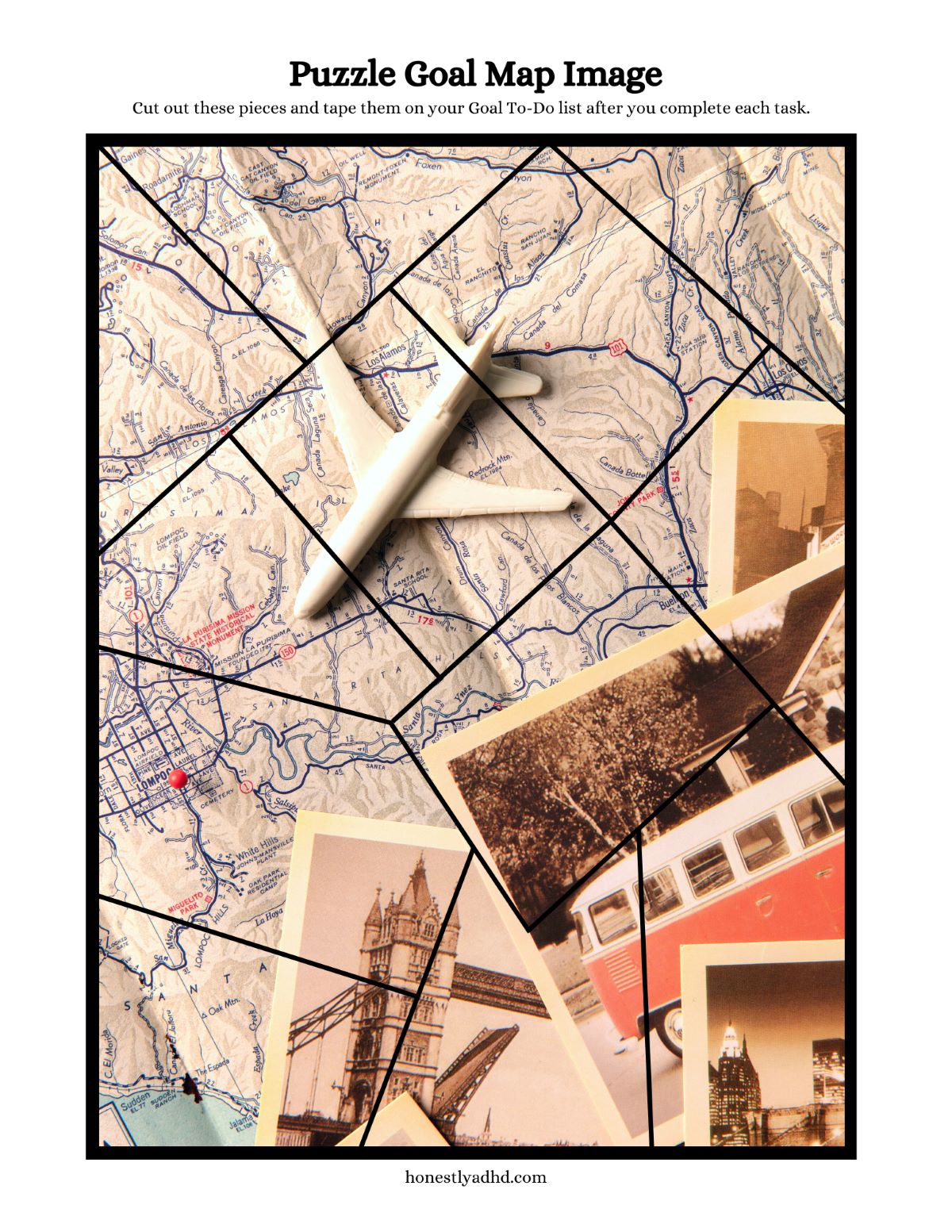 3. Visual Rewards
The endgame is a completed puzzle symbolizing all the tasks you've accomplished AND an image that hopefully inspires you. We've got over 50 puzzle images to choose from.
This sense of accomplishment helps reduce the underlying causes of ADHD-related stress.  It keeps you motivated to complete the puzzle again next time.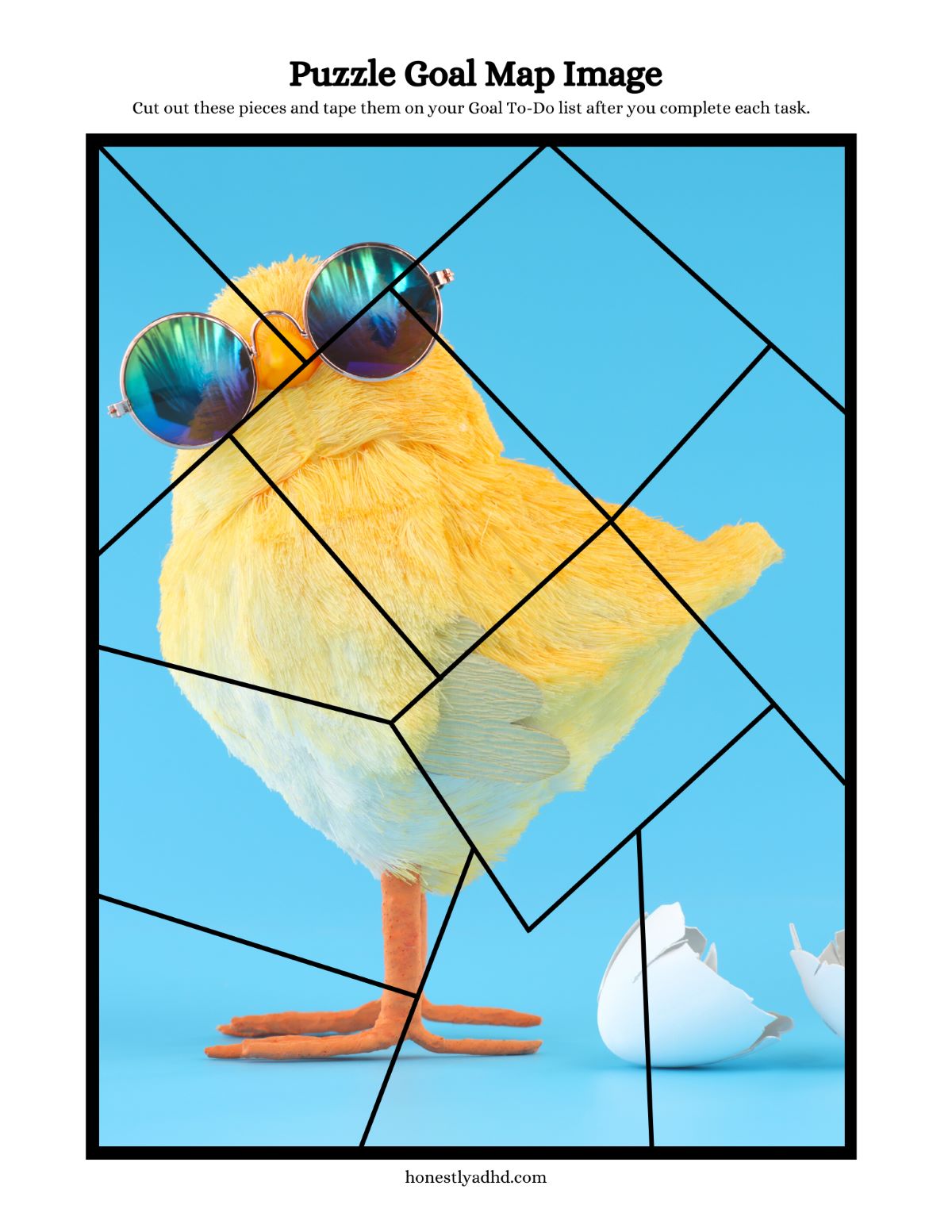 Keep things fresh by printing different puzzle images depending on how you are feeling or even creating your own.
Print out an image that brings you happiness, as that will make you more likely to complete the Goal Map ADHD puzzle. It could be anything – a serene beach, a bustling city, or even your favorite piece of art. Think of it as a rotating vision board that adjusts with your goals.
Recommendations & Tips
Use thick paper stock for durability and store your bottom sheet in a sleeve protector so you can reuse it each day or week.
Store the puzzle pieces in a zip-lock bag for safe storage.
Tap each puzzle piece on your completed goal with folded-over tape.
Rotate puzzles! Create daily or weekly puzzles, and print out a new image as soon as you get bored with the former puzzle image.
For tasks like laundry or cleaning, break them into the smallest sub-tasks. This ensures they're manageable and prevents them from becoming overwhelming. We talk about this more in our free Daily Planner Printable post, but we ADHDers tend to create unrealistic goals with way too much on our plate if we aren't careful.
You can jump to the download link or keep reading for more tips.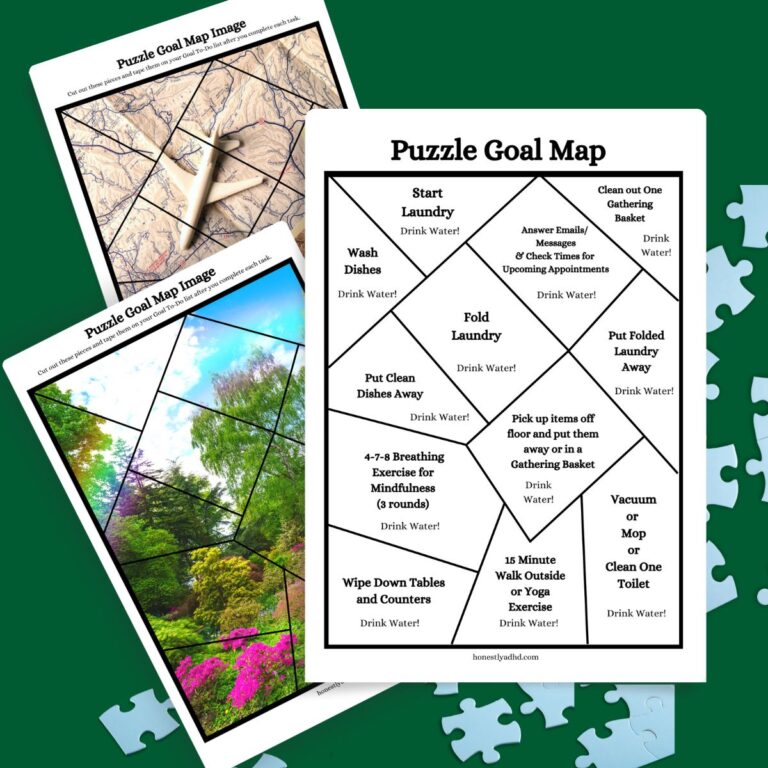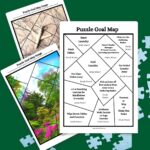 Why it Helps
Living with ADHD often means struggling with sustained focus and an unpredictable attention span. Tasks that seem mundane or without immediate deadlines or consequences, like that ever-growing laundry pile, often get sidelined. The fallout can be lost items (under that pile of laundry!), stress, missed deadlines, and chaotic daily life.
As discussed in our other ADHD blog posts, individuals with ADHD don't process dopamine in the same way as neurotypical people. Dopamine is what makes us feel happy, rewarded, and successful. This difference explains why we might need unique tools like the goal puzzle to motivate ourselves to complete essential tasks.
Our ADHD puzzle printable provides a little challenge that can give us that dopamine naturally.  It's a fun and tangible way to tackle this aspect of ADHD.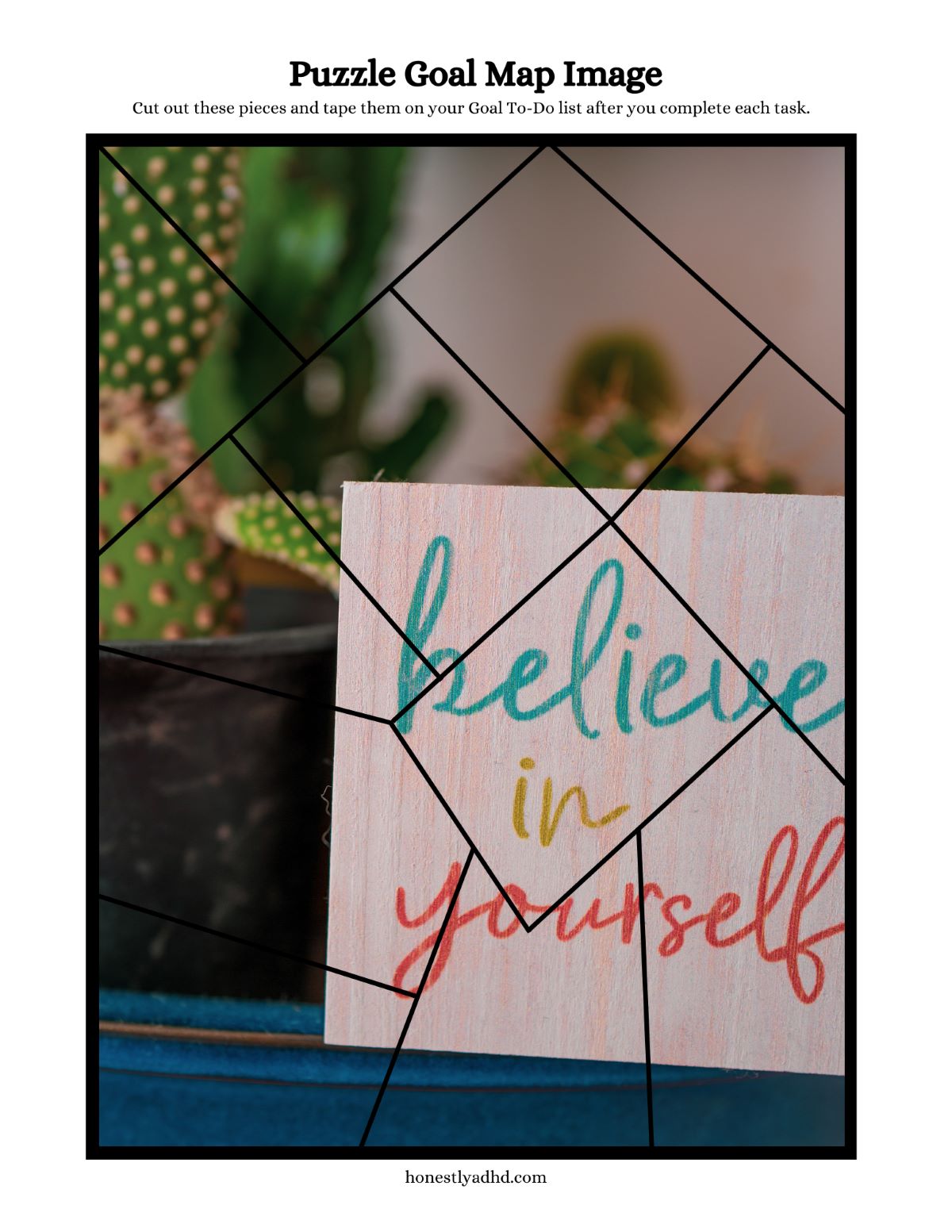 And honestly, who doesn't love that triumphant feeling when you see the completed puzzle? It's a daily or weekly reminder that you've got this, and can have a positive impact on mental health.
Are puzzles good for ADHD?
Everyone, not just those with ADHD or autism spectrum disorder, can benefit from puzzles. There are many benefits of Jigsaw puzzles, beyond their recreational value:
Our Favorite Jigsaw Puzzles for ADHD
We went on a hunt to find the most awesome puzzle for ADHD adults and kids!
While our Puzzle Goal Map Printable targets daily goals, engaging in traditional puzzles can be a brilliant exercise for ADHD brains. They offer a balance of challenge and relaxation.
Wooden Puzzles are durable and tactile, and a great gift for people with ADHD. We also love colorful puzzles with unique designs.
A black and white jigsaw puzzle with a splash of color can be challenging but still keep our focus.
The puzzles below are not jigsaw puzzles. However, unique puzzles and brain teasers rank high in our favorite gifts for ADHD kids (as do fidget toys).
In Conclusion
Attention deficit hyperactivity disorder (ADHD) brings its unique challenges, especially when it comes to staying focused on a daily plan or to-do list. We all need extra motivation at times, and for those with ADHD, this can be even more crucial.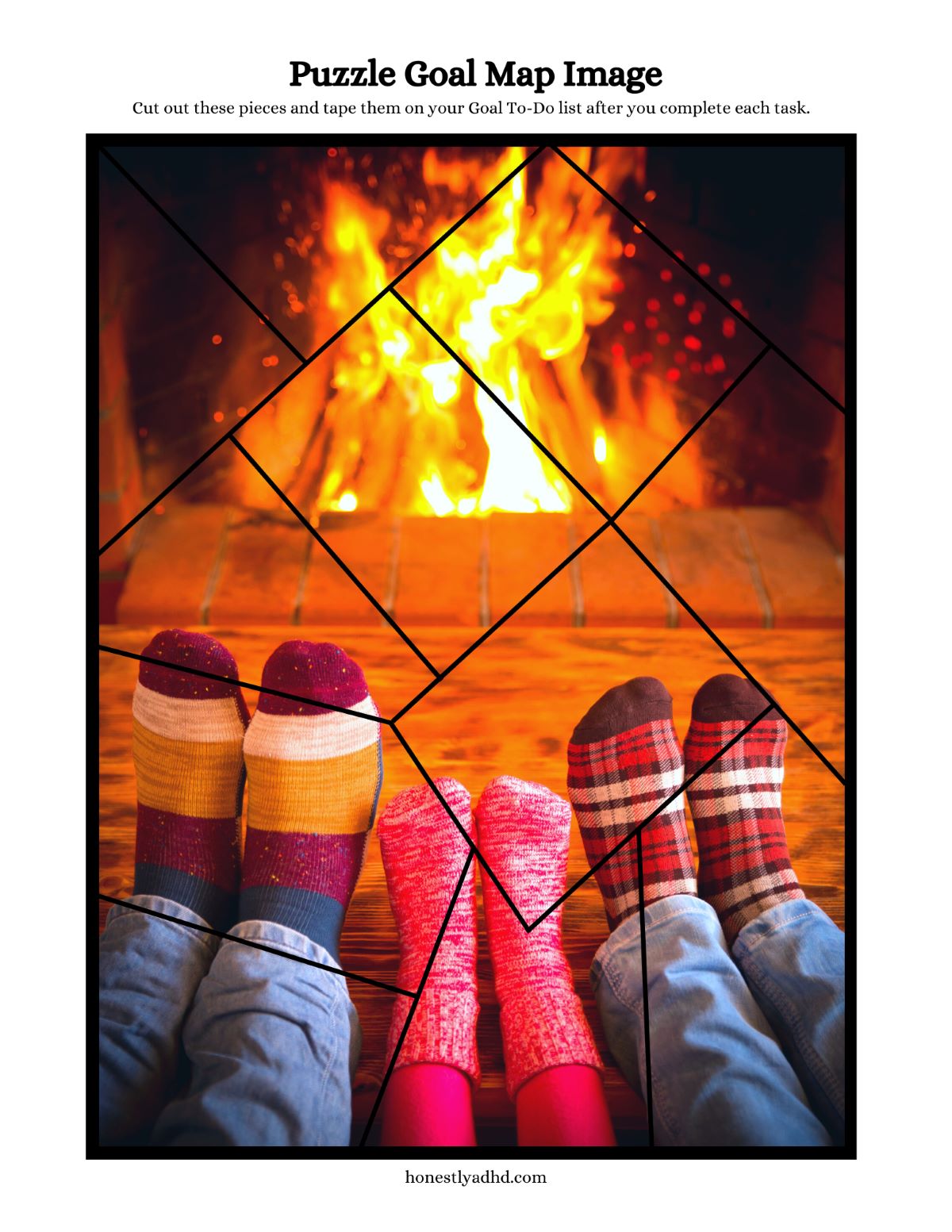 For ADHD individuals and their family members, our puzzle printable can be a tool for better mental health, increased focus, and a daily life that feels more rewarding.
We hope our ADHD Puzzle Goal Map becomes a valuable resource in your home. Embrace the challenge, and enjoy the journey!
Free Printable
🖨️ Follow the directions below to easily download the free pdf(s).
*Free printables by Honestly ADHD are for personal, non-commercial use only. See our FAQ page for more details.*
Did you like this freebie?
Find us on Pinterest for more! Follow us @honestlyADHDblog
If you enjoyed this content, please consider sharing it! We welcome the use of one of these images with visible credit to Honestly ADHD and a direct link to the article. We appreciate your support!