The content on this website is for informational purposes only and is not meant to replace professional or medical advice. See our full disclaimer.
If you're an adult living with ADHD or a parent of an ADHD kid, you know about those tough ADHD meltdown moments when emotions suddenly burst out like a volcano. We've been in those shoes and are here to support you through it.
Emotional outbursts are common in people with ADHD because we struggle with emotional regulation (i.e., handling our strong emotions).
But did you know that there are specific stages of emotional escalation in your ADHD child where reasoning with them becomes practically impossible? This isn't a theory; it's solid science!
Jump to:
What Happens During a Meltdown?
When your child is experiencing a meltdown, their heart rate escalates, they are swamped with emotions, and their rational thinking takes a backseat.
As much as we'd like to respond firmly during these outbursts, it's crucial to understand that, at this point, they are simply incapable of thinking clearly due to their overwhelming emotions. We may have no idea of the severity of the problem.
We'll dive into that, discuss why it happens, and provide some proven tips to make things easier.
At the end of this post, you'll find a free Emotional Intensity Scale that you can print. It's designed to stop escalating emotions from turning into full-blown ADHD meltdowns.
It's a handy tool that benefits ADHD children, neurodivergent children, and adults. Although a meltdown may look different in an adult than a child, the intense feelings and unreasonable thoughts are strikingly similar.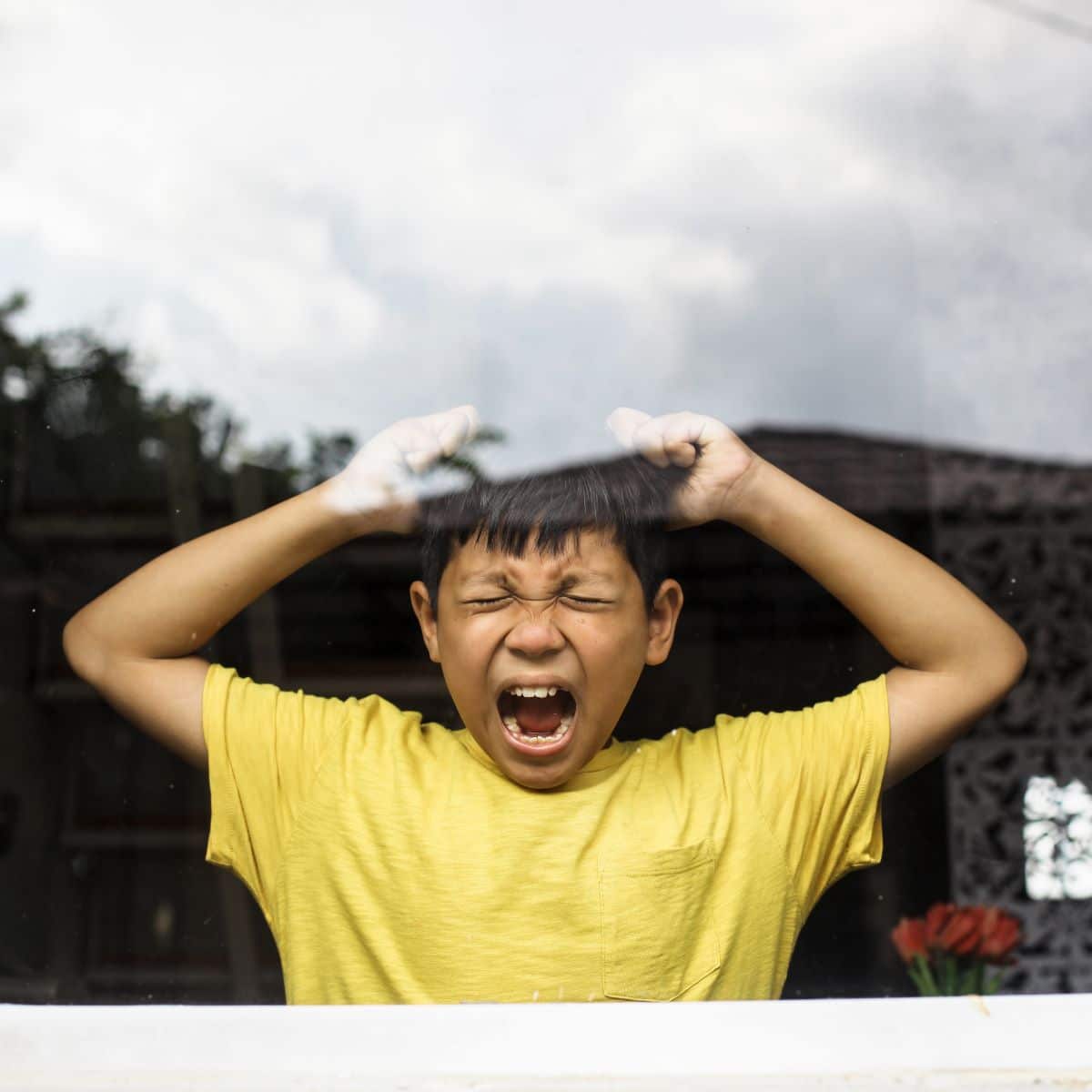 Are Meltdowns and ADHD connected?
You know those buildup moments when everything just seems too much? It could be as small as a misplaced sock or as big as a change in routine, but the result is the same - angry outbursts, emotional meltdowns, and ADHD tantrums.
With ADHD, emotions tend to be more intense (or at least felt more intensely), leading to meltdown mode. These emotional eruptions, particularly prevalent among young ADHD children, can come on quickly. This is due to our emotional dysregulation, a symptom of ADHD.
While adults with ADHD may lose their temper or shut down, children might scream, cry, throw things, or even become physically aggressive.
For parents witnessing these meltdowns, it's important to remember that these strong reactions are not deliberate and that your child has no malicious intent. The meltdowns are the outcome of feeling overwhelmed and out-of-control emotions.
This doesn't mean we should let our ADHD children get away with frequent meltdowns or disruptive behavior. It just means that until we understand how our child's ADHD brain is wired, we can't help them.
A lot of negative interaction may only make your child's meltdowns worse.
Encouraging Emotional Self-regulation
Teaching our ADHD kids to self-regulate is a great way to find the right balance of emotions. It can be as simple as encouraging them to take slow, deep breaths, creating a quiet space to relax, or using a visual aid like a feelings chart to express their emotions.
Like all ADHD parenting, it's about figuring out what works best for your child.
To aid in this process, we've got an emotions chart below.
ADHD Emotional Intensity Scale
An emotional chart or scale is a tool used to help children and adults better understand and communicate their emotions.
In our example below, '1' represents a calm state, and '11' signifies an emotional meltdown or being 'flooded' with emotions.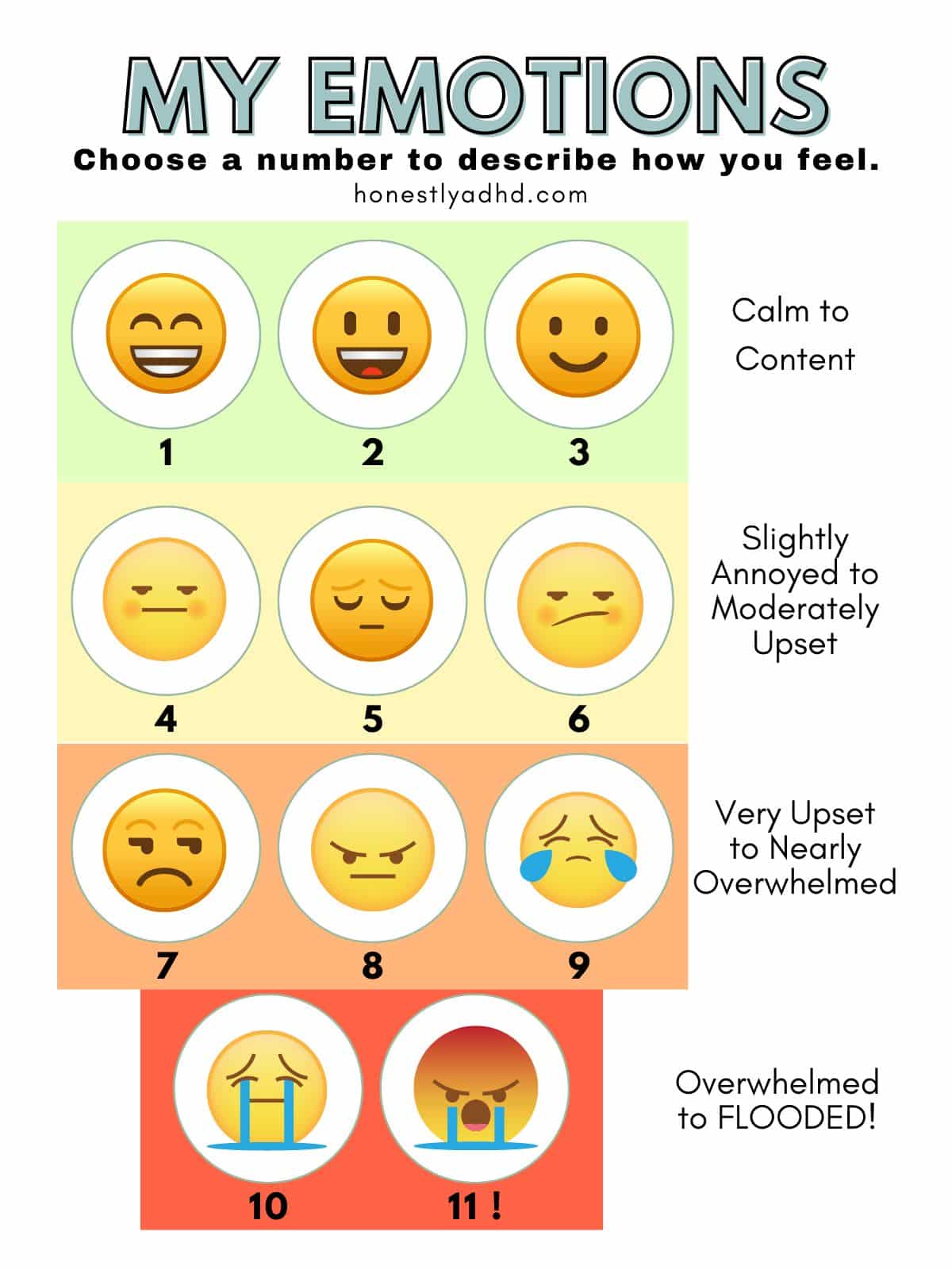 Usually, these scales go from 1-5 or 1-10, but we prefer a scale from 1-11 for ADHDers. 11 just seems more appropriate for our intense ADHD meltdown moments!
Kids with ADHD may seem like they go from a happy level 3 to a full-on meltdown level 11 within seconds.
Meltdowns= Emotional Flooding
'Flooding' is a term used to describe intense emotional reactions that can feel overwhelming, making it difficult to think clearly or act rationally.1https://psychologyfanatic.com/emotional-flooding/
It often happens when the emotional part of the brain, the amygdala, overrides the logical part, the prefrontal cortex.2Amygdala Hijack: How It Works, Signs, & How To Cope (simplypsychology.org)
When your child reaches 10 or 11 on the emotion chart, they are in the red zone. They're beyond reasoning until they calm down, ideally to at least a #6 or below.
The key is to recognize when your ADHD child is emotionally flooded and, more importantly, prevent it from escalating that far in the first place.
You can jump to the download link or keep reading for more tips.
Breaking Down the Emotional Stages
Reminding ADHD kids and adults to regularly take a moment to assess their feelings can be a real meltdown lifesaver.
Below we're going to talk about the various emotion levels of your ADHD child, but they apply to ADHD adults as well. 
1-3: Calm to Content

At this level, your child is generally in a state of calm or contentness. They can engage in everyday activities with little to no disruptions.
The important thing is to recognize this stage and maintain it by employing calming strategies and mindfulness exercises.
A bit of annoyance or mild frustration may occur here, but it's usually manageable. Emotions are under control.
4-6: Slightly Annoyed or Frustrated to Moderately Upset

Hit the 4-6 mark, and things are heating up. Feelings of frustration or annoyance may have escalated, and your child is now moderately upset or disturbed. This is the transition phase, where emotions become more noticeable and potentially disruptive.
Your child may start feeling restless, can't concentrate as well, and might get easily irritated. This is the stage where intervention is necessary to prevent further escalation.
It's time to employ coping strategies such as taking a break, deep breathing, or engaging in a preferred calming activity (more on that below).
7-9: Very Upset to Nearly Overwhelmed

At 7-9, the emotional dial is cranked up. Your ADHD child's difficult emotions and extreme frustrations have escalated further, and they are now very upset or nearly overwhelmed, almost at a breaking point.
They are likely having difficulty focusing on anything other than the source of their distress. They might also be experiencing physical symptoms like a fast heartbeat or feeling hot.
This is the critical stage where emotions threaten to overflow into flooding territory, and immediate action is necessary to prevent an ADHD meltdown.
The child needs a quiet space to calm down, supportive reassurances, and perhaps some physical comfort like a hug or a comforting item.
10-11: Overwhelmed to Flooded

This is the highest point on the chart, where your child is utterly overwhelmed or "flooded" with emotions. At this point, they are likely in the middle of an emotional meltdown with full-on sobbing, yelling, or other explosive behaviors.
Your child may feel out of control and unable to think clearly. The goal at this stage is to allow them some time and space to de-escalate their emotions. Comforting strategies such as deep pressure, wrapping in a blanket, or encouraging the use of self-soothing items might help.
Once the meltdown subsides, it's a good idea to discuss what happened in a calm tone of voice and brainstorm coping strategies for the future.  This could be in a few hours or the next day.  Simply tell your child, "we are going to talk about this ____" and set a time when you are both calm.  
Remember, an emotions chart is a tool to promote self-awareness and proactive self-regulation. Encouraging its use can be immensely helpful in managing emotional responses, especially in younger children with ADHD.
The sooner you catch those feelings starting to ramp up, the better your chances of stepping in and stopping a meltdown in its tracks.
Making the emotional scale a part of your everyday routine can turn these emotional health checks into a habit, boosting your self-awareness and making managing your feelings (self-regulation) much easier. So print it out below and stick it on your fridge!
Strategies for Kids
Now we're going to talk about ADHD meltdown prevention. We must plan ahead to help our children long before they get "flooded." 
Self-regulation is all about helping your child figure out what's setting off their stress and finding ways to chill out before things blow up.
This might involve taking deep breaths, going out for fresh air, or even breaking into a spontaneous dance!
Anything that helps ease the tension and shift your child's focus can be a huge help.
The goal is to meet them with understanding and empathy in a calm voice. As parents of ADHD children ourselves, we know it's easier said than done (especially in the heat of the moment), but it makes a huge difference.
Know Your Child's Triggers
Every kid is their own person. What might send one child into a meltdown might not bother another. The first step in meltdown management is figuring out what lights the fuse.
Maybe it's an unexpected change in plans, too much sensory input, or feeling like they're not being heard. Keep track of a log if that's helpful! Other common triggers will be if your child is hungry, sleepy, or not feeling well.  
Fun with Deep Breathing or Meditation
Taking deep breaths is one proven way to dial down stress levels. For little ones, make it a fun game, like pretending to inflate a giant balloon or blow out a forest of birthday candles.
Use our free printable meditation exercises where your ADHD child can find their calm by pretending to be a growing plant or fluffy cloud.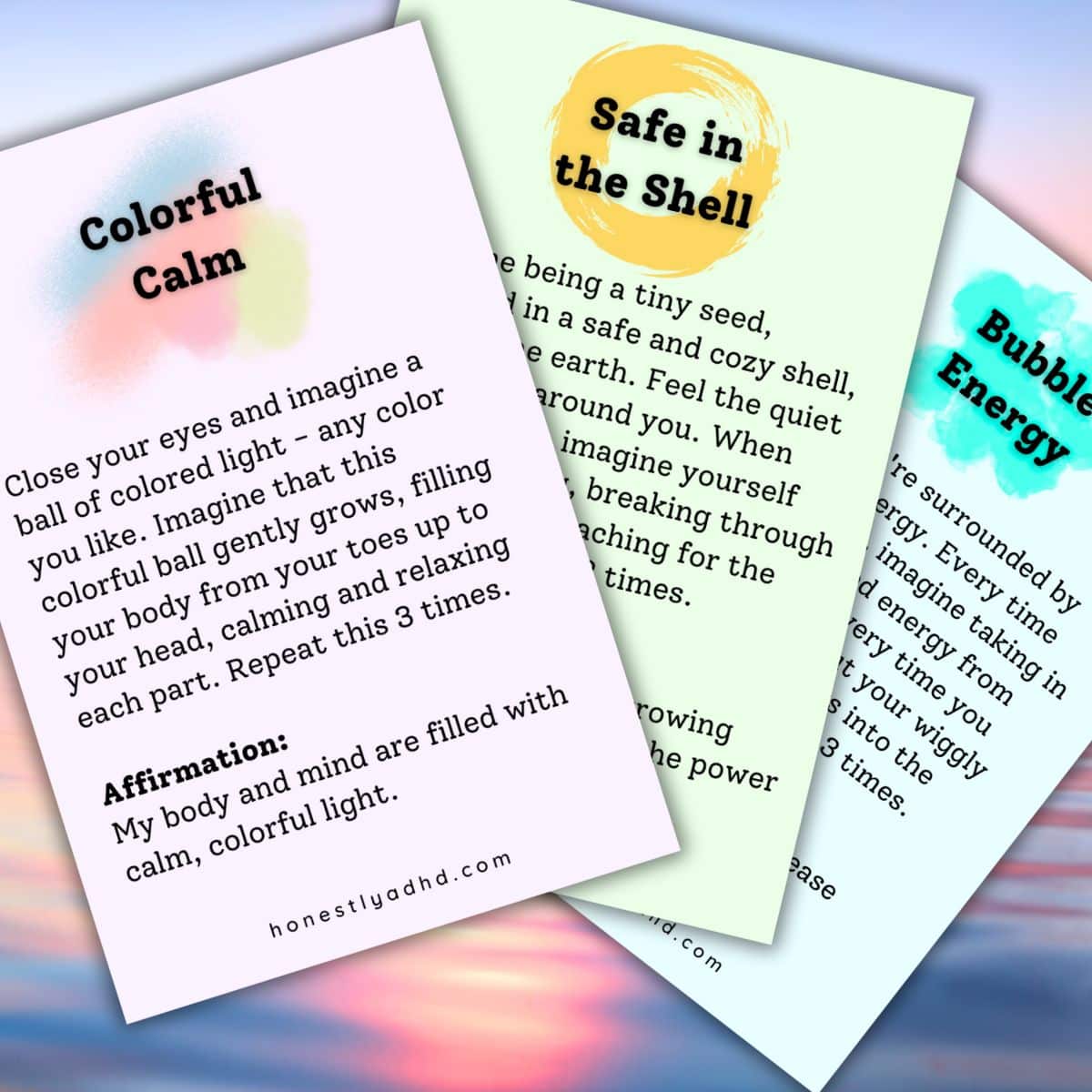 Visual Aids
Some children respond well to visual cues. A mood chart or a list of calming strategies with pictures can be useful.
Our free printable emotions scale at the bottom of this article can help them visually see their emotions as smiley face emojis. The key is to review them when the child is calm so they can use them when they're not. 
Establish a Calm Space
Create a designated "calm down" area. It could be a corner of their room filled with favorite calming items - books, soft blankets, squishy stress toys, whatever works!
Think about what makes your child happy and calm. A glass of lemonade or a little snack in a calming corner can increase dopamine levels and prevent them from being flooded.
This doesn't mean your child is off the hook for their behavior. But you won't be able to reason with them until they calm down to a number 6 or below. 
Regular Exercise
Daily physical activity can help manage excess energy levels and reduce anxiety, which can sometimes lead to meltdowns.
Keep in mind that while these strategies can be highly effective, they're not a substitute for professional help. If ADHD symptoms or meltdowns become unmanageable, reach out to a child psychologist or mental health professional. 
Strategies for Adults
For adults with ADHD, being self-aware is your secret weapon. Spotting the signals of an oncoming meltdown can help you take measures to stop it from hitting a breaking point.
You might feel your body heat up, your heartbeat speed up, or an abrupt surge of irritation. Once you spot these signals, it's time to bring out some self-regulation strategies.
Recognize Your Signs
Just like kids, adults have meltdown triggers too. It's crucial to recognize the physical and emotional signs that a meltdown is on the horizon. This could be increased heart rate, feeling irritable, or beginning to lose focus.
Pause and Breathe
When you feel a meltdown coming, take a moment to pause and breathe. Try counting to ten, visualizing a calming scene, or practicing progressive muscle relaxation.
Find Your Happy Place
Just like with kids, think of what makes you happy. Is it a cup of coffee in your sunroom? A piece of dark chocolate? A walk around the block? Watch a silly youtube video while you drink a smoothie?
It might sound silly, but little calming activities like these can increase your dopamine and calm you down if you take a moment to try to change your mindset.
Every person's happy place will be different. What provides dopamine for one person may not for the next. So think about what has made you feel better in the past, and try it next time you begin to feel upset.
Mindfulness and Meditation
Regular mindfulness practice can help manage ADHD symptoms and reduce the frequency and intensity of meltdowns. There are free resources online, including guided meditation and mindfulness exercises.
Exercise and Nutrition
Regular physical activity and a balanced diet can help manage ADHD symptoms. Exercise helps boost mood and reduces anxiety, while certain foods may lessen ADHD symptoms. Especially since ADHD and gut health are connected!
Seek Support
Whether it's through ADHD coaching, therapy, or a support group, don't be afraid to seek help. Living with ADHD can be challenging, but remember, you're not alone.
Discussing stimulant medications with your doctor can help, as can looking into supplements like Magnesium for ADHD and Probiotics or Prebiotics.
Celebrate Small Wins
In the battle against ADHD meltdowns, every bit of progress counts, no matter how small. Did your child manage to stay at a level 6 instead of shooting up to an 11? That's a win! Celebrate it.
This will serve as positive reinforcement, motivating your child to keep practicing their emotional regulation skills.
These meltdown strategies are meant to be a starting point. What works for one person with ADHD may not work for another. Feel free to tweak these ideas until you find out what works best for you and your child.
Free Printable
🖨️ Follow the directions below to easily download the free pdf(s).
*Free printables by Honestly ADHD are for personal, non-commercial use only. See our FAQ page for more details.*
⬇️ Click to Download
Did you like this freebie?
Find us on Pinterest for more! Follow us @honestlyADHDblog
If you enjoyed this content, please consider sharing it! We welcome the use of one of these images with visible credit to Honestly ADHD and a direct link to the article. We appreciate your support!
References: