The content on this website is for informational purposes only and is not meant to replace professional or medical advice. See our full disclaimer.
ADHD isn't just about occasional daydreaming; it can feel like an ongoing tug-of-war with distraction, impulsiveness, and restless energy.
Here's where the magic word comes in – mindfulness.
Mindfulness is the art of grounding oneself in the present moment, and welcoming thoughts, feelings, and sensations without judgement. Now, if you're a typical ADHDer (like us), the idea of a 'calm presence' may sound laughably out of reach.
But don't be too quick to write it off. Mindfulness practices are rooted in ancient traditions and supported by modern research. These practices can yield tangible benefits with just a few minutes of daily practice.
Join us as we delve into six approachable mindfulness techniques tailored for those of us with ADHD.
Jump to:
Why Mindfulness for ADHD?
If you ever struggle to stay on track, your mind darting from one thought to the next, you're not alone. Attention Deficit Hyperactivity Disorder (ADHD) affects millions worldwide, with statistics revealing that approximately 8.4% of children and 2.5% of adults grapple with its challenges.1ADHD Statistics 2What is ADHD?
People with ADHD experience challenges partly due to differences in brain structure and function. Specifically, areas of the ADHD brain responsible for attention, impulse control, and emotional regulation often show decreased levels of certain neurotransmitters (like dopamine and norepinephrine).3ADHD and the Brain
This is where mindfulness can be beneficial, as it has been shown to enhance neurotransmitter levels, which can help alleviate ADHD symptoms.4What Happens When You Meditate | STANFORD magazine
Starting with the Basics: Breathing Exercises for Mindfulness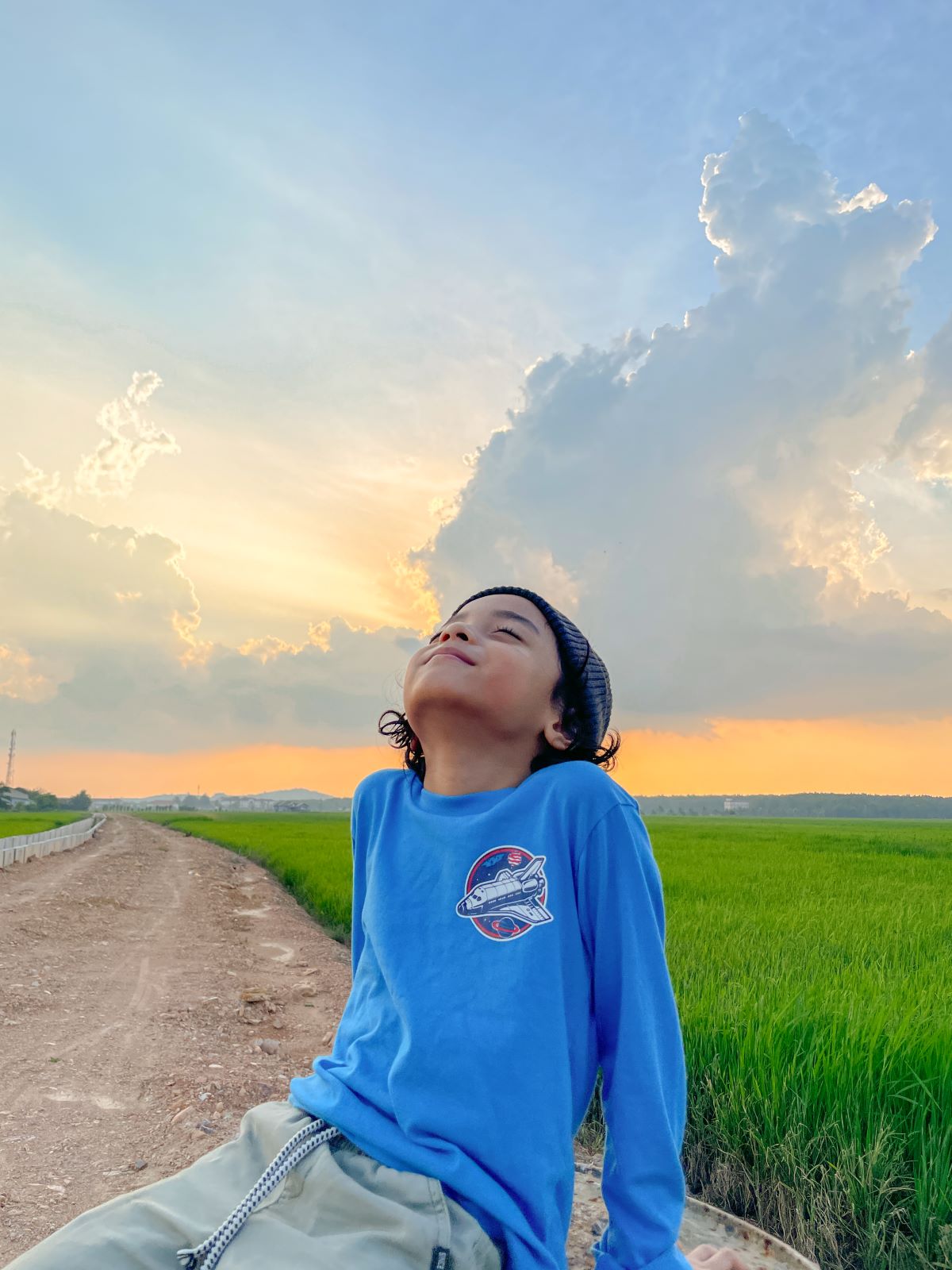 These easy exercises can yield a noticeable sense of calm within mere minutes. Try to work your way up to 10 minutes a day of simple breathing exercises to enhance focus and decrease stress.
4-7-8 Breathing: Inhale for 4 counts, hold for 7 counts, then exhale for 8 counts. Repeat.
Box Breathing: Inhale deeply for 4 counts, hold your breath for 4 counts, exhale for 4 counts, and hold for 4 counts. Repeat.5Box Breathing Technique for Stress & Focus
Body Scan Meditation
You don't need any prior knowledge of meditation to benefit from the body scan technique. It involves concentrating on each part of your body and releasing tension.
This practice can increase inner peace, relaxation, and heightened self-awareness.
Step-by-Step Guide:
Find a quiet space free from distractions.
Get into a comfortable position, either lying down or sitting.
Close your eyes and center yourself.
Start at your toes and work your way up to the crown of your head, focusing intently on each body part.
As you notice any areas of tension, take deep breaths and visualize that tension melting away.
Studies show increased sustained attention post-body scan meditation, helping ADHD individuals concentrate better.6Components of Mindfulness Training: Impacts on Attention and Affect (uark.edu)
Mindful Coloring and Crafts
Mindful coloring, crafts, and creative activities can be helpful for both kids and adults with ADHD. By focusing on coloring fun patterns or crafting intricate designs, we can channel energy into a soothing, fun, and rewarding activity.
Calming Craft Ideas:
Mandala Coloring: The repetition and symmetry of mandalas help calm racing thoughts.
Origami: Precision and concentration come together in the art of origami.
Collage Making: Assembling images and textures taps into creativity while promoting focus.
Knitting or Crocheting: The rhythm of these crafts can be meditative, relieving stress and helping with concentration.
The "S.T.O.P." Technique
ADHD can lead to emotional intensity and impulsiveness. STOP helps ADHDers manage feelings, reducing outbursts and meltdowns.
STOP reminds us to Stop, Take a breath, Observe, and Proceed, a mindfulness tool especially helpful for ADHD children.7Practice: S.T.O.P.
STOP Breakdown:
Stop: It's time to pause, physically if needed, when emotions surge.
Take a breath: Inhale deeply; count to three, then exhale. Repeat if necessary.
Observe: Identify your feelings without judgment.
Proceed: Work towards a thoughtful response.
Introducing the STOP Technique to Children:
Explain each step in simple terms using relatable examples.
Practice together during calm moments (don't wait until it's a stressful situation!).
Reinforce its use in real-life situations, guiding them through the process.
Guided Imagery
Guided imagery is a relaxation technique where you listen to someone describe a peaceful scene or setting, using your imagination to fully immerse yourself in the experience.
It offers a mental escape from the daily whirlwind, which is especially beneficial for those with ADHD. Our mindful meditation for kids free printable cards can also be used.
Examples:
The Beach Vacation: Close your eyes, feel the warm sand beneath your feet, and hear the soothing waves. Imagine a mental vacation that calms racing thoughts.
The Quiet Park: Picture a peaceful walk in a quiet park. Hear the gentle rustle of leaves and feel the fresh air, helping to ground your thoughts and improve focus.
The Cozy Room: Close your eyes and envision a cozy, comfortable room. Feel the softness of a plush chair and the warmth of a glowing fireplace (think of Christmas time, if that brings you comfort). Let this scene bring a sense of calm and peace to your busy mind.
Creating a Daily Mindfulness Routine
Regular mindfulness practice rewires the brain, helping individuals with ADHD to develop focus and emotional control over time. But those of us with ADHD know that "routine" doesn't come easy.
Ways to Practice Mindfulness with Little Effort:
Mindful Eating: Take your time to enjoy each bite, noticing the flavors and textures. This makes meals more enjoyable and helps control impulsivity, leading to healthier eating habits.
Mindful Walking: Use your senses while walking. Pay attention to the sights, sounds, and smells around you. People with ADHD who practice this can find it easier to focus on other parts of their life with a clear head.
Mindful Music: Listen to music attentively. Choose a favorite song, close your eyes, and really listen to it. This practice can help individuals, including kids with ADHD, feel more relaxed and centered.
For Further Exploration: Mindfulness-Based Cognitive Therapy (MBCT.)
MBCT can help people with ADHD (who tend to be overly critical of themselves) break free from self-doubt and judgment. Studies report a rapid growth in self-acceptance among ADHD adults after completing an MBCT program.8Mindfulness based cognitive therapy versus treatment as usual in adults with attention deficit hyperactivity disorder (ADHD)
In its simplest form, MBCT (Mindfulness-Based Cognitive Therapy) is a mental health program that combines mindfulness techniques with traditional cognitive therapy methods. It helps people become more aware of their thoughts and feelings without becoming overwhelmed. It's designed to address recurrent depressive episodes and negative thought patterns.
If MBCT piques your interest:
Check with local mental health centers for programs or referrals.
Search online directories to find certified MBCT therapists experienced in treating ADHD.
Explore apps and online courses that provide structured MBCT lessons for adults and children.
Benefits for ADHD
If you've gotten this far in our article, you know the research shows that mindfulness and mindful breathing aren't just a trend. Mindfulness boosts focus, cuts impulsivity, and studies show it can improve attention span.9The Effects of Mindfulness Meditation on Attention and Rumination
Now, let's explore how this practice can significantly benefit those with ADHD:
The Bottom Line
As we wrap up our journey, remember that embracing mindfulness takes time. It's about weaving moments of stillness into the tapestry of your busy life. 
So, here's the call to action: start small. Choose one mindfulness practice that resonates with you or your child, and integrate it into your daily routine.
This could be a few deep breaths before a meeting, a mindful walk in the park, or a moment of gratitude at the dinner table. These simple steps can pave the way for a more balanced, calmer, healthier, and fulfilling life.
References: