The content on this website is for informational purposes only and is not meant to replace professional or medical advice. See our full disclaimer.
Creating an effective ADHD morning routine sounds like mixing oil and water. The unpredictable, impulsive energy of ADHD and the structured, predictable nature of a routine are on opposite sides of the spectrum. 
But trust us, tackling your morning routine can transform your morning from chaos to calm, setting the stage for a successful rest of the day. We're here to share some creative ideas and practical strategies for creating an ADHD-friendly morning routine for both kids and adults.
We're also providing a free printable and editable ADHD morning routine checklist at the bottom of this post!
Jump to:
Understanding the Beast: The ADHD Morning
First things first: let's understand what we're up against. Routines often go against our ADHD brains. That's because ADHD impacts our executive functions, which in simpler terms, means our ability to plan and complete tasks.
It also means that your ADHD child's executive age may be 30% behind their peers.
That makes nailing morning tasks like dressing, eating, and leaving by the front door on time much more challenging. But fear not, my friends, we have strategies to tackle this!
Use Visuals
Visual reminders like a routine checklist a great way to keep things on track. They are especially recommended by occupational therapists for ADHD children.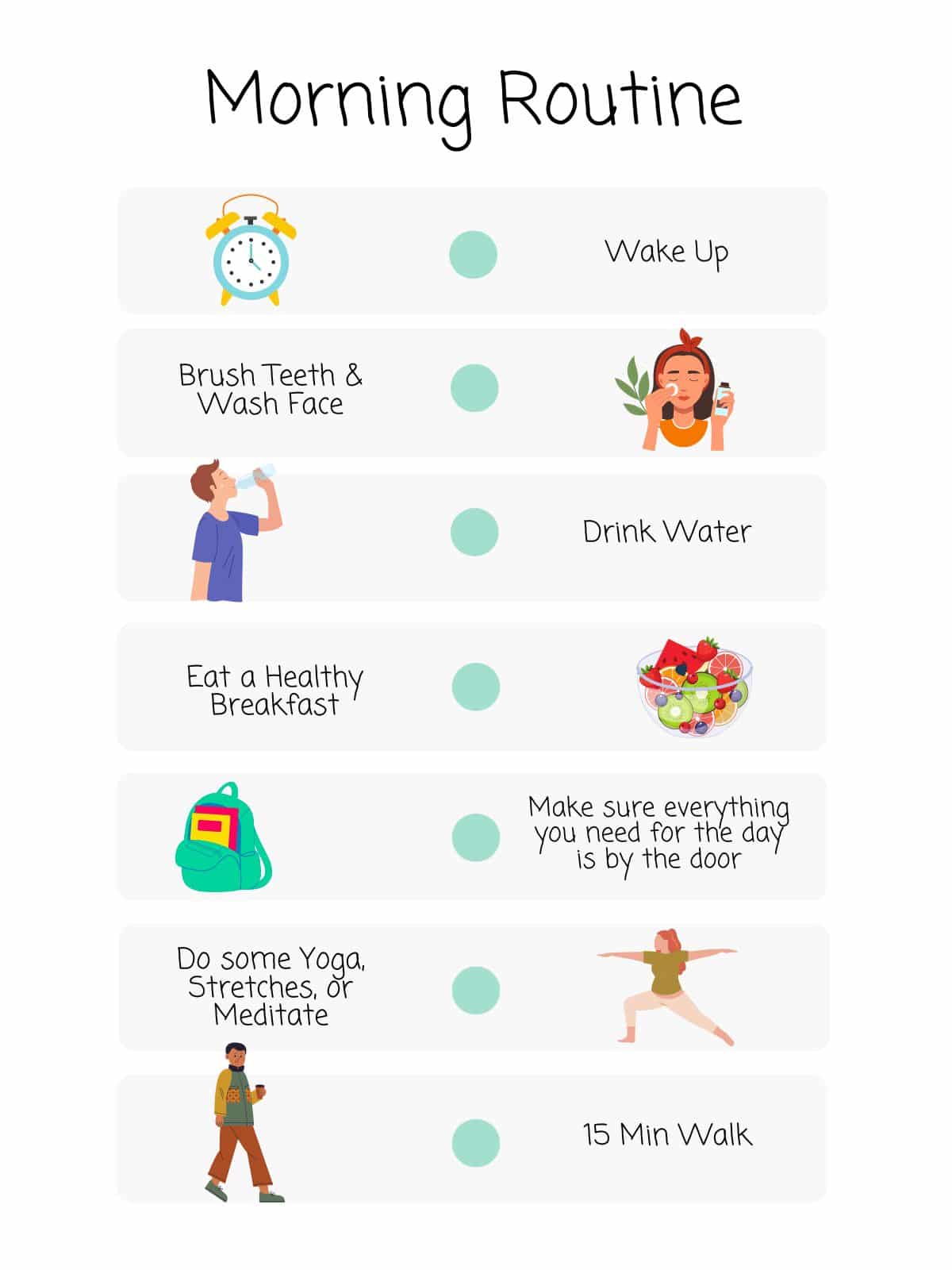 A simple visual schedule like our free printable ADHD morning checklist can provide reminders in a large, easy-to-read format.
Place it in a page protector and tape it on your bathroom mirror, by your coffee maker, or somewhere you will always see it.
In addition to the pdf version of this morning checklist, you'll also find the editable Canva link. It will let you customize all the details on Canva and tailor it to your needs.
Canva has a free plan, but some graphics or fonts may have to be switched out if you don't have a Canva Pro plan.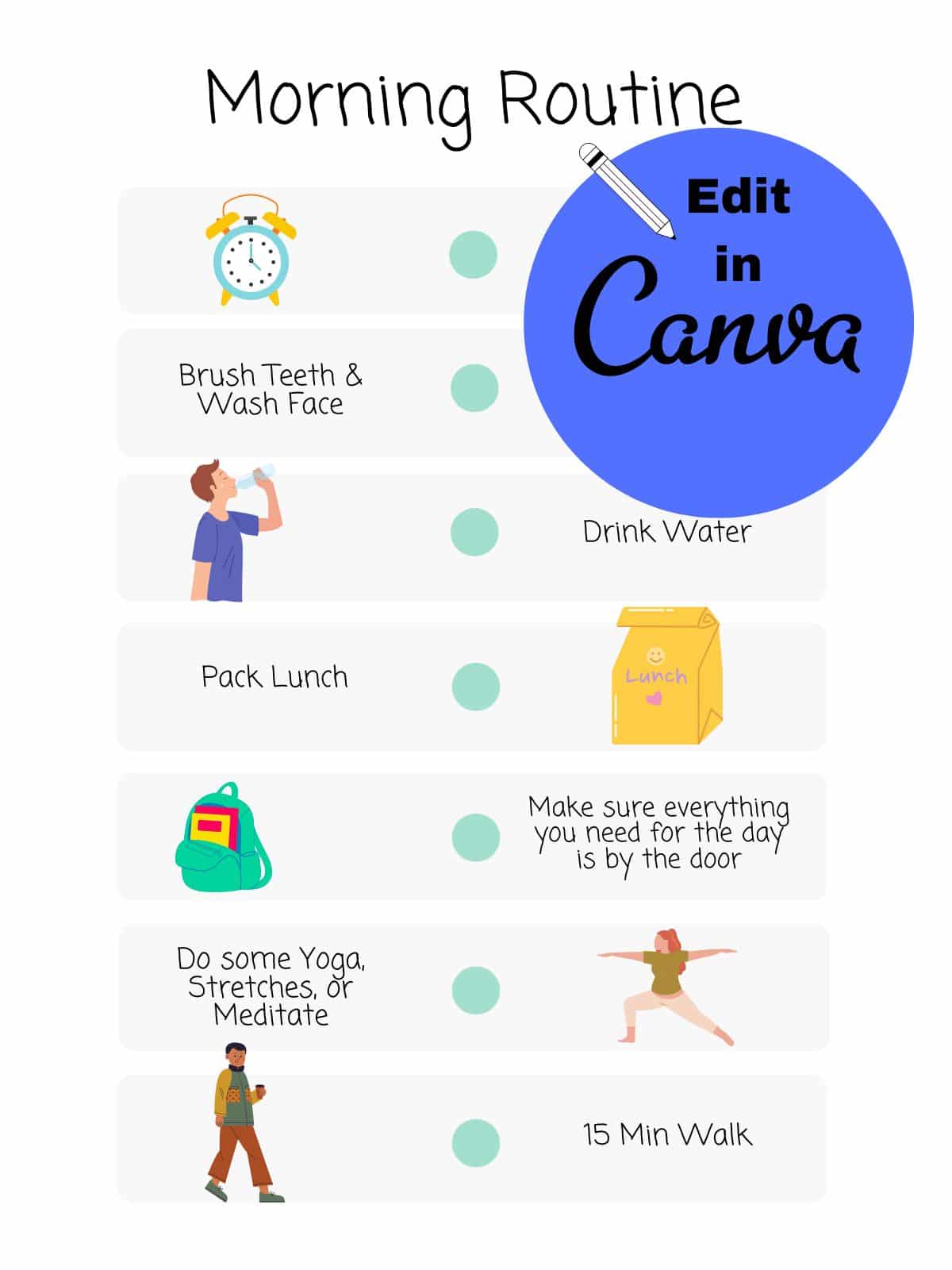 You can jump to the download link or keep reading for more tips.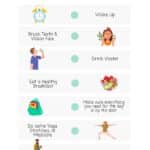 The Power of Preparation for Happier Mornings
On our free printable ADHD morning checklist, we added a spot to "make sure everything is ready to go" before doing the rest of the items on the list.
For example, I'll place my shoes, purse, keys, bag, etc., right by my door before I do my hair & makeup or morning yoga. This provides peace of mind and prevents that stressful scrambling of "I've lost my keys!!" right when it's time to go.
Teaching your kids this strategy will create happier, more relaxed mornings.
Make an Evening Ritual
One effective way to minimize morning stress is to do as much as you can to prepare for the next day. Pack lunches, lay out clothes, and put any new reminders on a sticky note on your morning checklist.
The best way to do this is to create an evening "ritual" so you remember every task you have to do.
An ADHD ritual combines something you enjoy with something you need to do with positivity and purpose. Do the ritual enough times, and it becomes a meaningful habit! (learn more about rituals in our Task Initiation post).
For example, you could play some of your favorite songs while preparing everything for the next day. While you do it, think about how happy your future self will be to have all important items nicely laid out and ready to go.
This ritual combines something you enjoy (favorite song) with something you need to do (prepare for tomorrow) with positivity and meaning (happy, proud thoughts).
We made a free printable evening ritual to help: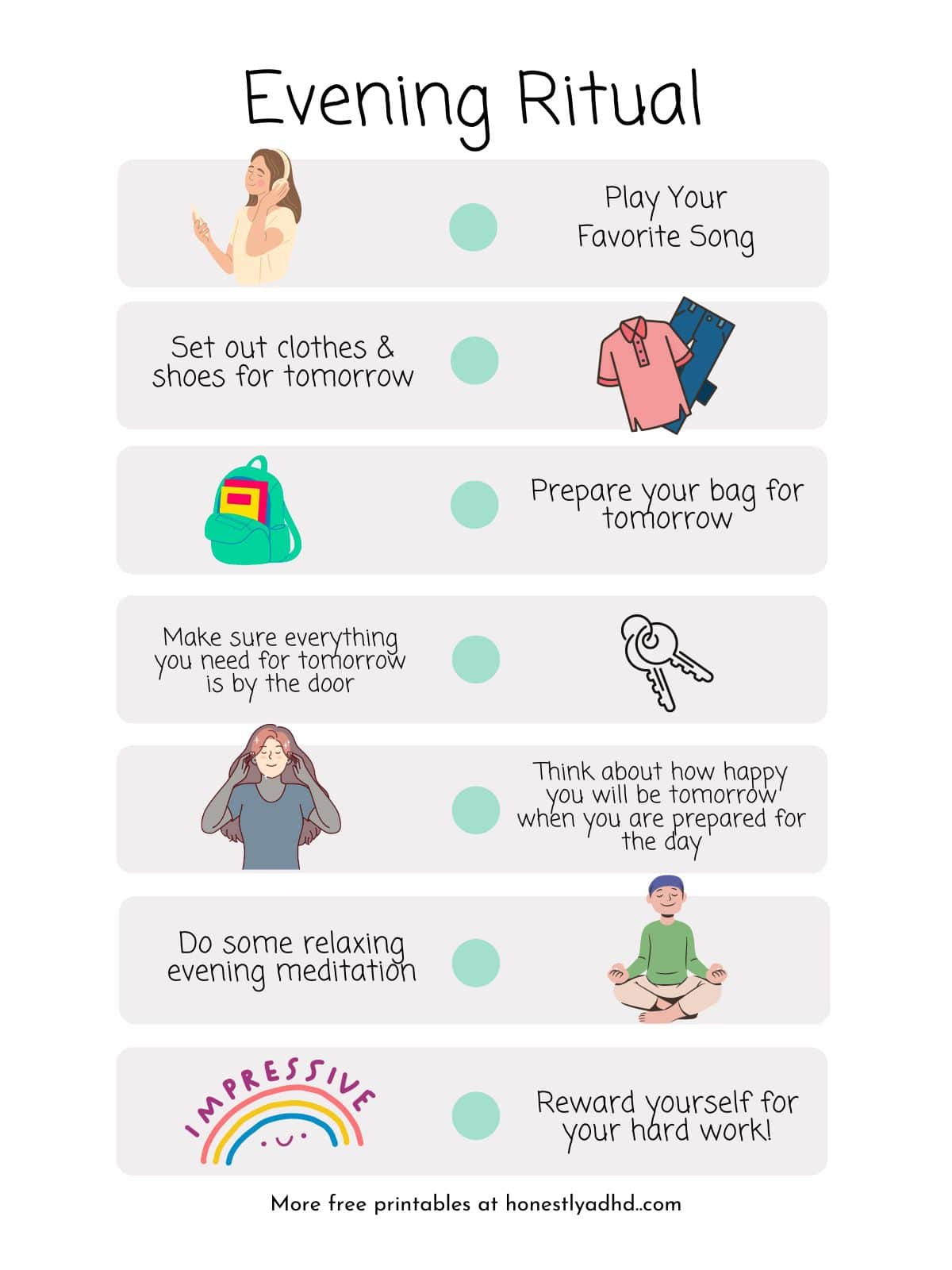 Just like our printable ADHD Planner, we recommend rewarding yourself after being productive. It can be something small, like an ice cream treat, your favorite beverage (like ADHD-improving matcha-green tea), or an episode of a show you like.
Get your ADHD kids involved in these rituals, too! It not only gives you both extra time in the morning but also helps them develop good habits. 
A Little Rhythm Goes a Long Way
Circadian rhythm, my friends! Have you heard of it? It's not just a fancy term.
Every creature on earth, including us, has a circadian rhythm - a natural, internal process that regulates our sleep-wake cycle, repeating roughly every 24 hours.1Circadian Rhythms
To visualize it, think of a music playlist that starts playing as soon as you wake up. This playlist is designed to keep you awake and energized throughout the day and helps you wind down when it's time to sleep.
Now, imagine that external factors, such as light and darkness, influence this playlist. The song starts playing when the sun rises and slows down when it sets. This is what happens in our bodies.
When it gets light outside, our brains tell our bodies it's time to wake up and move. As it gets dark, our bodies wind down and prepare for sleep.
For people with ADHD, understanding and harnessing this rhythm can make a world of difference when creating an effective morning routine. 
Here's how:
Wake-up time:
It's best to wake up at the same time every day to align with your natural circadian rhythm. Regularity is key.
Even on weekends or days off, try to stick to your schedule. It's the best way to work in harmony with your body's natural clock.
Bright light:
Exposure to bright light in the morning helps signal your body that it's time to wake up. This could be as simple as opening your curtains to let in natural light or spending a few minutes outside.
Avoid screens before bedtime:
The blue light from screens can confuse your circadian rhythm, tricking your brain into thinking it's still daytime. Try to limit or avoid screen time one to two hours before bed.
Remember, our bodies thrive on regularity. The more consistent you are, the more your body and ADHD brain will start to cooperate with you rather than feeling like they're working against you.
More Morning Tips
Don't skip breakfast. A nutritious breakfast, particularly one with protein, fuels the brain and can help manage ADHD symptoms.
Remember your medication. For those who take ADHD medication, timing is critical. Your healthcare provider will know the best time for you. But generally, taking it first thing can help manage symptoms during the morning rush. Some ADHDers even set their alarm an hour before they need to get up, take their stimulant medication, and go back to sleep until their next alarm.
A good night's sleep is half the battle. ADHD or not, everyone benefits from sleep. Aim for 7-9 hours for adults and 9-12 hours for kids depending on their age. Your morning will feel much more approachable if you are well-rested.
Make it a team effort. Get your entire family involved in the morning routine. From the oldest son to the youngest, everyone can play a part. Not only does this distribute the load, but it also improves your child's ability to manage their own time, a skill that will benefit them for life.
Create a calm environment. A stress-free morning routine starts with a peaceful environment. Take a deep breath, play soothing music, and set a positive tone for the day. This approach can do wonders for your mental health.
Celebrate small wins. Celebrate every small task accomplished or good behavior shown during your new morning routine. These positive reinforcements can encourage better habits in your ADHD children.
A Morning Routine for Kids
Let's imagine a possible ADHD-friendly morning routine for your child. This is just one example; feel free to mix and match based on your child's personality and preferences. What's most important is consistency.
6:30 am - Wake-up Time
The alarm clock goes off. It's a calm, soothing tune, not too jarring. We're not trying to scare the daylights out of anyone here!
6:35 am - Bright Light and Stretch
Open the curtains to let in the bright light and do a few simple stretches. This step helps wake up the body and mind and aligns with the body's circadian rhythm, which we discussed before.
6:40 am - Dress Up
Time to get dressed. Lay out clothes the night before to make this process quicker and smoother. Pro tip: Let your child choose their outfits the night before. It promotes decision-making and self-reliance!
6:50 am - ADHD Medication
If your child is on ADHD medication, this might be a good time to take it, per your healthcare provider's advice. Remember, never change medication schedules without consulting your doctor.
7:00 am - Nutritious Breakfast
Sit down for breakfast. Make it fun and healthy. Think smoothies, whole grain toast with avocado, or scrambled eggs and fruits.
7:20 am - Brush Teeth and Freshen Up
Consider using a fun toothbrush or a song to make this more engaging.
7:30 am - Pack School Bag
Check the to-do list or printable morning list for the day. Ensure homework, signed forms, lunch, and snacks are in the bag.
7:40 am - Mindful Moment
Take a deep breath. Do a mini-meditation with our free meditation exercise cards, read a few pages of a favorite book, or talk about what you're looking forward to today. Starting the day calmly and positively can set the tone for the hours ahead.
7:50 am - Last-minute Check and Out the Door
Time for the final sweep. Are shoes on? Is the lunch box in the bag? Once everything's done, it's time to head out the front door.
8:00 am - Depart for School
And they're off to conquer the day!
A Morning Routine for Adults
Just as with the routine for kids, this sample routine can be tailored to fit an adult's lifestyle. Tweak it until it caters to your brain and ADHD symptoms.
6:00 am - Wake-up Time
Try to wake up at the same time each day to help regulate your circadian rhythm.
6:05 am - ADHD Medication
If you're taking ADHD medication, now might be the right time. Always consult your doctor for the best schedule.
6:10 am - Bright Light and Hydrate
Get up and open the blinds to let the bright light in. Sunlight can help signal your brain that it's time to start the day. Drink a glass of water to kick-start your hydration for the day.
6:15 am - Stretch and Meditate
Spend a few moments doing gentle stretches to wake up your body, followed by a short meditation to help ground you and start the day on a calm note.
6:30 am - Review To-Do List
Sit down with your planner or to-do list. Prioritize your tasks for the day and estimate how much time each will take. A clear plan can help you manage your time and feel more in control of your day.
6:45 am - Exercise
A short workout can get your blood pumping and boost your energy levels for the day. This could be a brisk walk around the block, a quick yoga session, or even dancing to your favorite tunes around the house.
7:15 am - Shower and Dress Up
After your exercise, take a refreshing shower and get dressed. Even if you're working from home, getting dressed can signal to your brain that it's work hours.
8:00 am - Breakfast
Enjoy a nutritious breakfast to fuel your day. That could be an omelet, overnight oats, or a protein smoothie - whatever you enjoy and keeps you feeling satisfied.
8:30 am - Begin Work
Whether you're off to your job or working from home, now is the time to dive into your most pressing tasks. If you're still sluggish in the mornings, consider tackling more manageable tasks first and save your more complex tasks for when your energy levels peak.
Whether you're a parent of ADHD kids or an adult managing your own ADHD, we could all use a little more peace in our morning!
And it's okay if things aren't perfect the first time. Heck, it's okay if things aren't perfect for the 100th time.
The most effective ADHD morning routine is the one that works for you. If you find it isn't working, it probably needs to be adjusted.
And don't forget, be gentle with yourself - some days will be smoother than others, and that's okay!
Free Printable
🖨️ Follow the directions below to easily download the free pdf(s).
*Free printables by Honestly ADHD are for personal, non-commercial use only. See our FAQ page for more details.*
Instructions
Download the PDF version to print the morning check-list as-is.

Click on the Editble Canva version to customize and edit the ADHD morning checklist, then download and print.
Did you like this freebie?
Find us on Pinterest for more! Follow us @honestlyADHDblog
If you enjoyed this content, please consider sharing it! We welcome the use of one of these images with visible credit to Honestly ADHD and a direct link to the article. We appreciate your support!
References: