The content on this website is for informational purposes only and is not meant to replace professional or medical advice. See our full disclaimer.
As adults with ADHD, we wanted to create a printable ADHD To Do List that we actually use. A to-do list is only helpful if we follow through, right? Well, not necessarily.
Sometimes just getting those thoughts out of our head and writing them down on paper can help us to accomplish more in our day. Please keep reading to learn more and to get our three free printable pdfs made for the ADHD mind.
Jump to:
Why We Need Structure
If you're living with attention deficit hyperactivity disorder (ADHD), managing daily tasks is usually an uphill battle. With an ADHD brain, it can be challenging to estimate how long a task will take--a phenomenon often referred to as "time blindness." 
In addition to our issues with time management, we often have an abundance of thoughts spiraling through our brain at every given moment. This makes it hard to remember due dates or focus on one thing at a time.
In addition to that, we need help prioritizing tasks. We see everything we need to do as equally important, which can cause us to get overwhelmed, shut down, and not do anything! (It's called ADHD paralysis).
This is where our free, printable ADHD to-do lists come to the rescue. Created by us (fellow ADHD adults), these tools help us start and complete tasks! You can download and print the paper to-do lists at the bottom of this post.
The Simple ADHD To-Do List
If you only print out one ADHD to-do list, this one is a great place to start.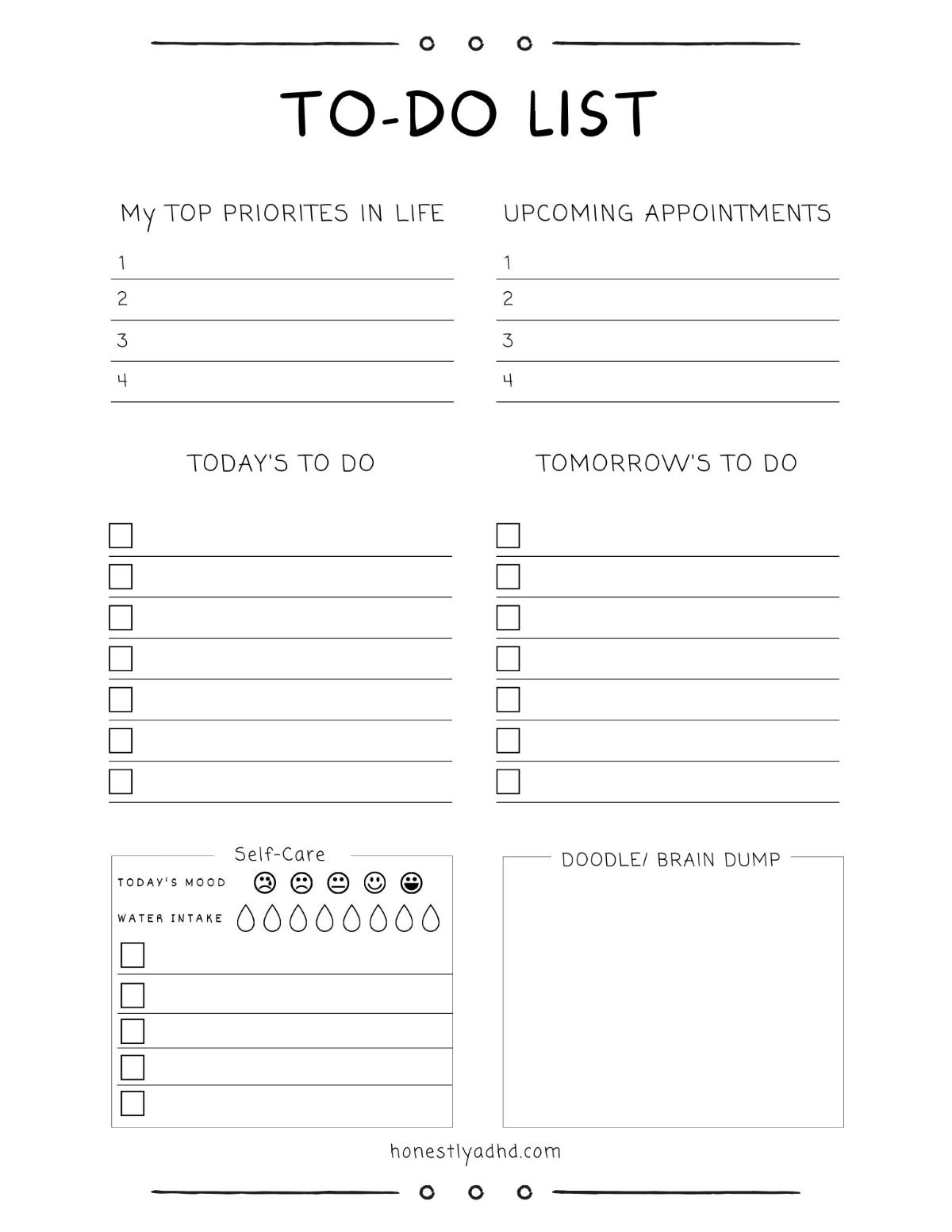 Top Priorities in Life
The first part of our Simple ADHD To-Do List is devoted to your "top priorities in life." While this might sound dramatic, it serves an important function. Write down these priorities, such as family, friends, happiness, or anything else central to your life.
This is the first step towards choosing your daily tasks more effectively. With only four slots, this section forces you to hone in on what matters most.
Upcoming Appointments
Next on the list is a section for noting down upcoming appointments. This is a great way to offload scrambled thoughts onto paper. It frees up cognitive space and reduces the risk of forgetting essential appointments.
You can add the appointment to your "Today's To-Do" list if the appointment is due today.
Today's and Tomorrow's To-Do
Our simple to-do list also includes sections for "Today's To-Do" and "Tomorrow's To-Do." These sections have only a few slots to prevent the common ADHD struggle of overloading ourselves with an unachievable long list of tasks.
This list focuses on breaking down big tasks into manageable, smaller steps like "start a load of laundry" instead of an impossible "clean the house." Checking off each completed task will give us a sense of accomplishment.
 (We go into this more with our ADHD daily planner template, which is helpful if you want to break down daily tasks based on the time you have).
Self-Care
One of the most important things we can do for our ADHD is focus on wellness and self-care, which is why this helpful tool includes a section just for that. Taking care of yourself will improve your energy levels and health.
In this section, you can list your self-care tasks for the day and circle how you feel. There's also a water tracker to ensure you're staying hydrated throughout the day. 
Doodle/Brain Dump
Finally, we've added a section for those random thoughts that pop up in our ADHD minds.
This space is for anything not immediately important or relevant, acting as a 'brain dump' where you can declutter your mind instead of getting distracted.
Priority Matrix Printable
If you need help figuring out where to start, or if you're trying to squeeze in tasks that won't fit onto the to-do list above, start with the Priority Matrix.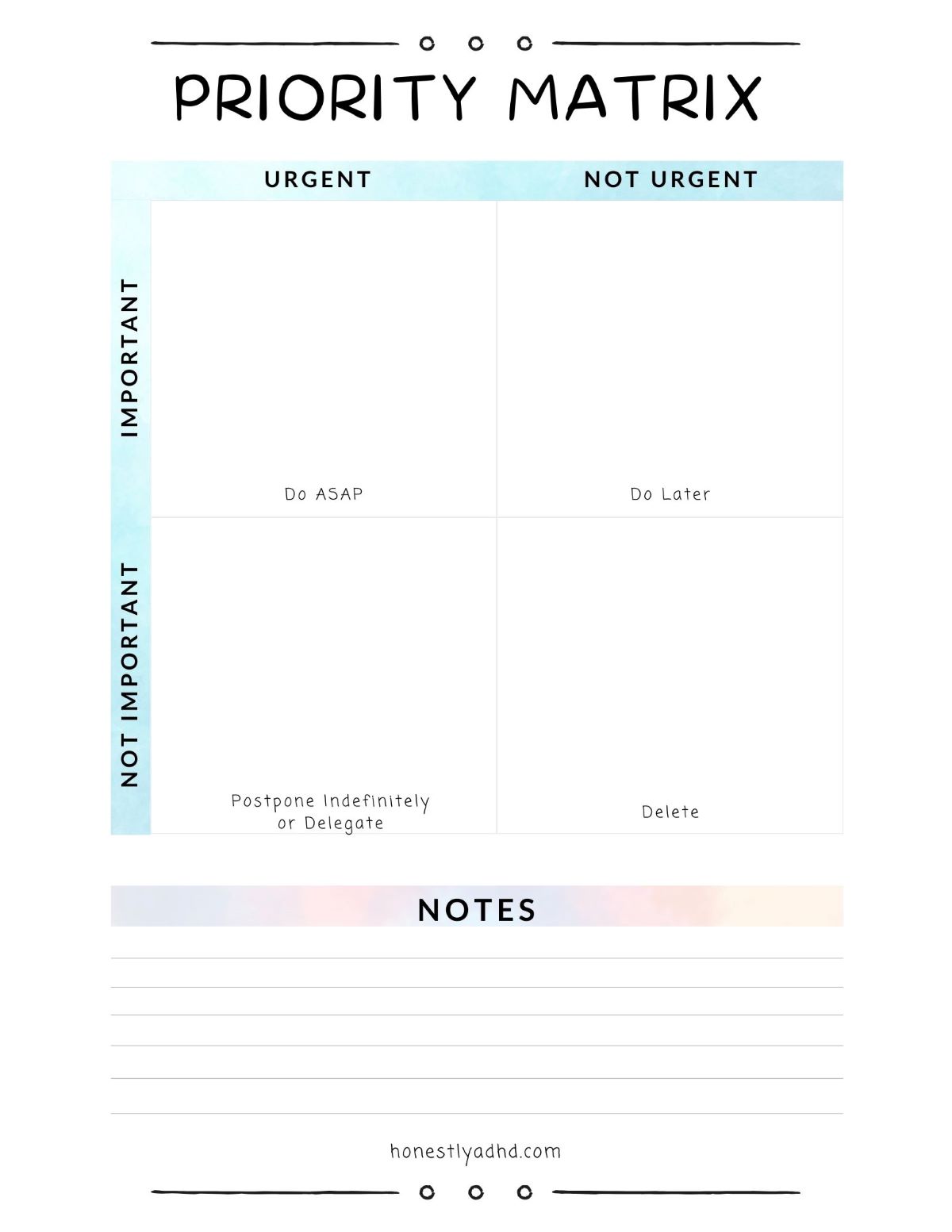 You can jump to the download link or keep reading for more tips.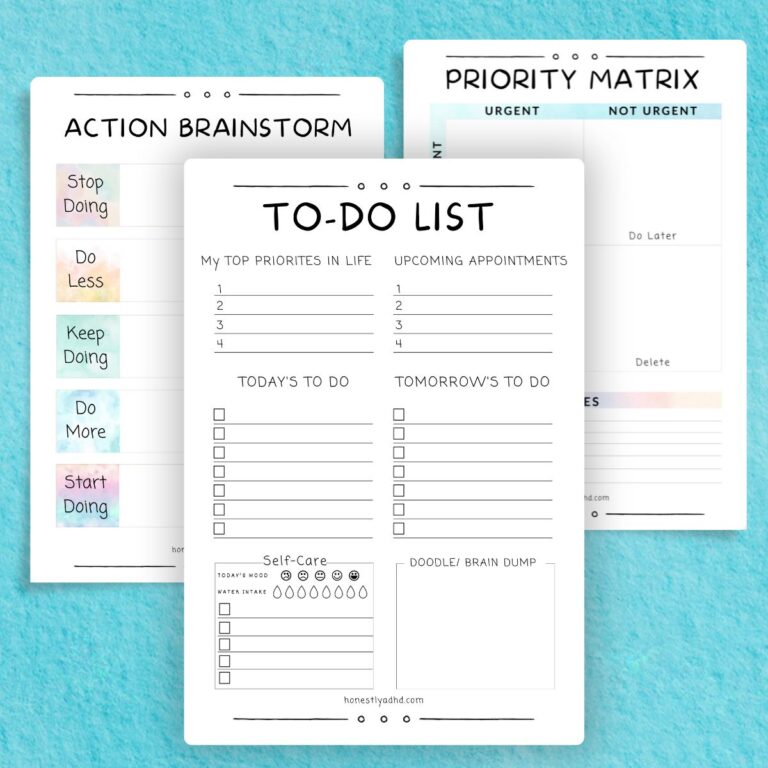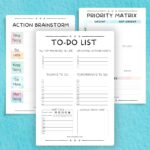 This task list takes inspiration from the Eisenhower Matrix, an effective task management tool first introduced by Dwight D. Eisenhower.
As individuals with ADHD, we often find it challenging to differentiate between the urgent and the not-so-important. The ADHD Priority Matrix is designed to help us decide which tasks we can leave off our daily to-do lists. 
It consists of four squares, each representing a different level of priority. This layout forms the basis of our priority mapping.
Do ASAP (Urgent and Important)
The first square is for tasks that are both urgent and important. These tasks are your top priorities, which must be done as soon as possible.
This could include tasks like paying a bill that's due today, attending to a health concern, or finishing a work project with a looming deadline. By isolating these tasks, you can give them your full attention and knock them out first. 
You can put these specific tasks onto sticky notes as visual reminders.
Do Later (Not Urgent but Important)
The second square is for tasks that are important but not immediately urgent. These tasks are significant, but they don't need to be completed right away.
Put tasks like setting up a doctor's appointment, planning an upcoming project, or buying a gift for a friend's birthday next week here. The "do later" tasks are not about procrastination. It's about appropriately scheduling tasks for a later date when they become more urgent.
Postpone Indefinitely or Delegate (Urgent but Not Important)
In the third square, we find time-sensitive but unimportant tasks. This might be attending a meeting that could be handled by a colleague or doing household chores that could be shared among family members.
This box helps you identify tasks that are consuming your time and energy without contributing to your top life priorities.
Let's say you have an email that you need to respond to, but you need more time to delve into it. You could reply to the email, "Thank you, I have received your message and made a reminder to get back to you after my current project."
Most email providers let you set up quick reminders within your email system, which will notify you when you said you'd follow through.
Delete (Not Urgent and Not Important)
The fourth and final square is for tasks that are neither urgent nor important. 
Simply put, these tasks can be deleted from your list. It's a reality filter for your to-dos, allowing you to let go of jobs that don't serve any meaningful purpose in your life or work.
This might include a project you don't have time for or worrying about things beyond your control.
ADHD Action Brainstorm Worksheet
Our final tool is the ADHD Action Brainstorm Worksheet. Those of us with ADHD have trouble with executive functions. Use this to-do list if you find yourself falling into the same unproductivity patterns.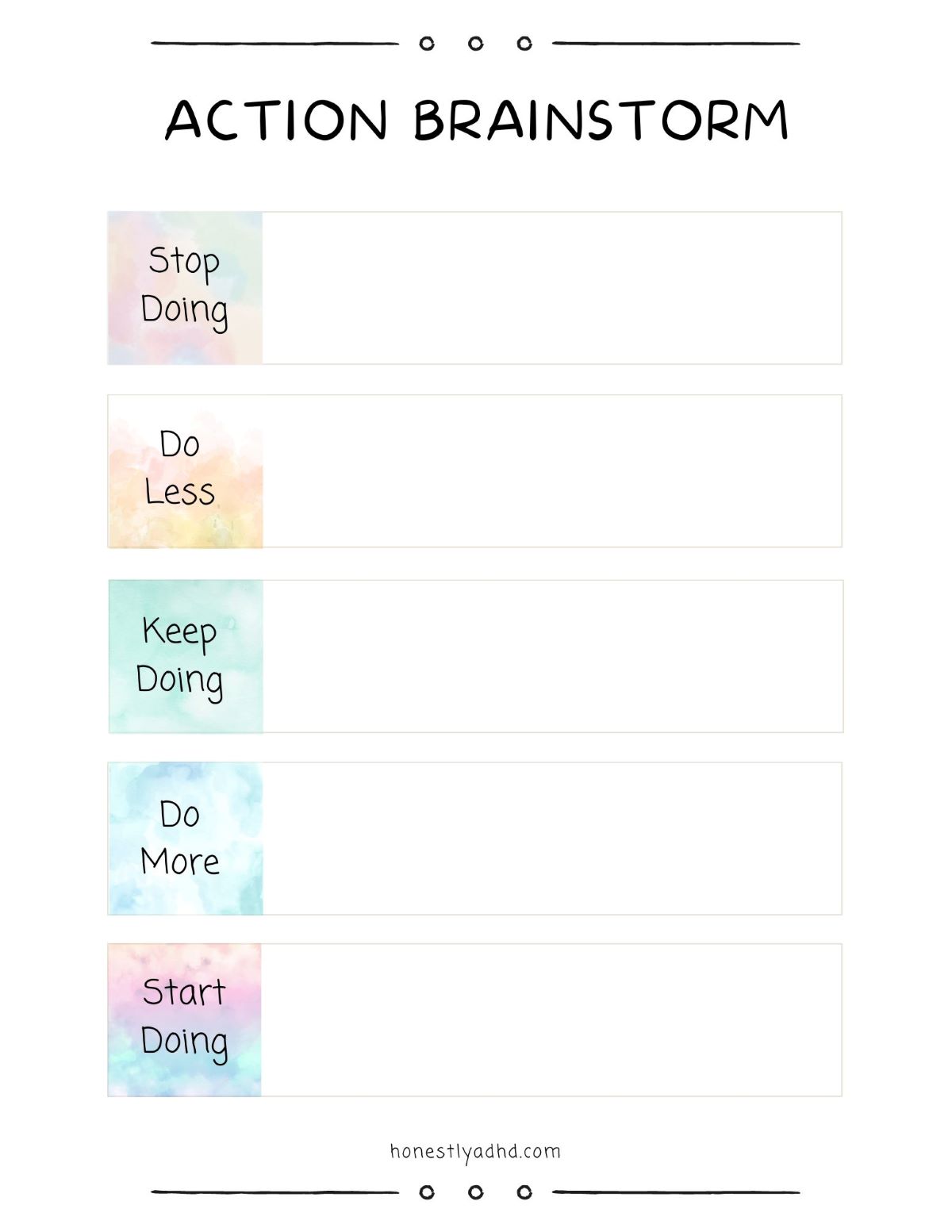 This printable is similar to a habit tracker. It gives us a master list to evaluate and decide upon the actions we should take on a daily basis.
Here's how the ADHD Action Brainstorm Worksheet works:
Stop Doing
The first section is "Stop Doing." Here, we list things that are not beneficial or even detrimental to our lives.
It might be an unproductive habit, like spending too much time on social media or a task that constantly drains your energy but offers little return.
Recognizing and eliminating these activities can free up time and mental space, helping us improve our quality of life.
Do Less
The "Do Less" section is for tasks or activities that might be necessary but currently consume excessive time or energy.
An example might be spending less time obsessing over minor project details or reducing time spent worrying about things beyond our control.
By doing less of these, we can redirect our energy towards more productive areas.
Keep Doing
Next, we have the "Keep Doing" section. These are activities that are already working well for us.
It could be regular exercise, maintaining a healthy diet, keeping a daily routine, or using a particular task management app that syncs well with our ADHD symptoms.
Pat yourself on the back and be proud of your success in these areas. Acknowledging these can help reinforce positive habits and strategies.
Do More
The "Do More" section invites us to list tasks or activities that are beneficial and worth spending more time on.
It could be spending more time on a project that excites us, dedicating more time for relaxation and self-care, or investing more time in relationships that matter to us.
This section helps us proactively engage with things that contribute positively to our lives.
Start Doing
Finally, the "Start Doing" section is for actions we're not currently doing but believe could significantly improve our lives. It might be a new hobby, a fitness regimen, a helpful ADHD coping strategy, or a new to-do list system or digital tool.
Introducing new, beneficial actions into our routine can help improve our ADHD management and overall mental health!
By using these ADHD to do lists, we can better manage and prioritize our time, our tasks, and our ADHD. We take back control, shaping our lives in a way that suits our unique needs and helps us thrive despite the symptoms of ADHD.
Free Printable
🖨️ Follow the directions below to easily download the free pdf(s).
*Free printables by Honestly ADHD are for personal, non-commercial use only. See our FAQ page for more details.*
⬇️ Click to Download
Did you like this freebie?
Find us on Pinterest for more! Follow us @honestlyADHDblog
If you enjoyed this content, please consider sharing it! We welcome the use of one of these images with visible credit to Honestly ADHD and a direct link to the article. We appreciate your support!