The content on this website is for informational purposes only and is not meant to replace professional or medical advice. See our full disclaimer.
When it comes to managing ADHD symptoms, you might be surprised by the vital role that magnesium, an essential mineral, plays. 
So, does magnesium help with ADHD?
This powerful nutrient is more than just a component in our diet—it is essential in promoting brain function and emotional regulation, particularly in individuals with Attention Deficit Hyperactivity Disorder.1Magnesium - Health Professional Fact Sheet (nih.gov)
As someone who lives with ADHD and manages it daily, I can attest to the difference a magnesium supplement has made in my life and the lives of my loved ones. 
This article shares the research we've found and my personal experience with magnesium supplements, but they may work differently for you.  This is not sponsored. Please consult with a healthcare provider before trying new supplements or making changes to your health.
Jump to:
What's the Best Form of Magnesium for ADHD?
While several forms of magnesium are available in the market, some work in different ways.  Let's walk through the various types, their benefits, and the science behind them, starting with what is thought to be the best magnesium supplement: Magnesium L-Threonate.
After you dive in, check out the other "ADHD supplements" that research has shown can help with cognitive symptoms:
Magnesium L-Threonate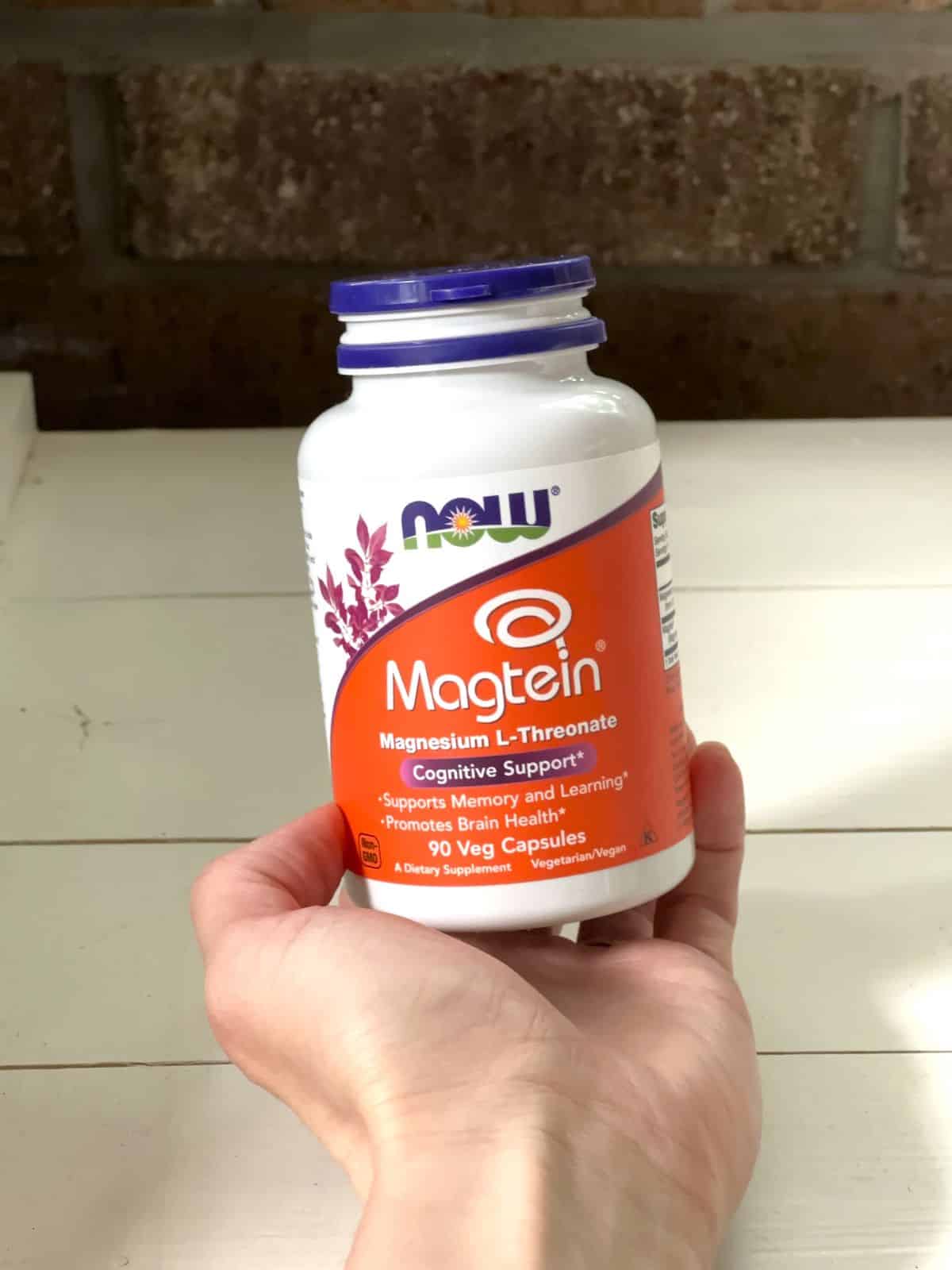 Magnesium L-Threonate, often called Magtein, caught my attention in the book "Finally Focused." (Great read, by the way.  It's one of my favorite books for parents of ADHD kids). 
The author of Finally Focused, Dr. James Greenblatt, suggests that nearly all people with ADHD could benefit from a magnesium supplement.  He shares how magnesium can help with ADHD symptoms and explains why it's an essential nutrient for our brains.
Multiple studies support the benefits of Magnesium L-Threonate.
This form of magnesium is particularly effective because it can cross the blood-brain barrier, positively impacting cognitive function.2Enhancement of Learning and Memory by Elevating Brain Magnesium
NOW Magtein is the brand I use, and although it gave me a headache during the first couple of days (as warned on the label), the discomfort quickly disappeared.
I can't tell you if it's a placebo effect, but I felt the benefits were subtle but still noticeable by day three!  I experienced a clearer headspace, less brain fog, and found it easier to focus. 
Maybe you know the brain fog I'm talking about... That ever-present cloud that turns straightforward tasks into mountain climbs?  I was already taking Magnesium Citrate, but after starting Magtein, my headspace just felt... better.
The effects were so noticeable that even my husband decided to try it. We both take the recommended dose for adults listed on the Now Magtein bottle.
Magnesium L-Threonate has a higher cost than many other dietary supplements, and Dr. Greenblatt says in his book that he usually recommends more affordable magnesium types.
A less-expensive form of magnesium may work just as well for you, so please review the different types to see which one will be the best fit.
Magnesium Citrate
Before using Magtein, I took Nature Valley Magnesium Citrate Gummies twice a day. While this type didn't give me the clear-headedness that Magtein offered, it did have a calming effect and helped my mood.
Magnesium citrate is one of the more popular forms of magnesium supplements, and it's super absorbable.  In studies, Magnesium Citrate provided a significant improvement in ADHD symptoms, notably in promoting relaxation and reducing anxiety.3The effects of magnesium supplementation on subjective anxiety and stress—A systematic review
My kids currently use the Natural Vitality Calm magnesium citrate powder supplement in the morning and evening.  We mix the lemon-flavored powder with a splash of lemonade or orange juice to make it tastier for them.
The same brand offers child gummies and a kid's powder version that would be great for ADHD children. However, Natural Calm's website states that the children's powdered version is the same product with different dosage recommendations.  So we go by the children dosing guidelines but use the lemon flavor.
We first tried Magnesium Calm to help my 6-year-old son with his gut issues and constipation.  And what do you know?  It also helped even out his ADHD symptoms, especially his emotional regulation and meltdowns.  
Plus, it helps him wind down at bedtime.  
Magnesium Glycinate
Known for its high bioavailability, Magnesium Glycinate is said to be gentle on the stomach.  It is especially recommended for those who want to correct a deficiency due to its high absorption level.
It also may be a good choice if you've got a sensitive stomach.
Magnesium Taurate
This form of magnesium also contains the amino acid taurine, which also aids in calming the nervous system.
Magnesium Oxide
This form is often used to treat migraines and constipation.  However, Magnesium oxide is not absorbed as well as other forms of magnesium. It might not be the best choice for ADHD symptoms.4The Importance of Magnesium in Clinical Healthcare
Epsom Salts
Not a dietary supplement, Epsom salts (magnesium sulfate) are used in baths to soothe aching muscles.  Some anecdotal evidence suggests a calming effect, although more research is needed for a definitive stance.5Should You Take an Epsom Salt Bath?
How Does Magnesium Help with ADHD?
Magnesium plays an important role in various bodily functions.  It can help regulate our nervous system and even boost our mood and mental health.
Its impact extends to improving ADHD symptoms, reducing anxiety, enhancing cognitive function, and promoting better sleep.  Its calming effect can even help with emotional problems.
Studies have shown a significant connection between low magnesium levels and ADHD symptoms. This means that people with ADHD have a higher risk of being magnesium deficient, which makes this nutrient an essential part of an ADHD treatment plan.6The effects of magnesium supplementation on hyperactivity in children with ADHD
Magnesium helps regulate neurotransmitters, which send signals throughout the brain and body.  Evidence shows that adequate magnesium levels can help reduce ADHD symptoms.7The Role of Magnesium in Neurological Disorders
In addition, magnesium supplementation may help with cognitive function.  Research has found that magnesium is essential for many processes related to learning and memory.
For those dealing with ADHD, sleep disturbances are often a common challenge, and magnesium plays a role here too.  It aids in regulating the body's sleep-wake cycle and helps promote deep, restful sleep.8Magnesium and Sleep
The Research on Magnesium and ADHD
​I've shared a lot about my personal experiences, but you're probably wondering if there are any scientific studies to back this up.
One research study conducted on children diagnosed with ADHD found that magnesium supplementation resulted in a significant decrease in hyperactive behavior.9The effects of magnesium supplementation on hyperactivity in children with ADHD  
A significant correlation between ADHD symptoms and lower levels of zinc, low iron levels, and particularly lower magnesium was observed in a 2011 study.10Iron, Magnesium, Vitamin D, and Zinc Deficiencies in Children Presenting with Symptoms of Attention-Deficit/Hyperactivity Disorder  This research supports the hypothesis that certain nutrient deficiencies may play a role in ADHD. It also suggests that adequate magnesium intake may help prevent symptoms of ADHD.
One study suggests that magnesium contributes to neurological health, potentially impacting conditions like depressive symptoms, anxiety, stress response, ADHD, and Alzheimer's disease.11The role of magnesium in neurological disorders
While research suggests that magnesium supplementation can be beneficial in these disorders, more studies are needed to fully understand the relationship, and supplements should not replace standard care.
Magnesium Supplements vs. Food
Before you go raiding your fridge for magnesium-rich foods, let's talk about why a supplement might be a good idea.  Of course, a balanced diet is essential.  You'll find magnesium in healthy foods like spinach, leafy greens, nuts, and whole grains. 
The problem is that getting enough magnesium from our diet can be challenging.  That's where supplements step in.  
Magnesium supplements can offer a quick and efficient way to increase your magnesium levels.  But of course, everyone's experience is different.
What works for one person with ADHD may not work for another.  So, as with any treatment or supplement, it's important to chat with a healthcare professional before starting a new regimen.
Conclusion
When managing ADHD, we need all the help we can get.  That's where magnesium, and the right kind of magnesium supplement, can make a significant difference.  From supporting cognitive functions to improving sleep problems and reducing anxiety, this powerful mineral is a great place to start in the world of ADHD management.
It's also important to note that while magnesium can help manage ADHD symptoms, it is not a cure for ADHD.  It can, however, be a valuable part of a comprehensive treatment plan that might include medication, behavioral therapy, and lifestyle changes.
I'd love to hear about your experiences.  Have you tried any magnesium supplements?  Or have other tricks or supplements helped you and your ADHD?  Let us know in the comment section below.
References: