The content on this website is for informational purposes only and is not meant to replace professional or medical advice. See our full disclaimer.
Today, we're diving into an educational coding toy that captivated my kids – the mTiny robot by Make Block. This interactive robot is geared towards children ages 4-7, and it recently became one of our favorite toys for ADHD kids.
A huge thanks to Make Block for sending this our way. While the product was gifted, everything you'll read here is based on our genuine experience.
You can purchase the Makeblock mTiny Robot on Amazon or on the Makeblock website.
Jump to:
First Impressions
The vibrant box displaying a cute panda robot immediately caught the kids' attention. Just by seeing the box, my 3.5-year-old's eyes lit up while my 6-year-old was already brimming with questions. 
As we opened the box, I was impressed by the substantial weight and durability of everything inside. Each component felt heavy-duty, even the thick cardboard puzzle pieces.  
Our cute little panda coding robot, "mTiny," and its joystick pen controller come with the convenience of USB charging. Best of all, they came pre-charged, ready for play straight out of the box.
mTiny Quick Unboxing Video
For those curious to see it in action, check out our play session with mTiny in the video below. You can hear the cute sounds the robot makes as he moves (along with my kids' enthusiasm as they play!).
Playtime with mTiny
Once unboxed, it became clear that mTiny is designed to make learning fun.
Interactive Play: mTiny responds to the 24 large, reversible map blocks that fit together puzzle-style. For example, on a bed image, mTiny's eyes shut, and it mimics snoring, while a food icon prompts eating sounds.
Dress-up Fun: mTiny starts as a panda, but the box comes with animal masks: a chicken, cat, and dog. Once mTiny lands on one of these animal puzzle pieces in his animal mask, he will make the corresponding animal noises for the remainder of his adventure.
Coding Made Fun
The set comes with 36 coding cards – arrows, parentheses, and the like. These cards let kids use logical thinking to dictate mTiny's path.
For example, first, you line up an up arrow, a down arrow, and a forward arrow, and use the tap pen to make mTiny "go". Then you watch as mTiny follows those exact instructions as he moves over the map pieces while making cute, happy sounds.
My 6-year-old was hooked on this feature and determined to ace all the educational challenges. The coding concept was a bit advanced for my 3.5-year-old, but his brother helped him out.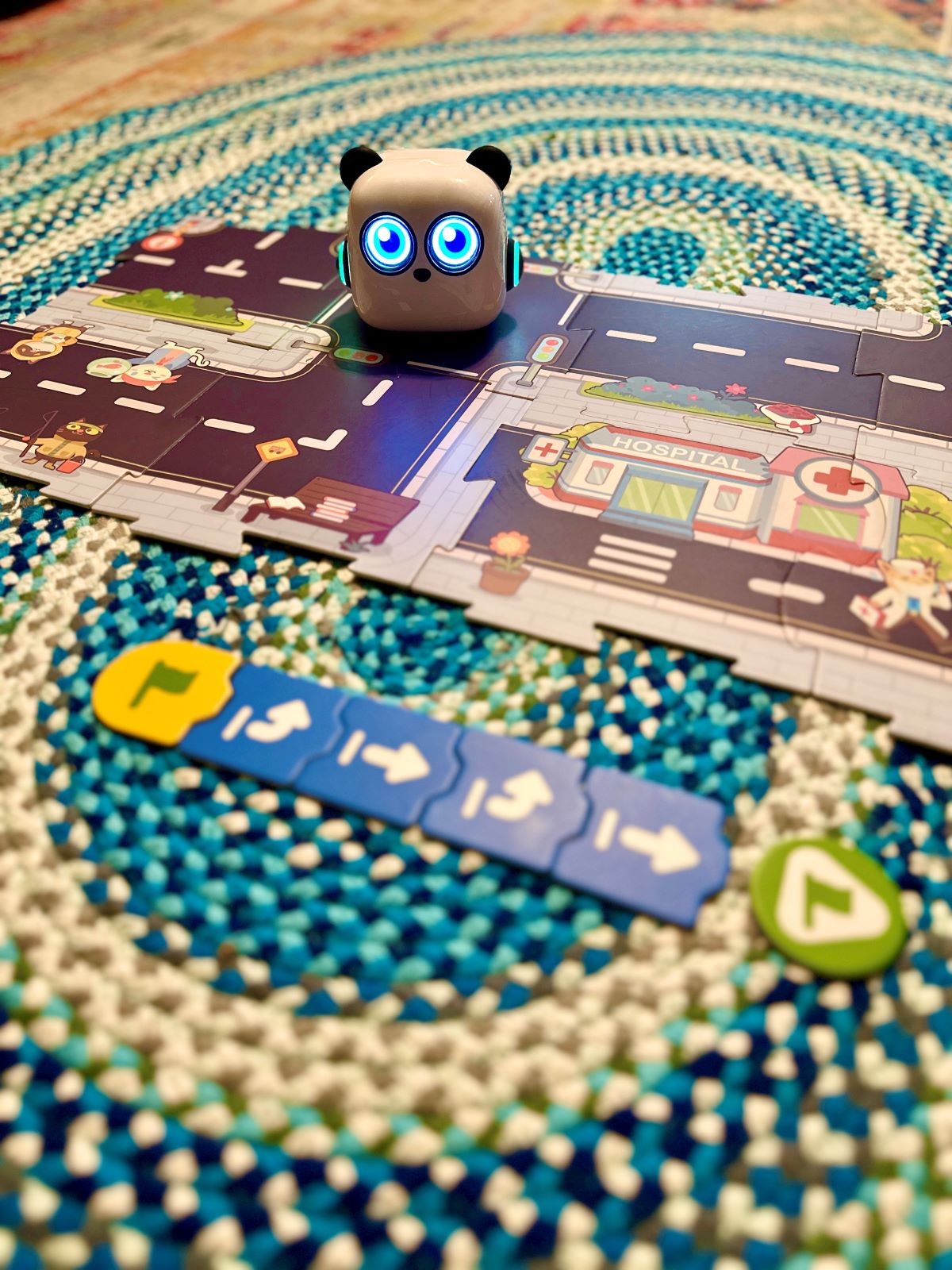 Parent Tip: 
Initially, my kids weren't aware of the remote control feature on mTiny's controller, which works similarly to a remote-controlled car joystick. 
When they did discover it, the allure of manual control slightly overshadowed the coding aspect. 
So, if you want your kids to get the full coding experience, delay introducing the joystick.
A Robot Toy for ADHD Kids 
mTiny seems particularly suited for kids with ADHD, and here's why:
Variety in Play: The game constantly changes, keeping interest levels high and preventing feelings of repetition.
Learning Through Play: While mTiny is definitely fun, it also subtly teaches kids about coding basics.
Screen free and Hands-on: Physical, tactile learning keeps kids engaged on all fronts.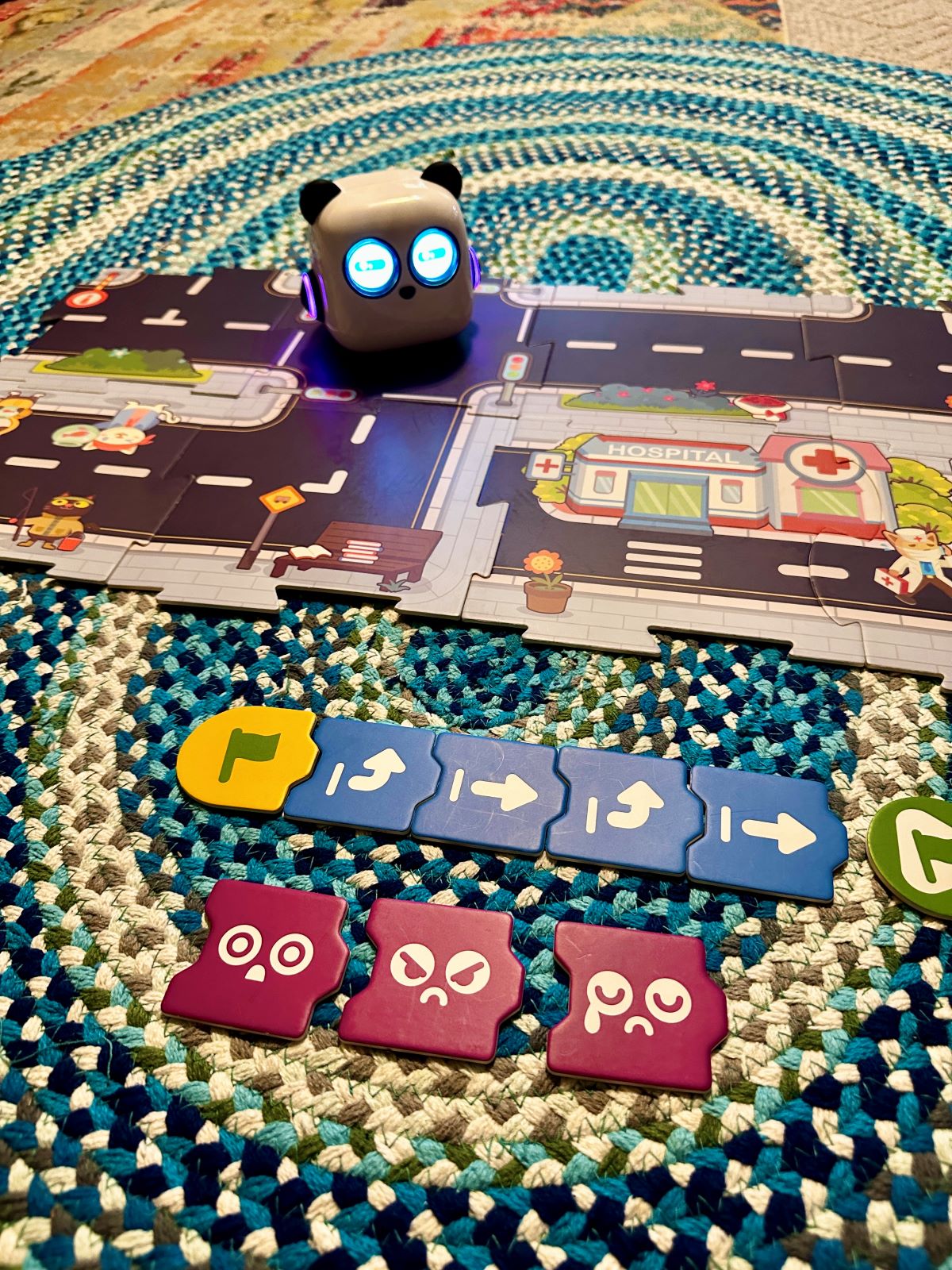 Wrapping Up
We hope our mTiny robot review was helpful for those looking for a creative robot toy.  MTiny is ideal for younger kids (4-7), and I think my 6-year-old will be ready for more advanced robot toys in no time. I'm already eyeing the Codey Rocky mBot for ages 6+.
Would I recommend mTiny? Absolutely. My kids have been choosing mTiny over iPads, which is quite a statement. It's an interactive, educational experience packaged in an irresistibly cute panda avatar.