The content on this website is for informational purposes only and is not meant to replace professional or medical advice. See our full disclaimer.
Let's face it, our ADHD brains can be a bit like wild horses—energetic, creative, but often difficult to reign in. Thankfully, using our free printable ADHD daily planner can help!
It's like building a corral for your wild horse of a brain—it helps keep you focused and on track.
Jump to:
Why You Need an ADHD Planner Printable
Why an ADHD planner specifically? Well, because our brains are unique, we need a unique tool. A regular planner is not going to cut it.
Research shows that people with ADHD often struggle with executive functions - things like managing time, organizing tasks, and maintaining attention.1Barkley, R. A. (2012). Executive Functions: What They Are, How They Work, and Why They Evolved. Guilford Press. A daily planner can provide a visual structure for your day, making these tasks much more manageable.
You see, managing ADHD is not just about tackling forgetfulness or inattention. It's about understanding the workings of the ADHD brain.2Tuckman, A. (2011). Integrative Treatment for Adult ADHD: A Practical, Easy-to-Use Guide for Clinicians. New Harbinger Publications.
With that knowledge, we can use tools like our printable daily planner to create a structure that helps us thrive.
Complete Your Goals "For Once"
If you're a student or an adult with ADHD, you know that managing daily tasks can feel overwhelming. Sometimes it feels like it's impossible to complete our goals.
Well, guess what? It probably is!  At least, it is impossible in the time frame you are currently allotting for your goals. That's where this printable daily planner template can help.
We ADHDers tend to put way too much on our schedule in any given time period. We see the vision in our heads, but it's unrealistic.
This leads to an overwhelming to-do list, and when things inevitably don't get done, it can result in feelings of failure and self-doubt.
We beat ourselves up when we didn't complete our goals. This is silly, because it would have been physically impossible for anyone to achieve those goals, whether they have ADHD or not!
What makes this printable ADHD planner special?
This planner is specifically designed with the ADHD brain in mind. ADHD can often make you feel like you're in a race against time, and it's all too easy to overestimate what can be achieved in a day.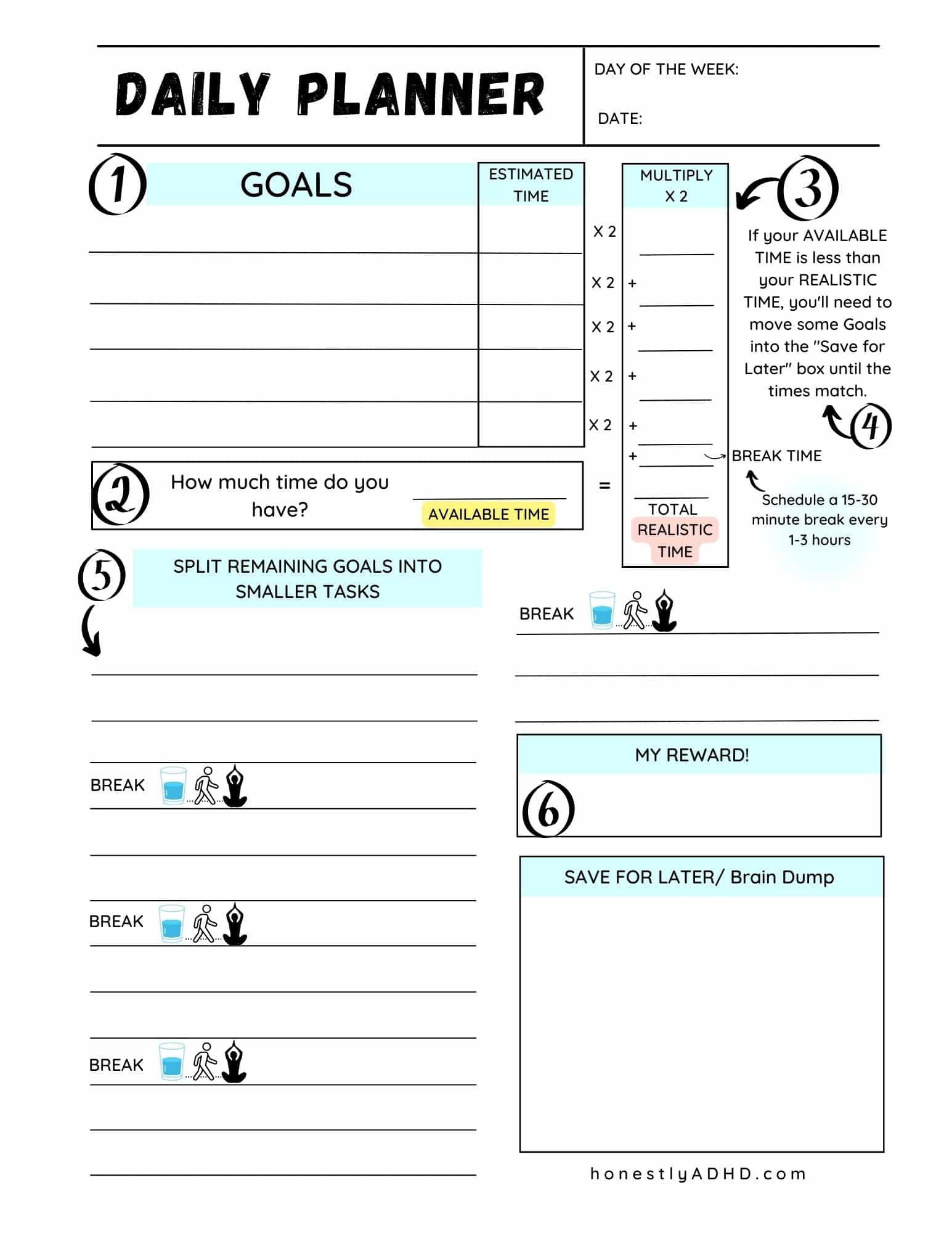 Here's the twist with our planner sheets: by providing only five slots for your daily goals, it forces you to really consider what's most important.
What are the tasks that will have the most impact? What really needs to get done today? 
You can jump to the download link or keep reading for more tips.
The limited slots for goals and tasks is an opportunity for you to prioritize what truly matters. The design is clean and simple to avoid unnecessary distractions, and the printable format means you can print off however many you need.
If you have a hard time deciding what tasks to put into these slots, first start with our free ADHD to-do list to help prioritize.
It's not about cramming as many tasks into the day as possible but about making consistent, meaningful, realistic progress. This can be especially helpful for people with ADHD who have trouble starting tasks.
Multiply Your Time
Next, we take it one step further by asking you to multiply your estimated time by two. Due to our time blindness, people with ADHD often underestimate how long something will take. 
See what we mean in the example below: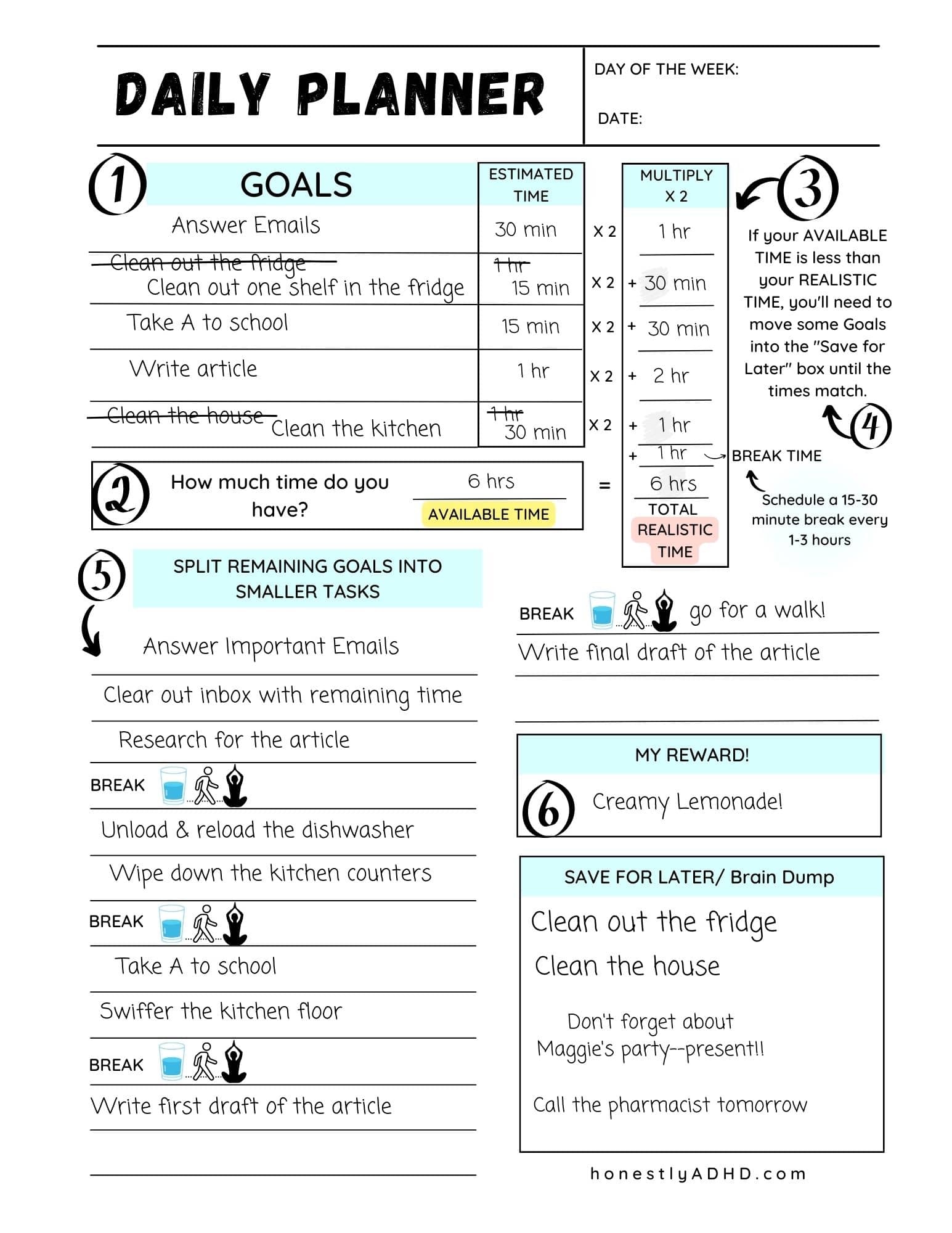 You've got to trust the process of these daily planner sheets--and don't cheat! No changing your estimated time after seeing that you'll have to cross some goals out.
After you double your estimated time, any Goal you can't complete today will go in the "save for later" box. This is also a "brain dump" section to jot down any brilliant ideas that pop into your head (because we all know those happen a lot).
Writing these thoughts down for later will prevent you from working on something that is not important at the moment.
Then we divide our remaining goals into smaller tasks. Less overwhelming, easier-start tasks!
Last but not least, this planner template has you schedule a well-deserved reward at the end of the day. This can be something as simple as your favorite latte, a sweet treat, or an episode of your favorite show.
This is your moment to celebrate the hard work you've put in. Those of us with ADHD often beat ourselves up when we don't complete our goals, and then we forget to feel proud when we achieve our goals.
With this free printable planner, you set realistic, achievable goals, and you smashed them. So go ahead, pat yourself on the back, enjoy your reward, and bask in that feeling of accomplishment. You've earned it!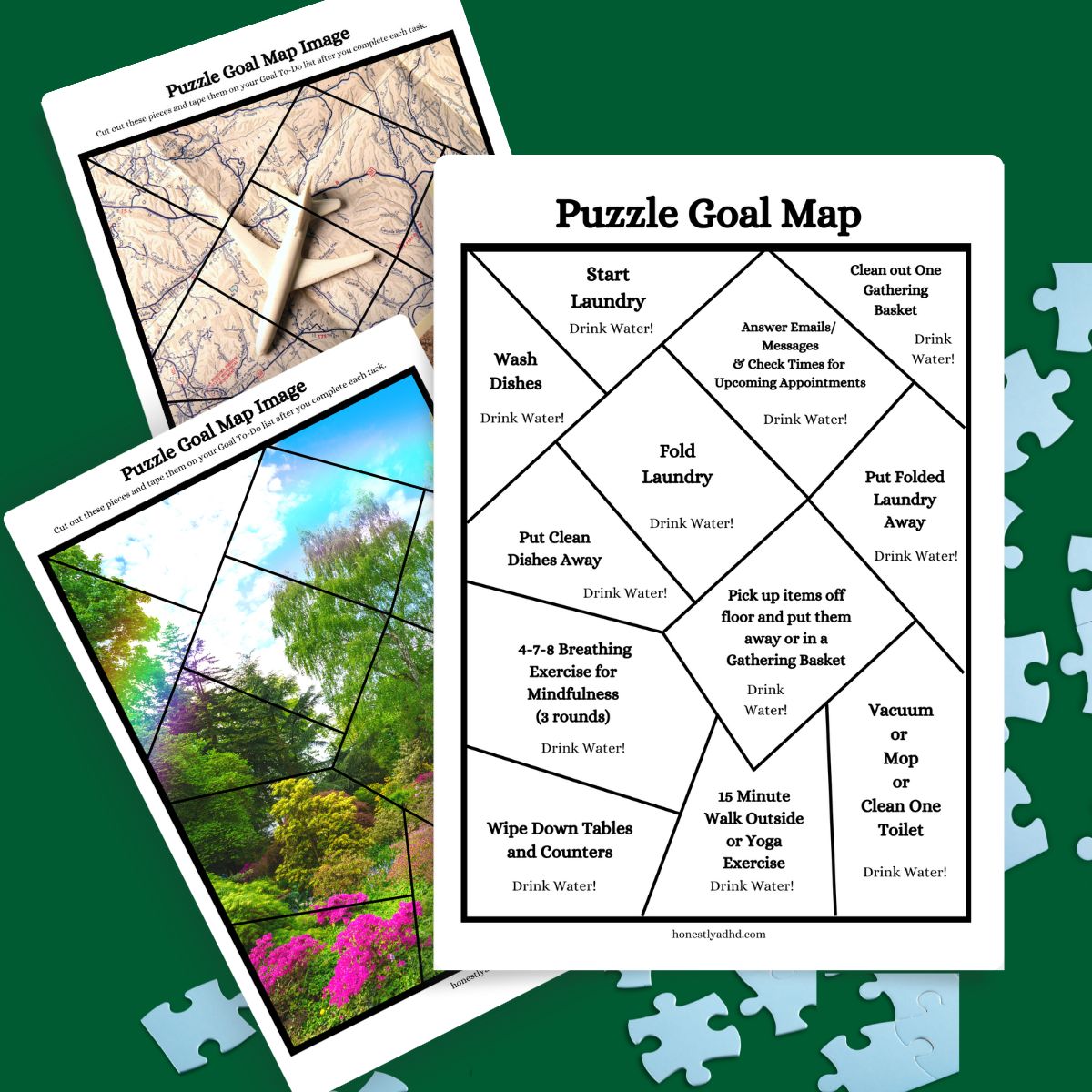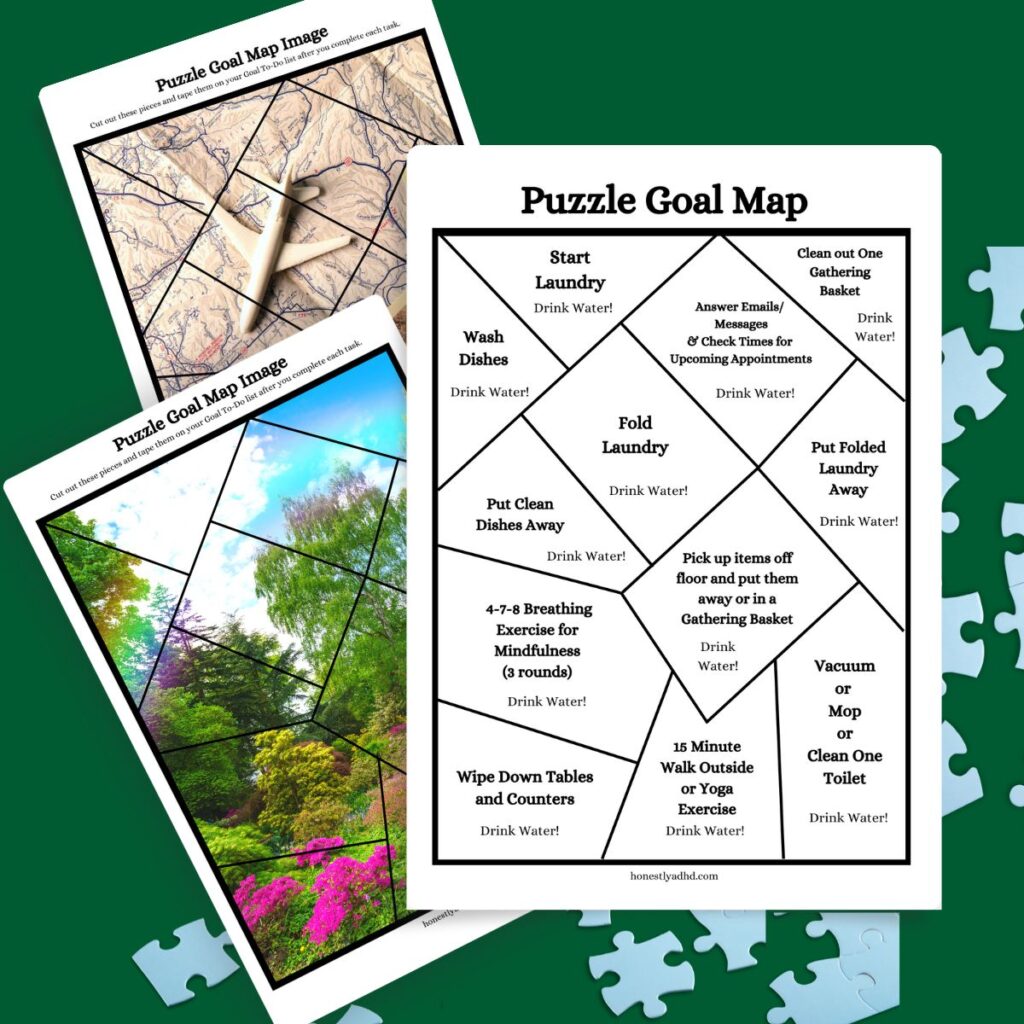 Another free Daily Planner Sheet we recommend is our free ADHD puzzle printable. Check it out if you need extra motivation when completing your goals!
Schedule Breaks and Self-Care
Breaks are essential for productivity and mental health. You will actually feel more energized and work more effectively after taking breaks!
A break in your day is also a good time to remember self-care. We need to schedule time for meals, breaks, and activities you enjoy. Taking care of your physical and mental health is just as important as any other task.
A 15-30 minute break every 1-3 hours is ideal. This will prevent you from hyper-focusing in a strange and uncomfortable position for too long.  
During your break, you can do whatever you want! There are no rules! Take a quick shower, go on a walk, and scroll on social media without guilt. Just set a timer so that you remember to get back to work after your scheduled break.  
It's about creating a realistic daily schedule that works with your ADHD, not against it.
Remember, folks, having ADHD doesn't mean you're doomed to a life of chaos. With the right tools—like this free printable daily planner—you can harness your ADHD superpowers and conquer your day. 
Below we're offering a free printable daily planner template created for the ADHD brain. Just click the download button, print, and you're all set.
Free Printable
🖨️ Follow the directions below to easily download the free pdf(s).
A realistic way to plan your day with ADHD! Print off one per day or one per block of time.
*Free printables by Honestly ADHD are for personal, non-commercial use only. See our FAQ page for more details.*
⬇️ Click to Download
Did you like this freebie?
Find us on Pinterest for more! Follow us @honestlyADHDblog
If you enjoyed this content, please consider sharing it! We welcome the use of one of these images with visible credit to Honestly ADHD and a direct link to the article. We appreciate your support!
Press Control + D to bookmark this page so that you can easily access this planner whenever you need to stay on track!
References:
1

Barkley, R. A. (2012). Executive Functions: What They Are, How They Work, and Why They Evolved. Guilford Press.

2

Tuckman, A. (2011). Integrative Treatment for Adult ADHD: A Practical, Easy-to-Use Guide for Clinicians. New Harbinger Publications.