The content on this website is for informational purposes only and is not meant to replace professional or medical advice. See our full disclaimer.
Navigating life with ADHD can be challenging, both for kids and those who support them. Today, we'd like to introduce a useful addition to your toolbox: meditation.
We even created some free meditation cards for you and your child!
Now you might be wondering, "Isn't meditation more for adults?" Nope, not at all! Kids can meditate too. Even better, it can help children with ADHD in some incredible ways.  
Keep reading to learn how.
Jump to:
Improves Focus
ADHD can make concentration very difficult. But meditation, by its very nature, is an exercise in focus.
It's a powerful mindfulness technique that can help your child to hone their attention skills over time. It's like a fun workout for your child's focusing abilities.
You can jump to the download link or keep reading for more tips.
Dials Down Impulsivity
Children with ADHD often react fast... sometimes too fast. Meditation lets them slow down and chill out. It encourages them to become more mindful of their thoughts and actions, which can lead to reduced impulsivity.
Enhances Self-Control
Through meditation, kids learn to observe their thoughts and emotions. It teaches kids to notice their feelings without immediately acting on them. 
Meditation for kids with ADHD is a gentle way of fostering self-control and patience. They learn to pause, and that's a big win for self-control.
Reduces Stress
ADHD can bring its share of stress and anxiety. Meditation can help kick your child's stress monsters to the curb. 
It has been proven to promote relaxation and inner peace, reducing stress and providing a calming environment.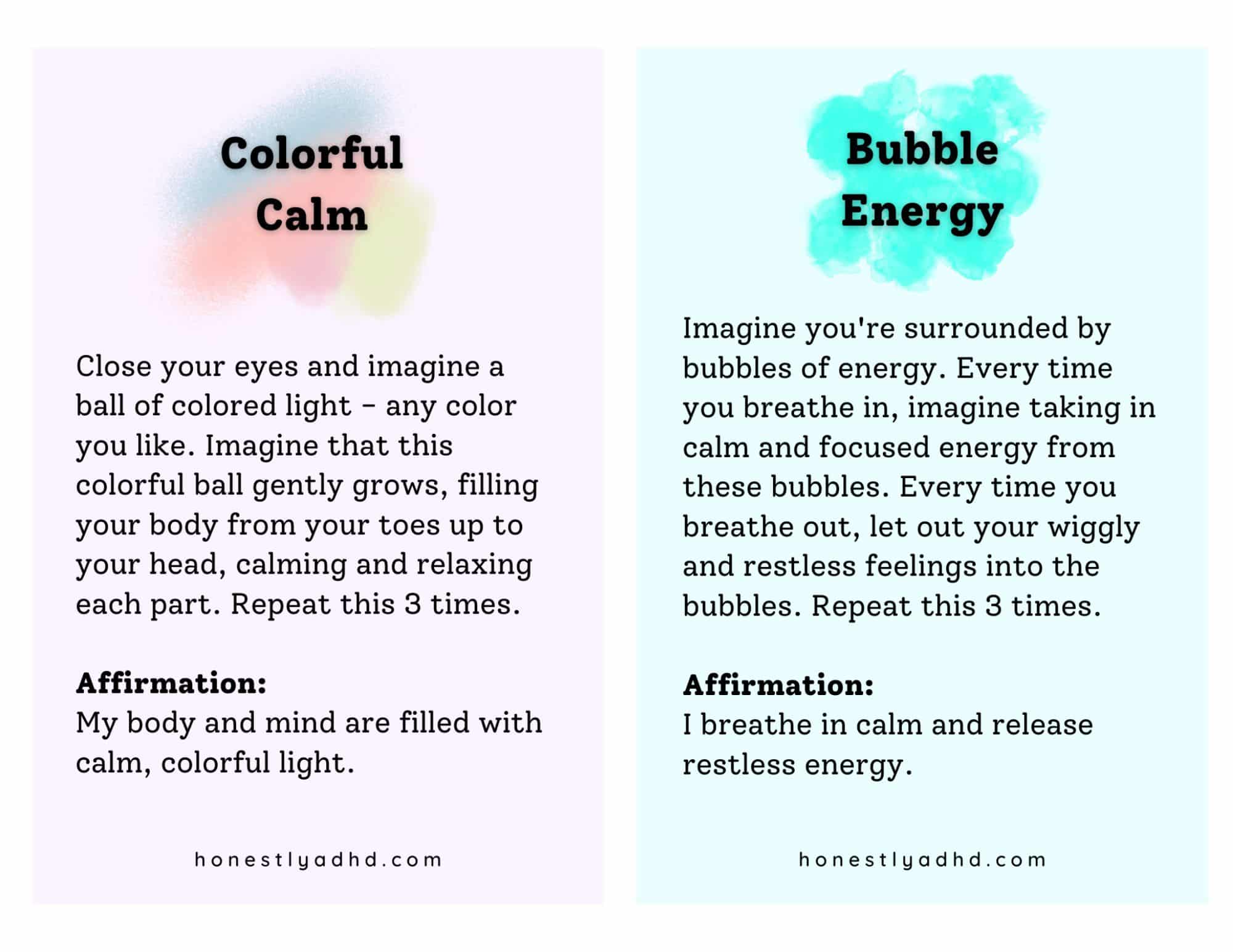 Promotes Better Sleep
Is bedtime a battle? Meditation might be your new secret weapon. It can teach kids how to wind down their bodies and minds, making sleep a friend, not a foe.
Regular meditation can lead to improved sleep patterns over time.
Boosts Confidence
These meditation exercises aren't just about sitting quietly. With positive affirmations, it can help boost your child's self-esteem. Every kid deserves to feel awesome, right?
Now, before we move on, a little reminder: Meditation isn't an instant fix. It's a tool, not a cure.
It works best as part of a larger plan, including other treatments like therapy or medication.
So, how can you introduce meditation to your ADHD child? We've got you covered.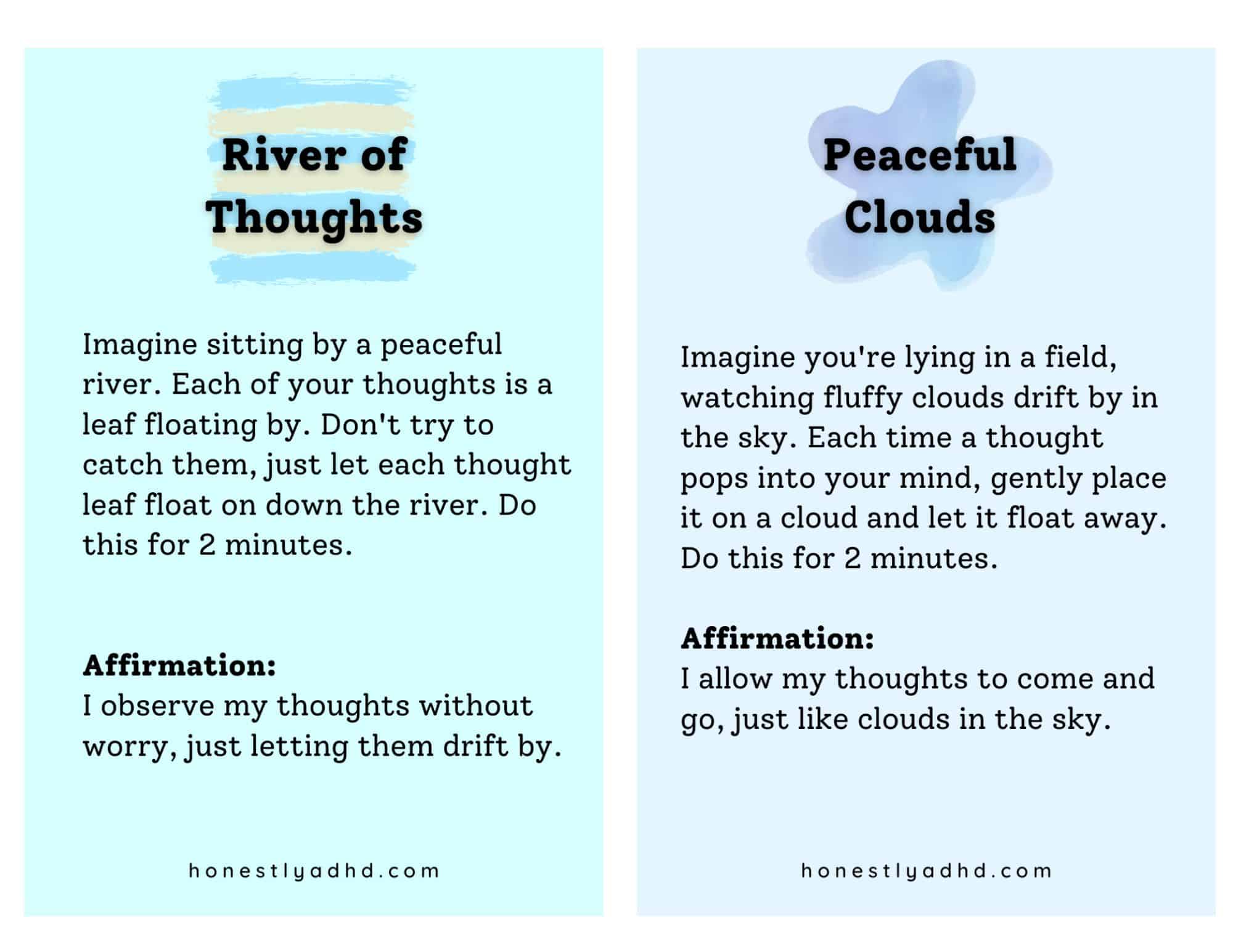 Free Meditation Exercises for ADHD Kids
We've created these easy-to-use printable meditation cards to help your children start their meditation journey. They're designed with ADHD kids in mind, using simple language and fun visual cues.
Your child will pretend to be a cloud, a tree, a river, and more. This fun play will help them blow stress away and find calm.
These cards can be used by kids of all ages, and you may even find them helpful yourself!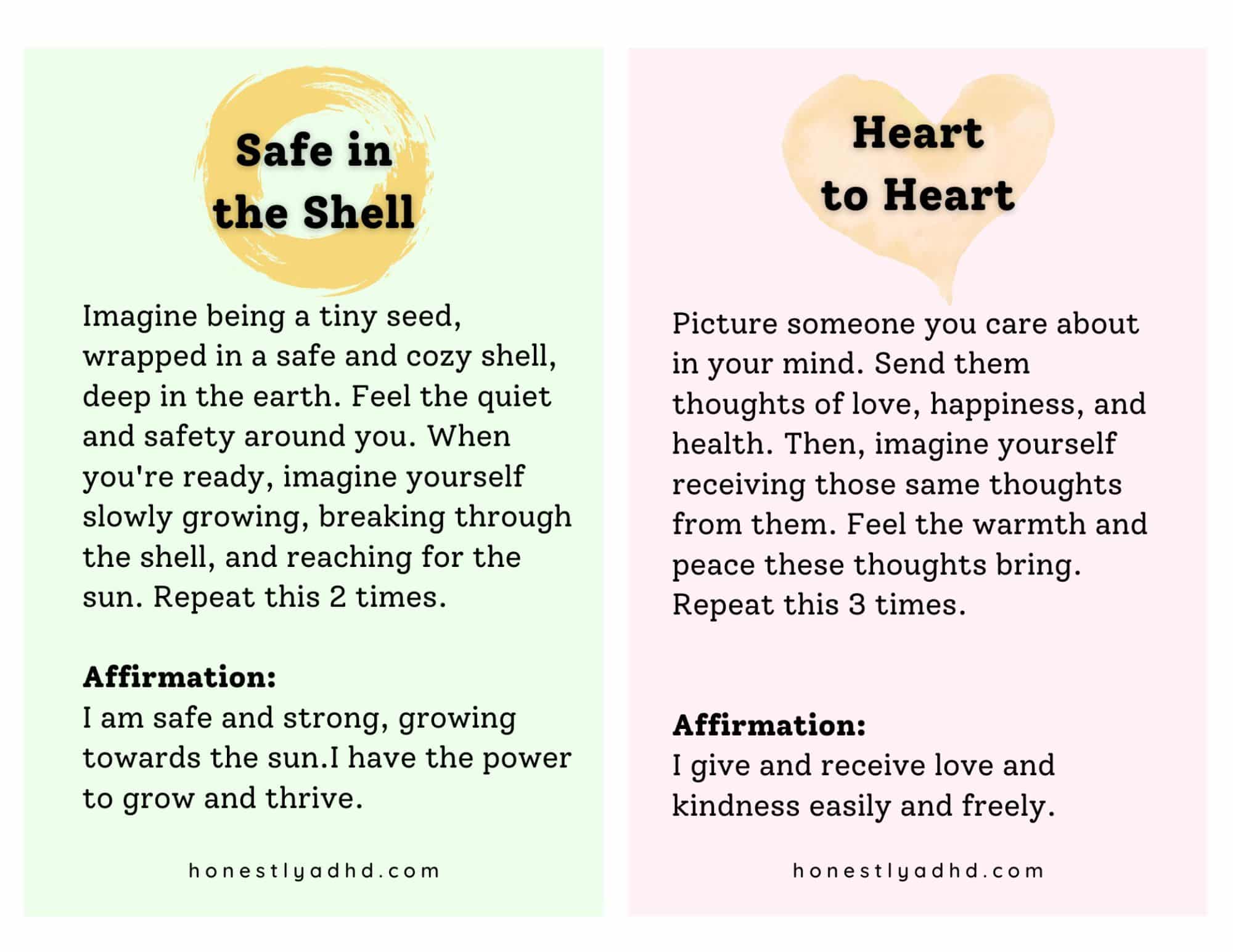 Each card comes with a different meditation exercise and a positive affirmation.  We recommend reading the cards out loud and doing the exercises right along with your child. 
Don't worry if your child's mind wanders at first. It's perfectly fine. The goal is to gently guide them back, building focus with practice.
We're excited for you and your kiddos to embark on this meditation journey. Let us know how it goes!
Free Printable
🖨️ Follow the directions below to easily download the free pdf(s).
These printable meditation cards are made with your ADHD child's brain in mind to help them calm down, relax, and focus.
*Free printables by Honestly ADHD are for personal, non-commercial use only. See our FAQ page for more details.*
⬇️ Click to Download
Instructions
Choose a quiet, comfy spot.

If desired, add some soothing background music.

Start with one card and gradually add more as you get comfortable.

Remember, there's no 'correct' way to meditate. It's all about enjoying and relaxing!
Did you like this freebie?
Find us on Pinterest for more! Follow us @honestlyADHDblog
If you enjoyed this content, please consider sharing it! We welcome the use of one of these images with visible credit to Honestly ADHD and a direct link to the article. We appreciate your support!