The content on this website is for informational purposes only and is not meant to replace professional or medical advice. See our full disclaimer.
Welcome to a world where cleaning your house doesn't have to be overwhelming with our free ADHD cleaning checklist! No more looking at a room and wondering where to start, no more starting too big and giving up midway.
Especially for those with ADHD, it can be tricky navigating the sea of household chores. We're here to offer you a different way to clean your house: one that works with your ADHD brain, not against it.
Jump to:
Speed Cleaning Checklist
For many people, especially those with ADHD, a typical house cleaning schedule or chore chart can be a recipe for frustration. But what if you had just 15 minutes a day to make a difference in your home's cleanliness?
That doesn't sound like much time, but you'd be surprised at what you can accomplish! This is where our free Speed Cleaning Checklist comes into play.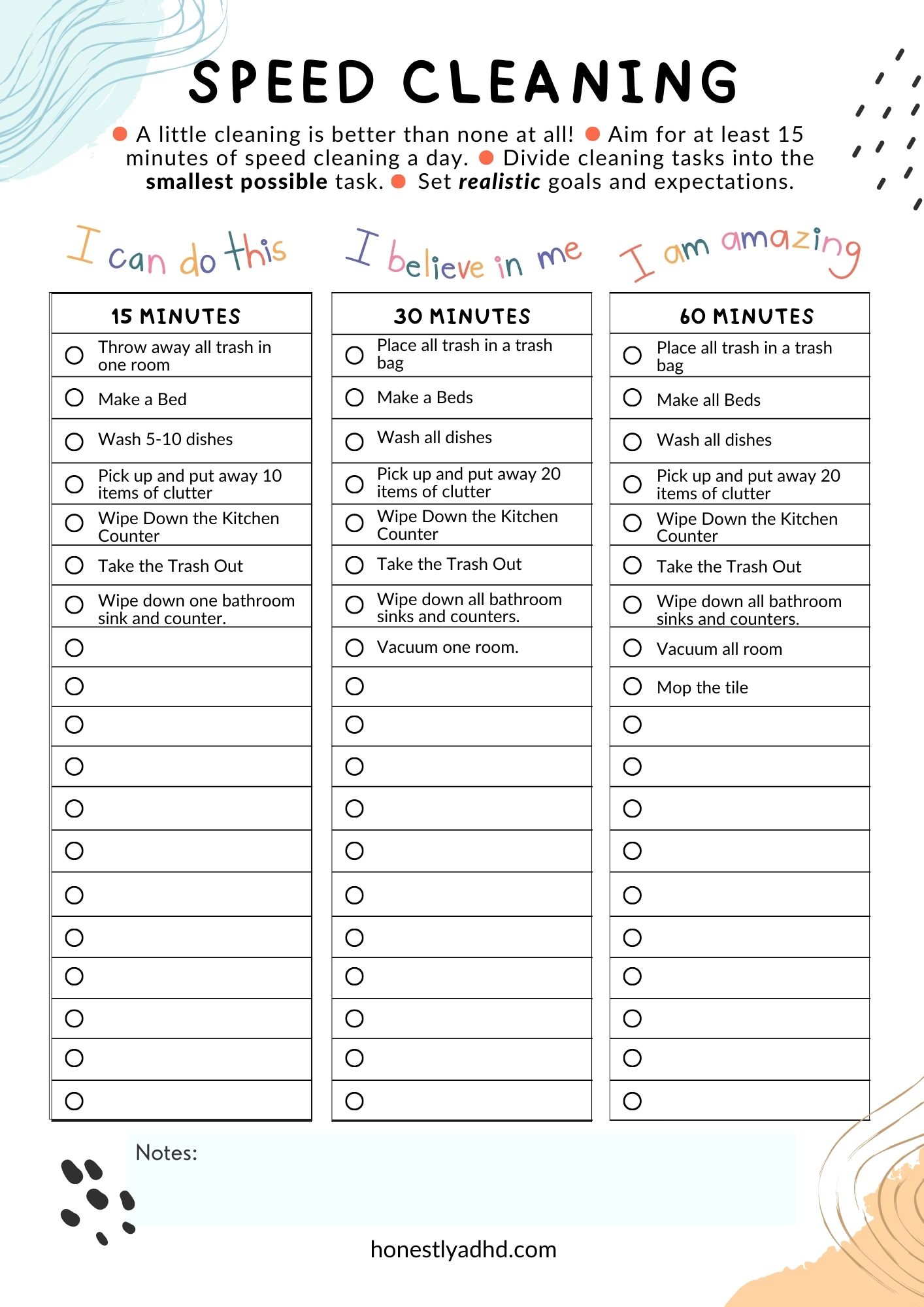 The speed cleaning routine checklist is divided into manageable cleaning tasks that take 15, 30, or 60 minutes to complete. When used consistently, this little bit of time can have a big impact on the overall tidiness of your living space.
The "Quick Clean"
Remember, the goal here is not to deep clean your entire house in one go, but to maintain general tidiness. So, even if you only have 15 minutes to spare, you can still make a visible difference in your home.
This way, cleaning doesn't have to be a daunting, all-day affair but instead can be a quick, daily habit that keeps your home feeling fresh and inviting.
Another great advantage of this free ADHD cleaning checklist is its adaptability. While we provide a list of suggested tasks, we also offer a blank checklist.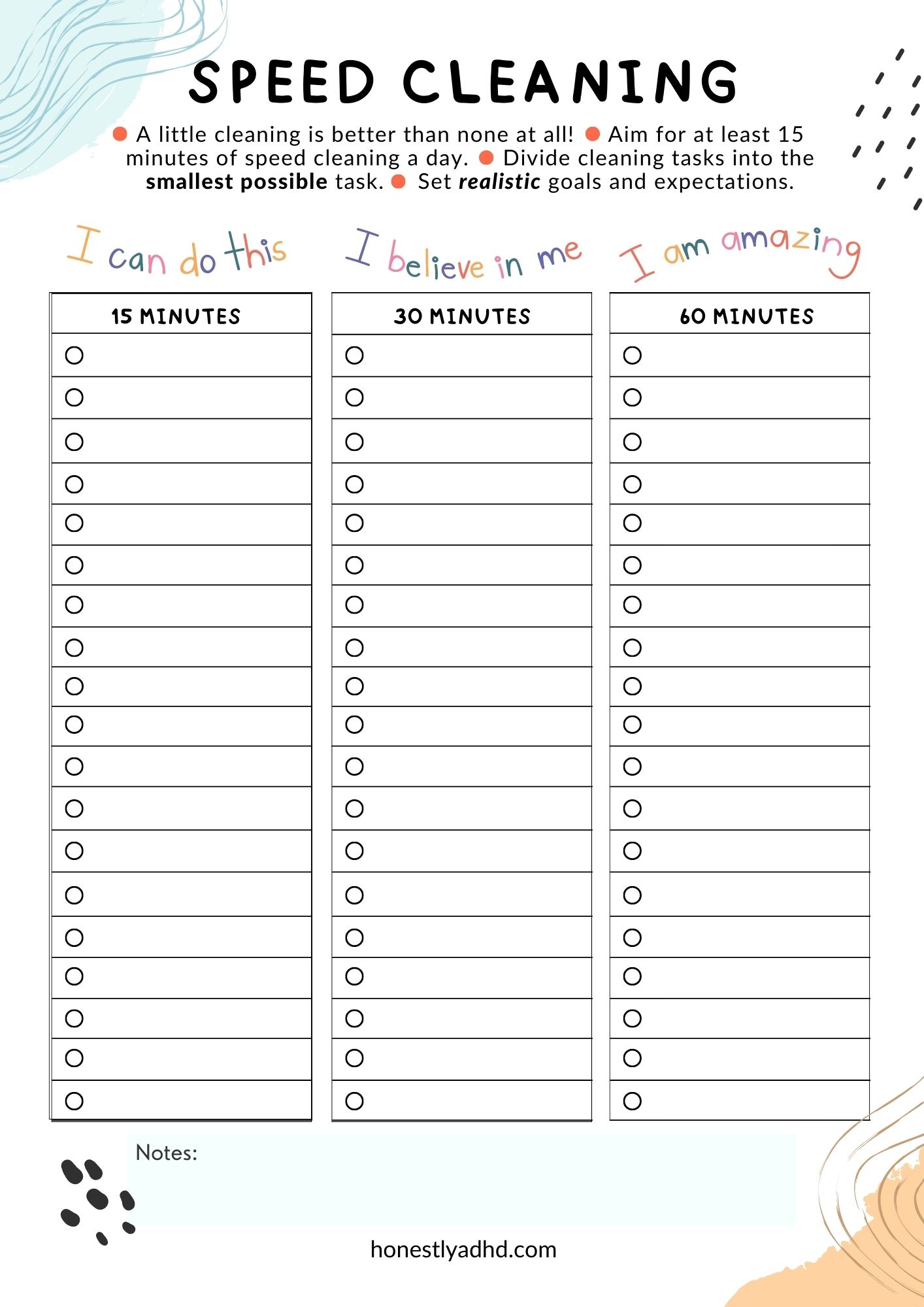 This allows you to add personalized cleaning tasks that are most relevant to you and your living space.
Here are some other items you could add to the cleaning list:
Clean one shelf in the fridge
Start a load of laundry
Fold laundry
Dust one room
Change the sheets
Clean one toilet
Organize one cupboard
Unload the dishwasher
Vacuum the couch cushions
These tasks are intentionally kept simple and concise to prevent feelings of overwhelm. And don't forget, every clean space is a victory, no matter how small!
A Cleaning List Goal Puzzle
We created some new free ADHD printables where you actually complete a puzzle as you finish your cleaning tasks. We made one prefilled with important daily cleaning goals plus some self-care reminders.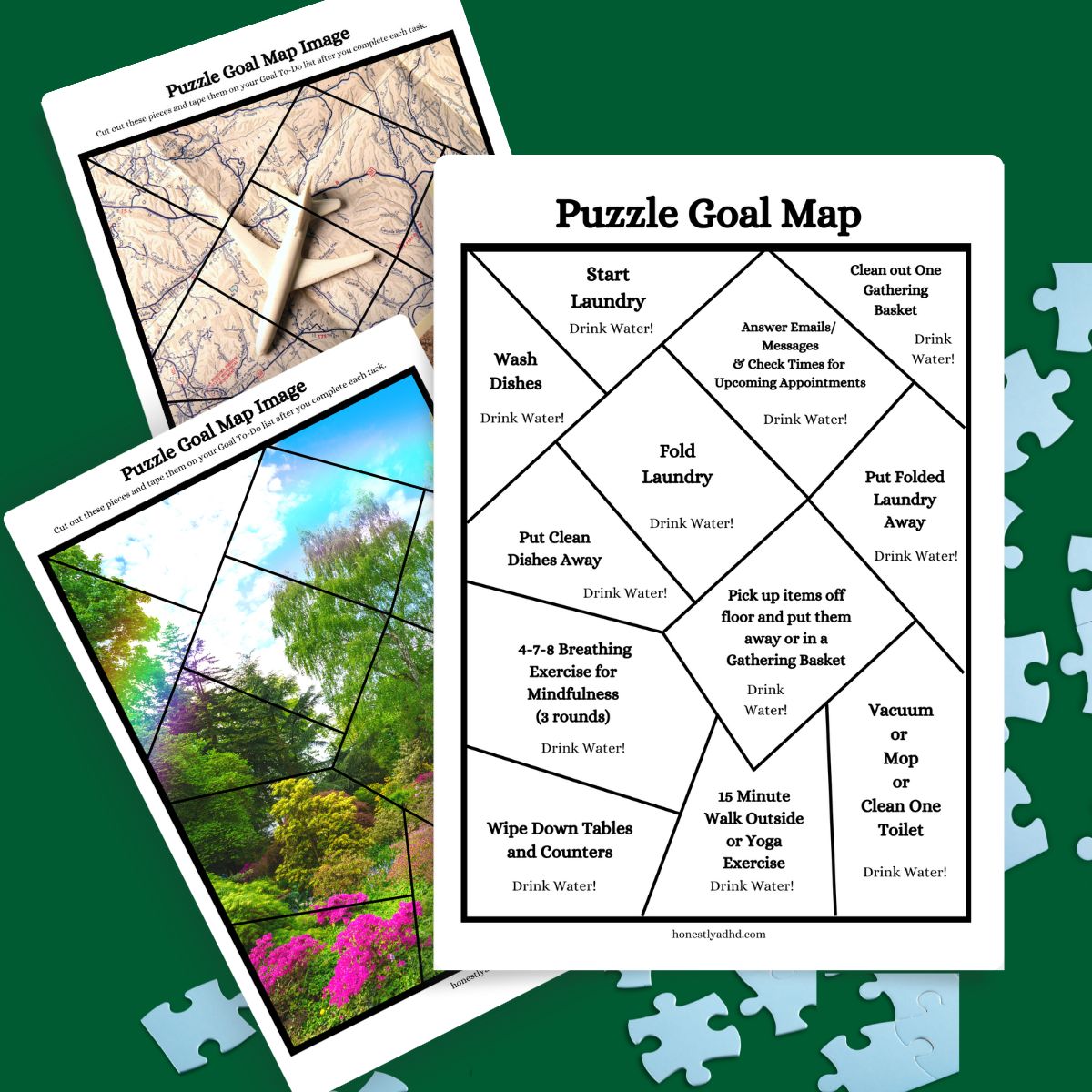 To download that unique "Daily Upkeep" Cleaning puzzle, head over to our ADHD puzzle article.
Focus Cleaning Checklist
Maybe speed cleaning isn't your thing. Perhaps you'd rather focus on one specific area of your home at a time. 
Our free Focus Cleaning Checklist is designed just for that. This tool provides detailed cleaning tasks for different rooms, even the closet.
It breaks down the daunting task of 'cleaning the whole house' into simple, manageable chunks that those of us with ADHD can tackle.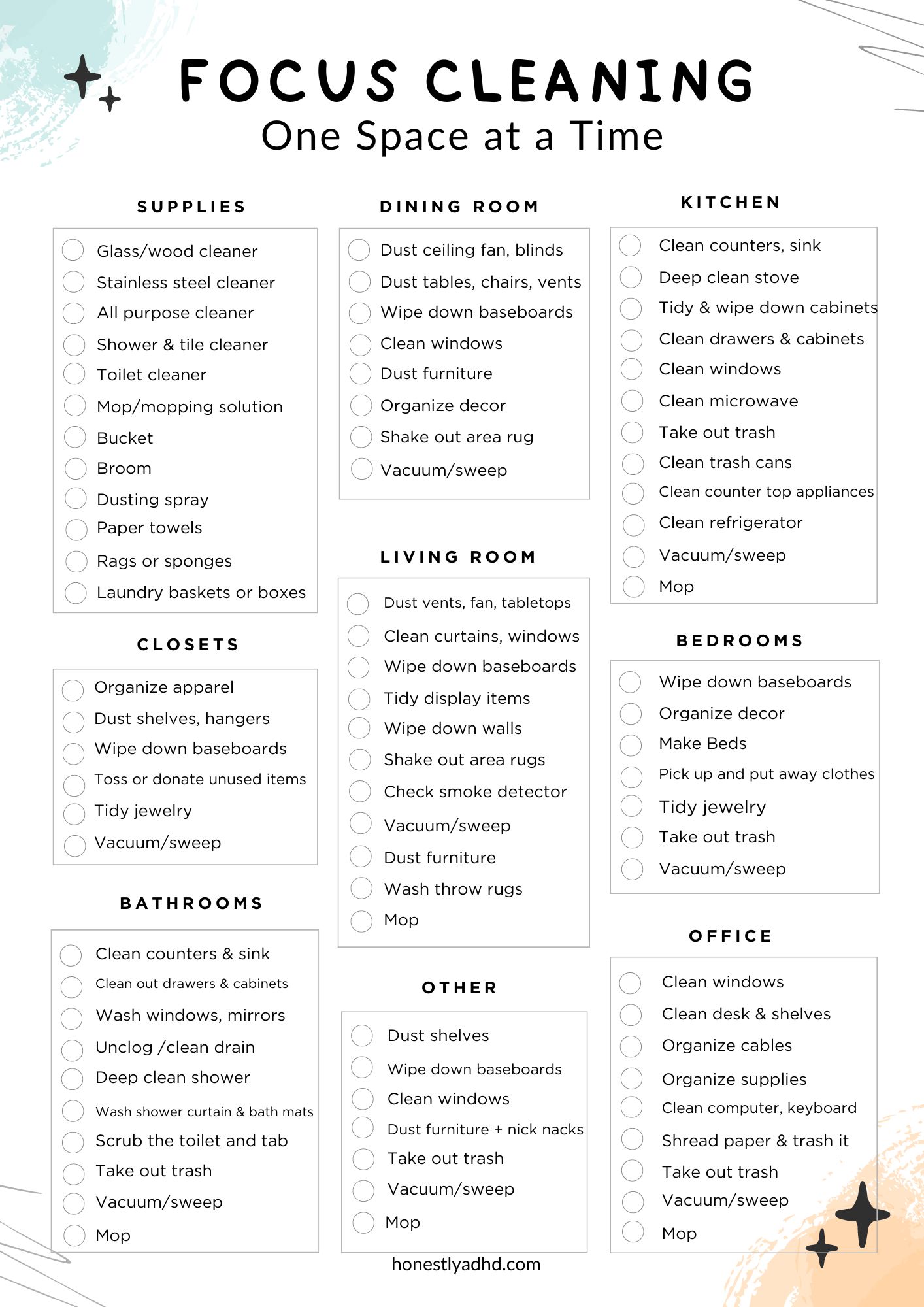 For instance, one day you might choose to tidy the living room. The next day, tackle the bedroom cleaning checklist.
You can turn it into a weekly schedule and divide your daily chores by focusing on one room at a time. If you miss a day, don't beat yourself up!
The beauty of this approach is that it respects the way our ADHD brain is wired. Cleaning just one area at a time makes us less likely to feel overwhelmed or give up midway.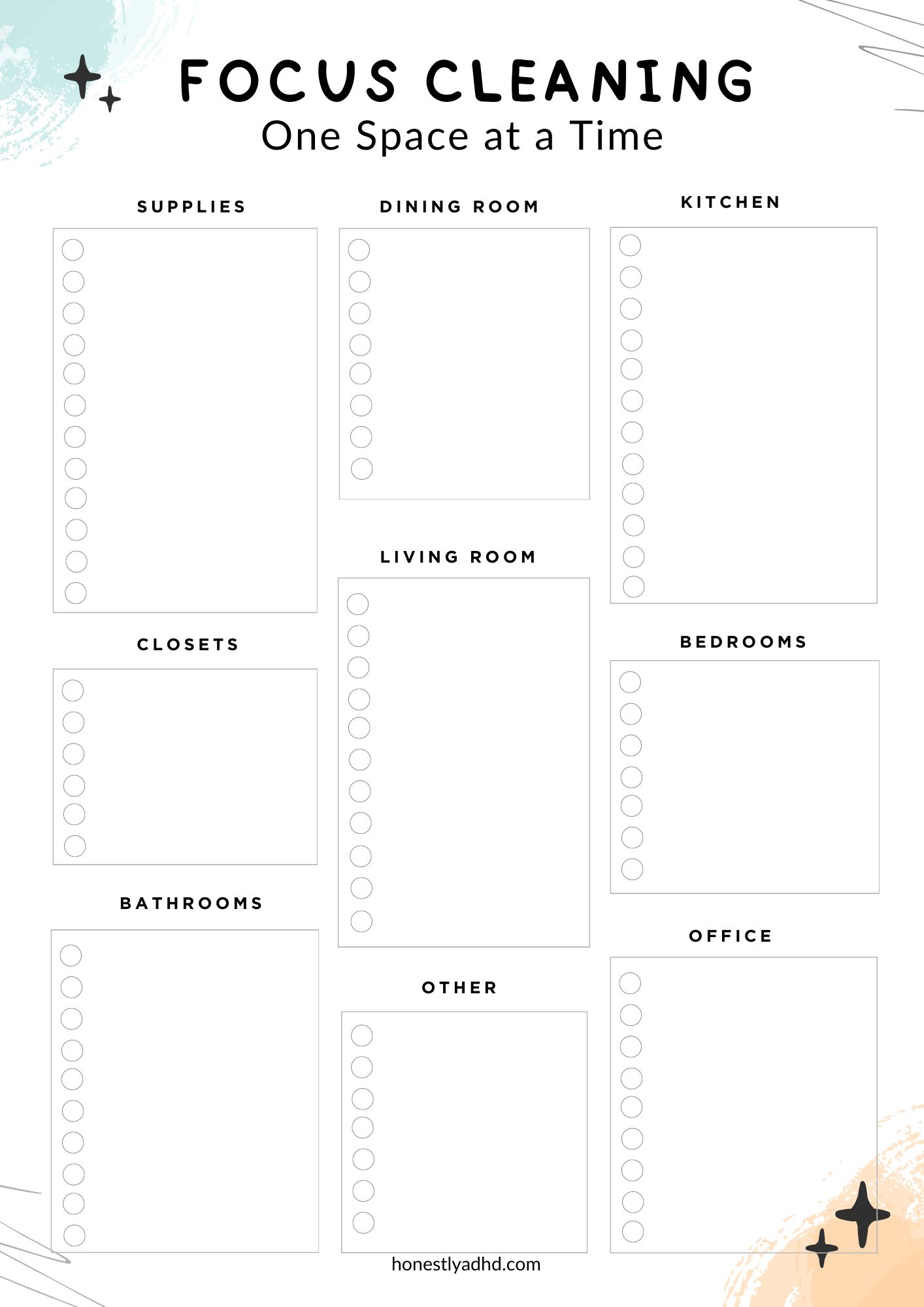 You can jump to the download link or keep reading for more tips.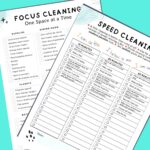 We talk about this in our free printable ADHD planner post, but the rundown is that if we make our goals unrealistic, we are too hard on ourselves.
Focusing on one room at a time makes us more likely to complete our goals and give ourselves a chance to be proud of our accomplishments.
By completing what we've started, we experience that awesome burst of dopamine - our own mini celebration!
How do you clean when you have ADHD?
​When it comes to cleaning consistently with ADHD, it's important to adjust your approach to fit how your ADHD brain processes and executes tasks. Here's how:
1. Break Down Tasks
Instead of a broad task like 'clean the kitchen,' break it down into smaller, more manageable chunks like 'wipe down the kitchen counter' or 'unload the dishwasher.'
Smaller tasks are less overwhelming and make it easier to start and finish.
2. Use Visual Cues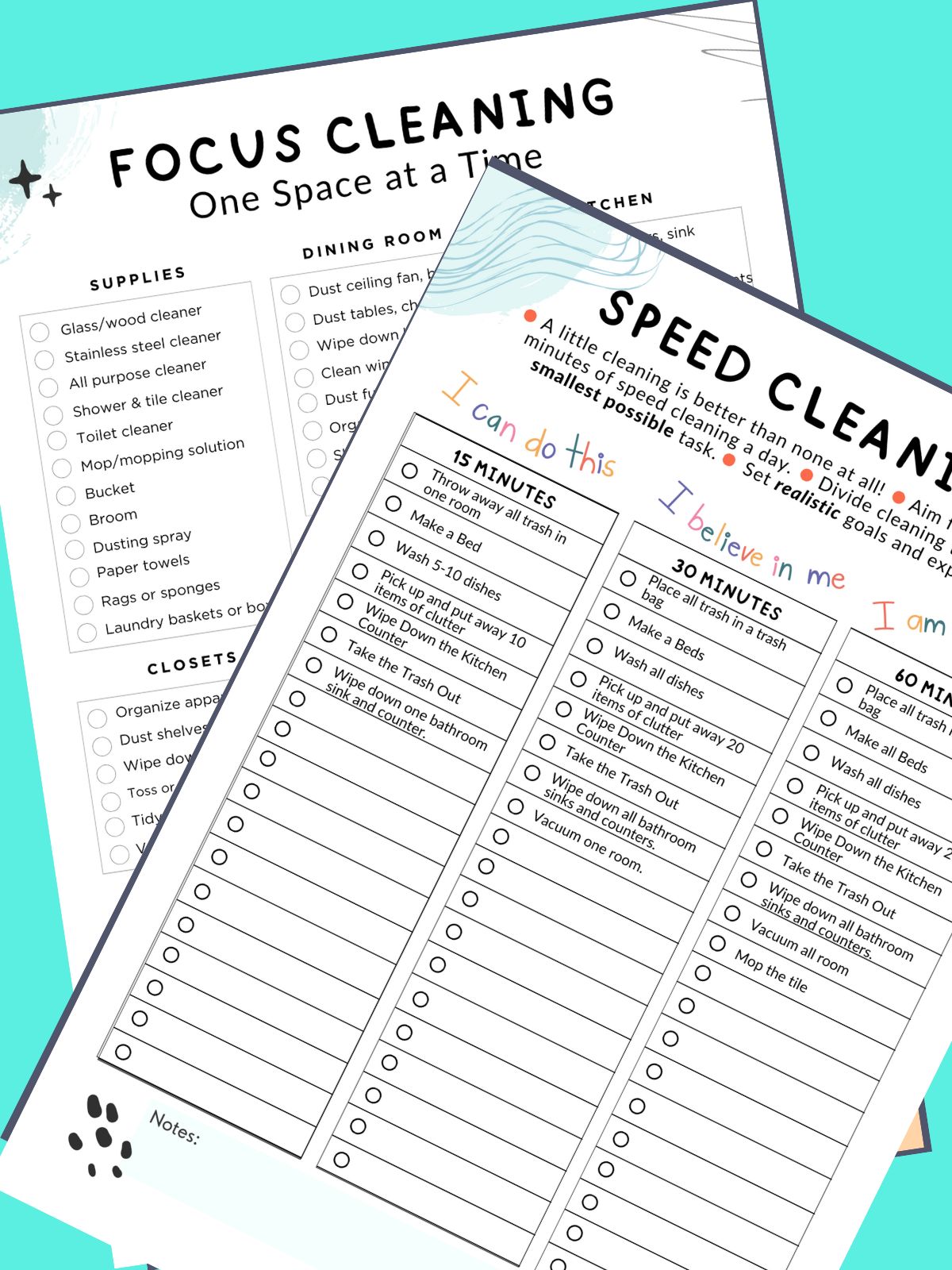 Visual aids like our free ADHD cleaning checklists can guide you through your cleaning process. They help you visualize your progress and see what's coming next, which can be particularly beneficial for our brains.
3. Set a Timer
Time yourself for tasks. Set a timer for 15 minutes and see how much you can get done in that time. It provides a clear start and endpoint, making the task more manageable and less overwhelming.
Plus, it can turn cleaning into a game. Can you beat the clock? You'll work much faster when racing against time. It also gives a natural endpoint, preventing you from burning out or getting sidetracked.
4. Maintain Tidiness, not Perfection
Aim for regular maintenance rather than sporadic deep cleans. A little bit of tidying up every day can make a big difference.
That doesn't mean your house has to be picture-perfect. But frequent small cleaning sessions can prevent large, messy tasks from becoming too overwhelming.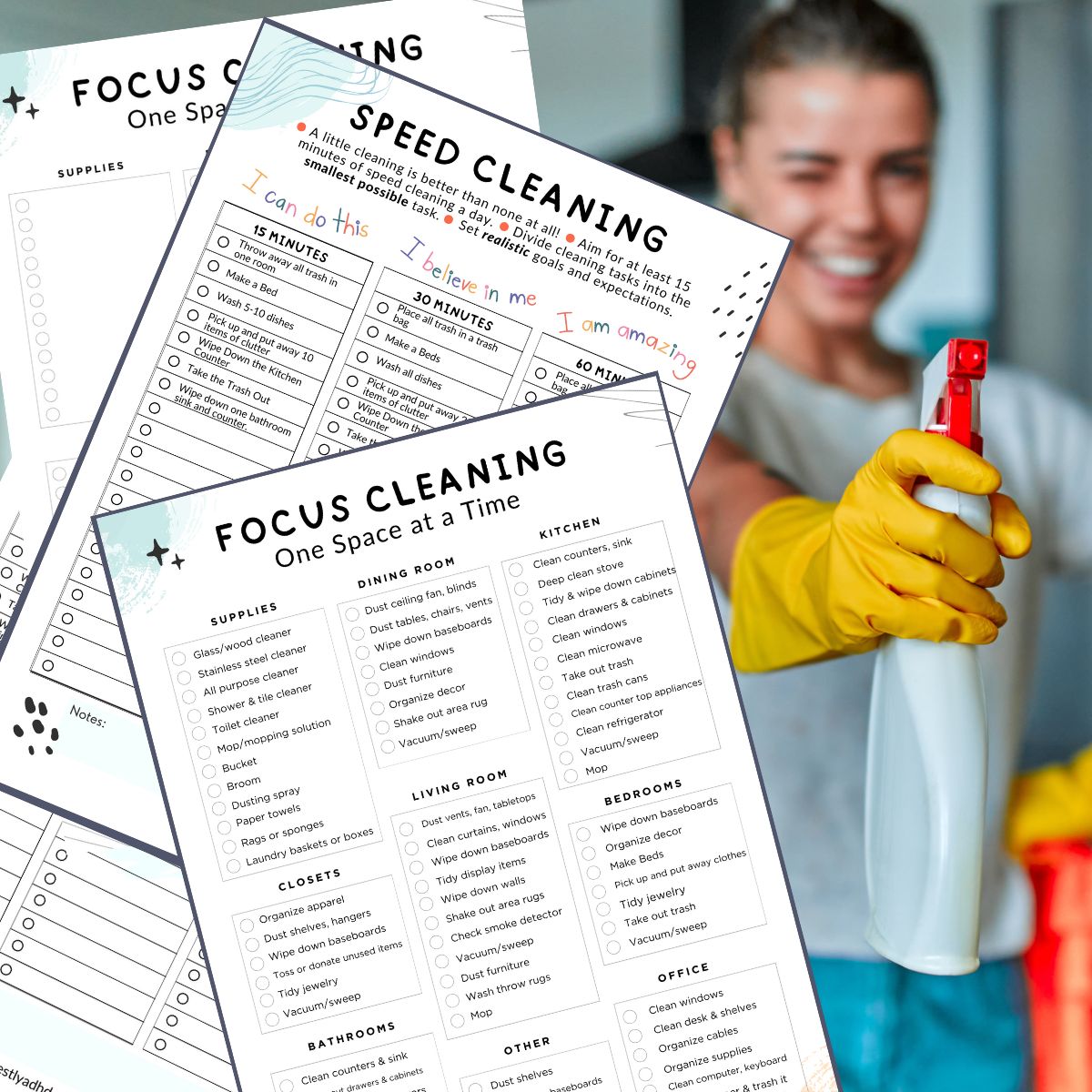 5. Lower Your Expectations
You don't need a spotless home to be successful. Instead of striving for perfection or comparing yourself to others, focus on making progress.
After all, according to our ADHD executive age, we're about 30% behind neurotypical people in some areas.
6. Reward Yourself
Treat yourself when you complete a task or set of tasks. It could be a favorite snack, a short break, or some time spent on a hobby. A reward system can be a great motivator, especially for people with ADHD.
7. Pair Cleaning with Enjoyable Activities
Combine cleaning with something you love. Listen to your favorite podcast, audiobook, or music while you clean. Or, indulge in your favorite tea or coffee while you tackle the tasks.
This can make cleaning feel less like a chore and more like a satisfying part of your daily routine. 
8. Use Bins for Organization
Use bins or designated baskets to organize items. This can minimize clutter and make cleaning more efficient. You know exactly where everything goes after setting up a container for different things like toys, books, or laundry.
Not only does a bin system make cleaning up quicker, but it also makes it easier for everyone in your house to help out. 
9. Take Regular Breaks
Most ADHD personality types struggle with both hyperfocus and time blindness, so use a timer to set work periods and rest periods. This can help you avoid burnout and keep your momentum going.
10. Get the Family Involved
Cleaning doesn't have to be a solo mission. It's ok to ask for extra help, involve household members, or delegate chores to family members. Plus, it's a great way to instill good habits in ADHD kids from a young age.
11. Be Patient
Cleaning takes time, and sometimes we ADHDers have a hard time focusing on anything but our end goal once we set our minds to something.
But with smaller, more approachable steps over time, you're just a couple of weeks away from enjoying a cleaner, tidier, more peaceful home.
Work with your Brain, not against it
These tips aren't meant to be a one-size-fits-all solution. They are intended to be a starting point.
The goal is to create a cleaning routine that feels manageable, productive, and rewarding for you.
You may find it easier to complete tasks in the morning or prefer to dedicate a specific day of the week for a deep cleaning session.
Or grouping tasks (doing all the laundry-related tasks on one day, for example) might work best for you. The key is to find what suits your rhythm and stick with it.
Remember to Be Patient
The most important step to cleaning effectively with an ADHD brain is understanding that it's a process. It's not about perfecting a daily routine overnight.
Instead, it's about establishing small, healthy routines and simple strategies over time. Using tools like our free ADHD cleaning checklists is a good start. 
As a thank you for reading this blog post, we've created a free download of our Speed Cleaning Checklists and Focus Cleaning Checklists. Scroll down to download and print the free printable pdfs.
Free Printable
🖨️ Follow the directions below to easily download the free pdf(s).
*Free printables by Honestly ADHD are for personal, non-commercial use only. See our FAQ page for more details.*
Did you like this freebie?
Find us on Pinterest for more! Follow us @honestlyADHDblog
If you enjoyed this content, please consider sharing it! We welcome the use of one of these images with visible credit to Honestly ADHD and a direct link to the article. We appreciate your support!